Grace Cathedral is an Episcopal place of worship on the appropriately named Nob Hill in San Francisco. It's sort of a big deal in terms of Northern Californian religious landmarks, and though I had never been before I suspected this silly travel journal of mine would lead there eventually.
It is perhaps most well known for its indoor and outdoor walking labyrinths and its baller choir concerts, so naturally I didn't see any of that. No, I ended up at Grace Cathedral on a dark and rainy Tuesday evening because earlier that day my friend asked me to join him and his girlfriend for yoga.
The Falcon (my blue Prius) and I drove into the land of trolley cars and tech bros unsure of what to expect. Even by my standards, this was a slapdash voyage. As a native Californian, I can tell you with confidence that driving in the rain involves a certain degree of patience and recklessness. Rain has become such a mythical phenomenon nowadays that the average Californian tends to forget it can effect road conditions in the real world at all. The shrinking rainy season annually ushers in a number of wrecks committed by motorists unaccustomed to the conditions of—well…water. 
So, after forty minutes of cautious driving and another half hour of failed attempts to find parking (involving a serene pizza delivery man, one confused bus driver and many red herrings), I almost gave up and turned around before finding a serendipitous spot right in front of the Cathedral itself. 
Short on time and positivity, I rushed out of the Falcon to snap a few photos. I've driven past this place in the daytime and it's a real looker. The mixture of drizzle, darkness and multiple streetlights, however, made it just about impossible to get a picture that didn't look like an Addam's Family summer house.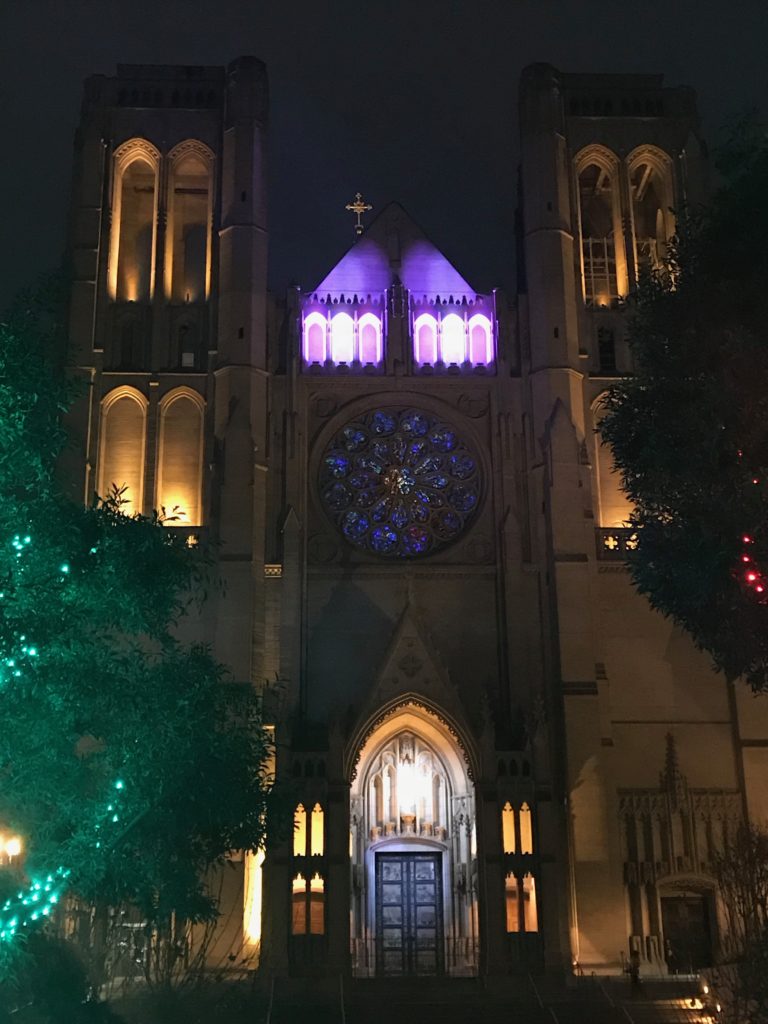 I couldn't even get a creepy picture of the statues to look right.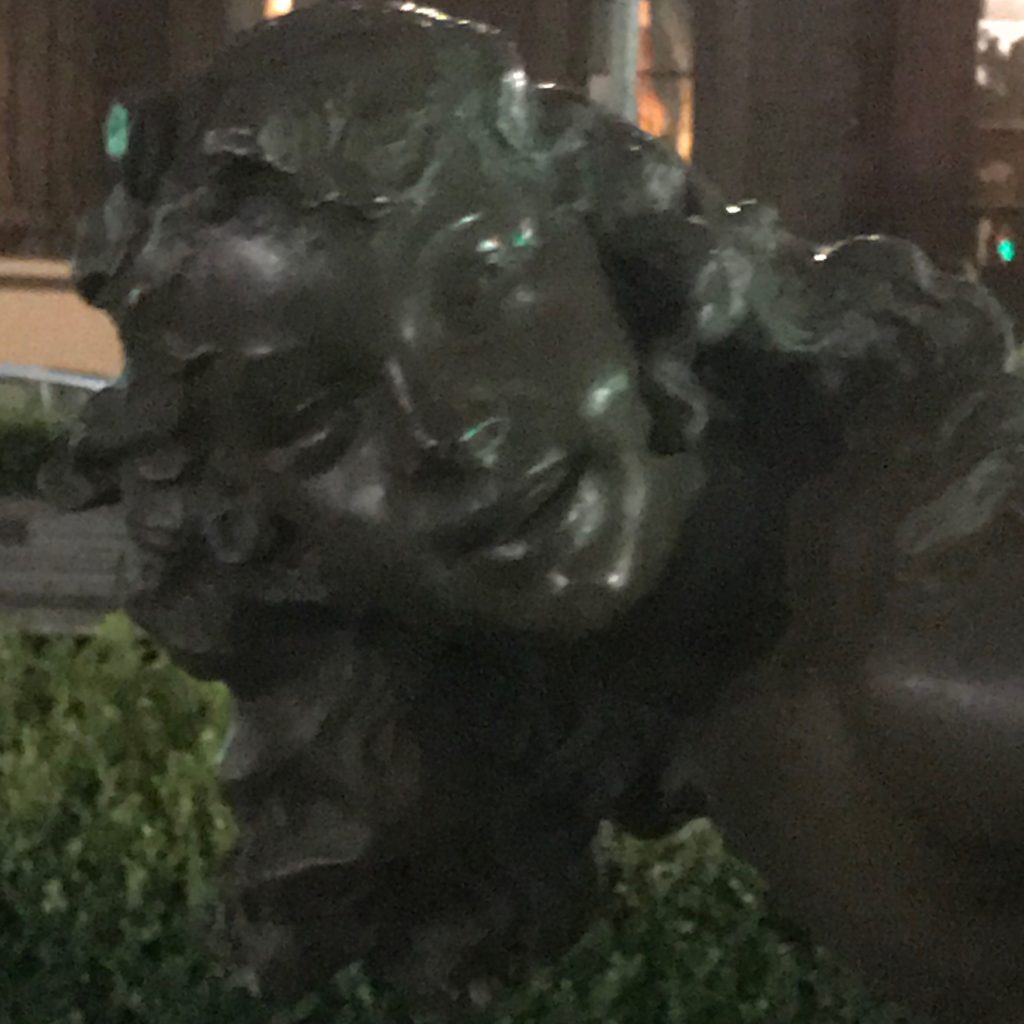 Among other outdoor attractions that do not photograph particularly well, there are the Gate's of Paradise, a replica of the famous Ghiberti doors in Florence.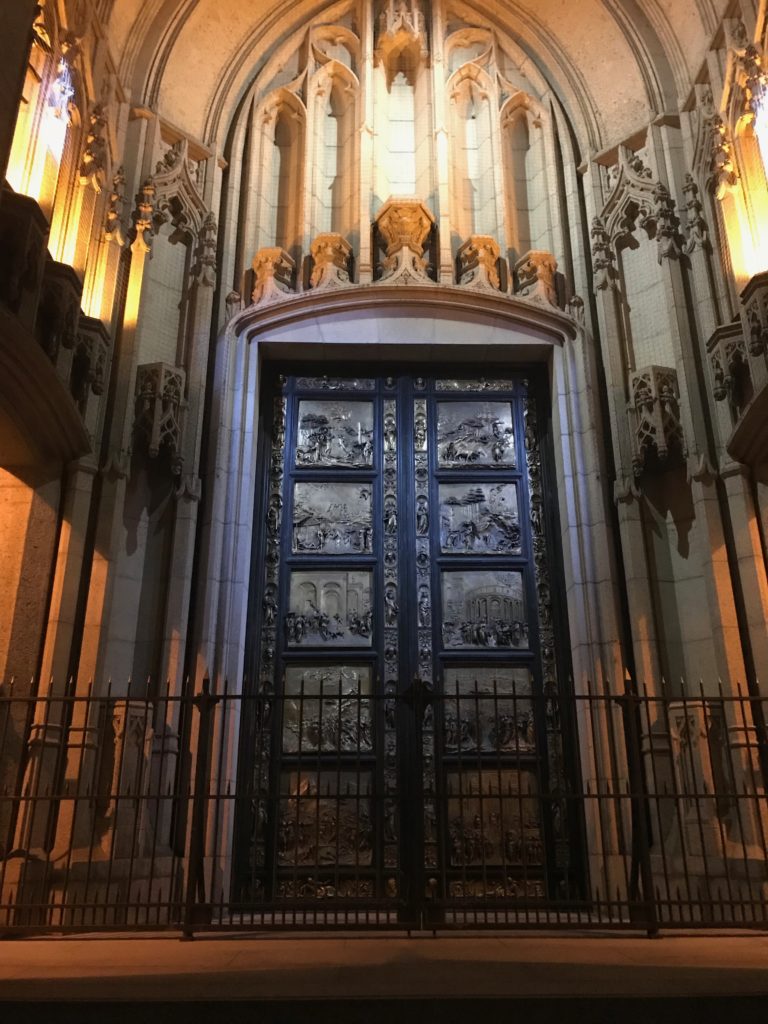 Each panel recounts a different story from the Bible, including everybody's favorite moment in scripture: the inspiring story of David sawing through Goliath's neck.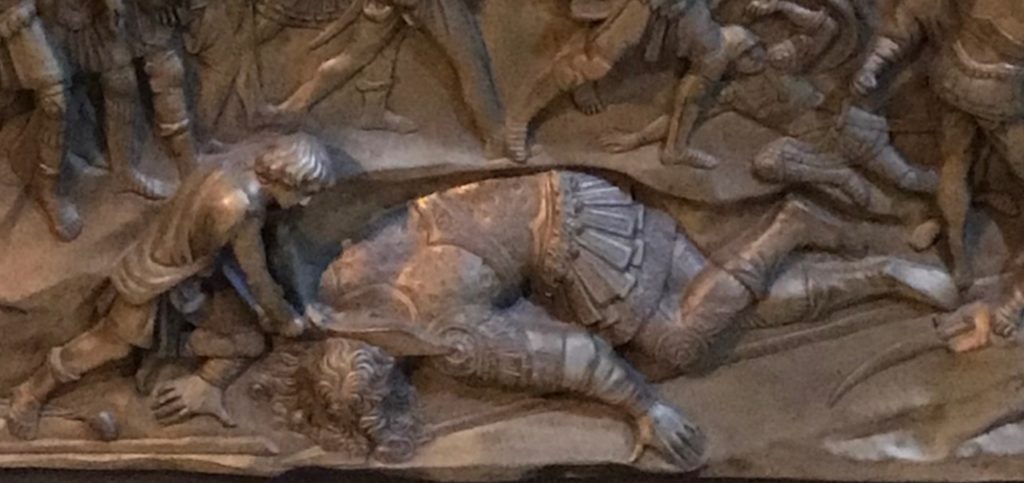 I was already beginning to think this trip was a wash. Call it, sweep the leg, go home. My impromptu visit to Grace Cathedral was not living up to the incredibly low bar this journal aspires to. Then, however, I went inside.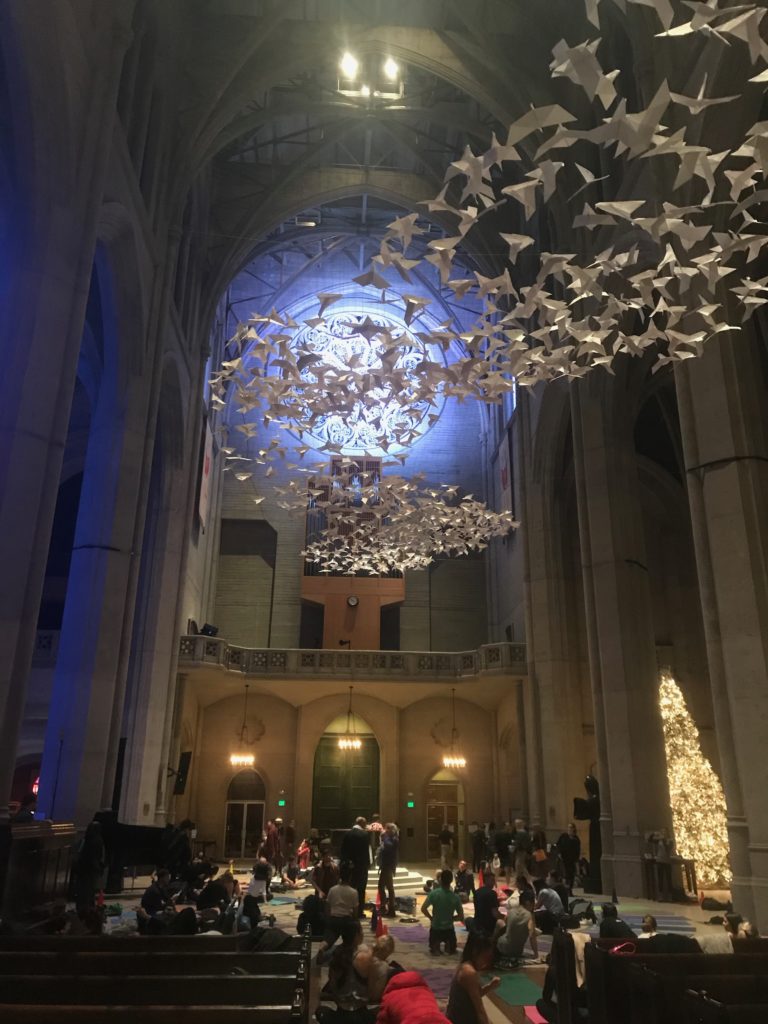 Descending to the bottom floor of Grace there is a large expanse of hallways, basketball courts, and an events area with a stage–all of which are awesomely and inexplicably designated in Lord of the Rings font.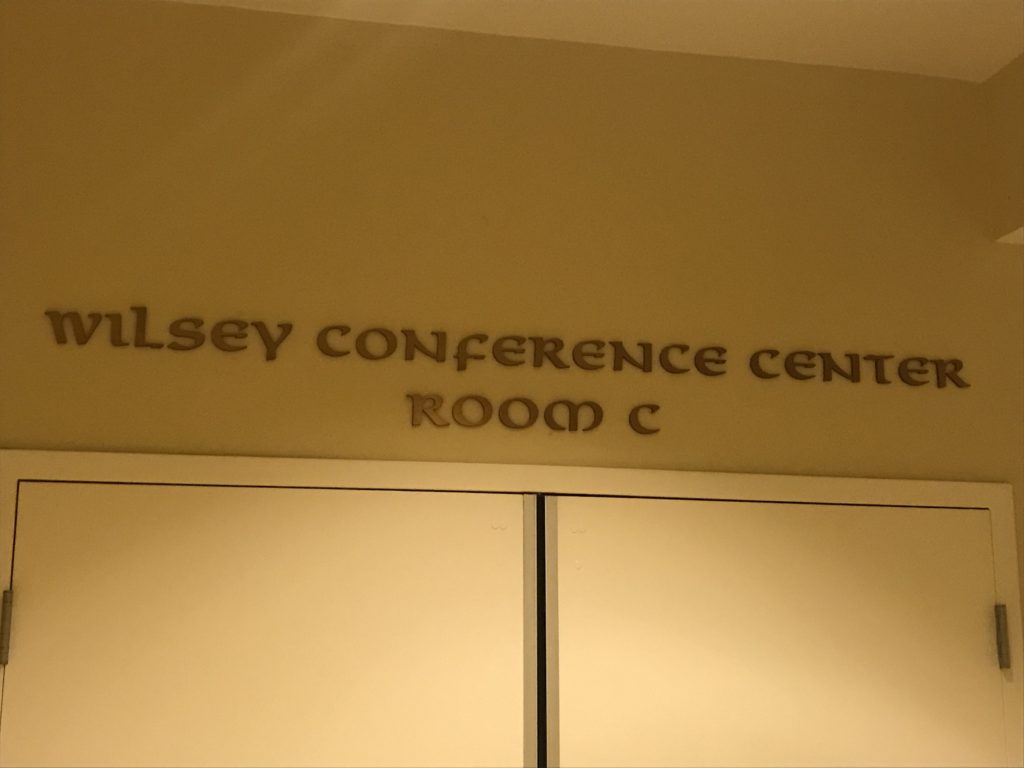 They also have this unintentionally hilarious map: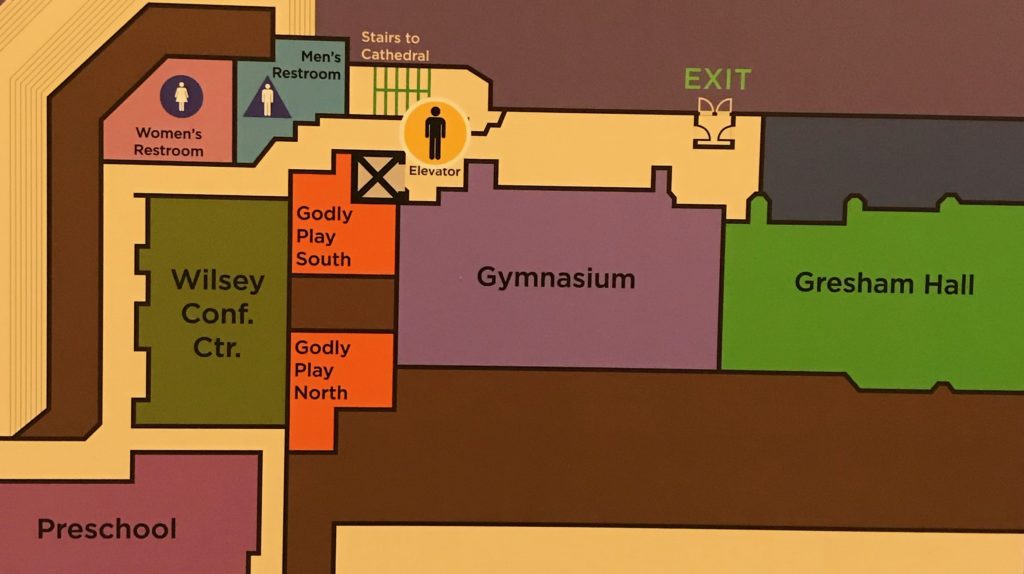 After scoping out the spacious underbelly, I headed back upstairs into the Cathedral proper. I do not know how long Grace Cathedral has offered a yoga class, but my friend's girlfriend has been going for at least ten years so it at least predates the Obama administration. Yoga goes downward facing dog at Grace every Tuesday night and there is a ten to twenty dollar suggested donation. The staff was incredibly helpful, even lending me a couple yoga mats to save spots for my friends, who somehow got there later than I did. Once I had procured us three spaces in the center aisle between the pews, I went on a photo spree.
Grace Cathedral prides itself on being a multi faith place or worship, as expressed by this charming medley of religious iconography by the front entrance: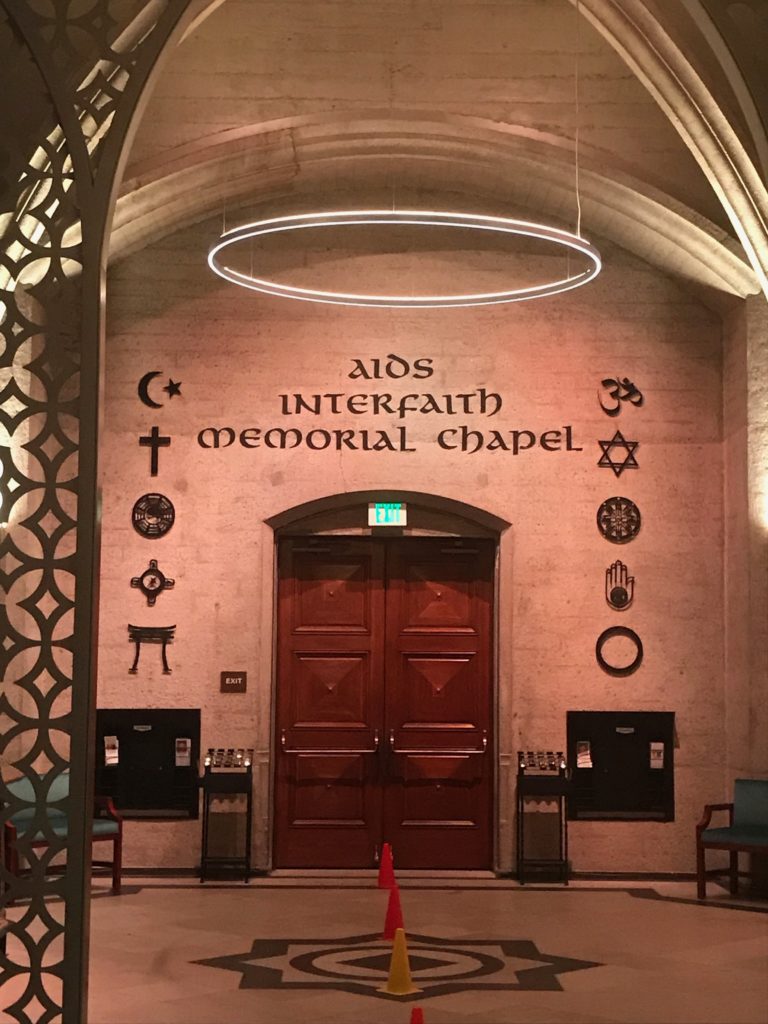 Truth be told, I am a complete sucker for this sort of thing. Call it new-agey and insincere, but after so many centuries of different religions not quite seeing eye to third eye, I always appreciate the effort.
Greeting anyone who visits this Cathedral is a wonderful statue which I thought was the virgin Mary, but turns out is actually "Smiling Saint Francis" in drag.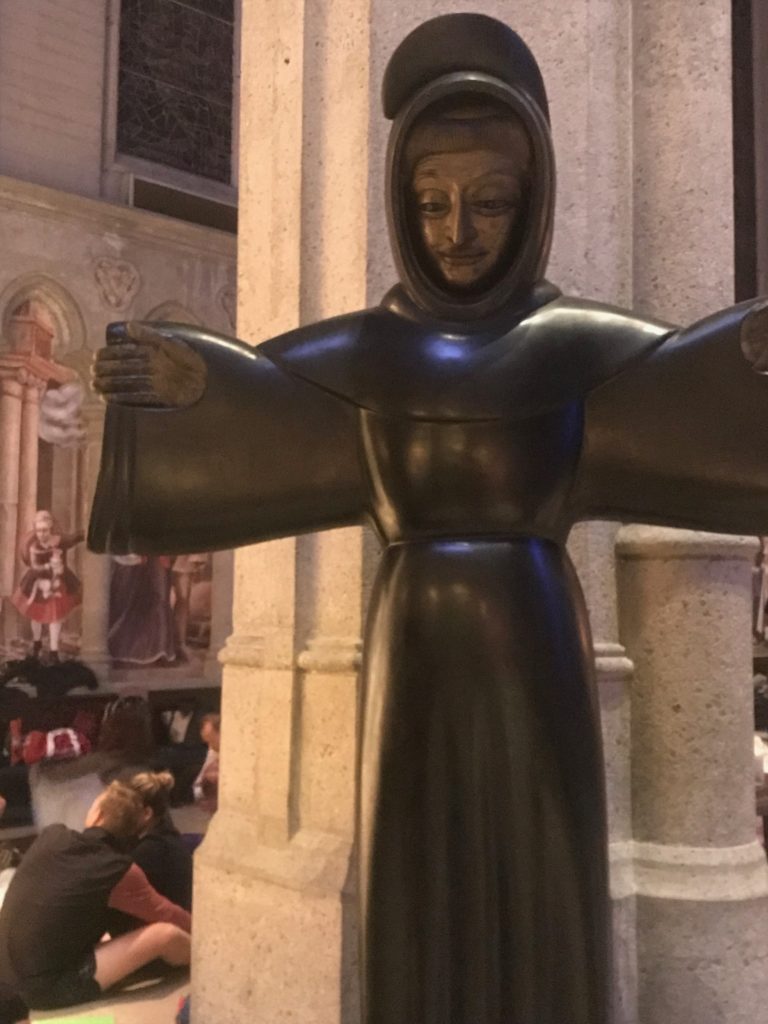 But this Cathedral is huge, and every wing, nook and cranny offers something new. Such as Biblical tapestries: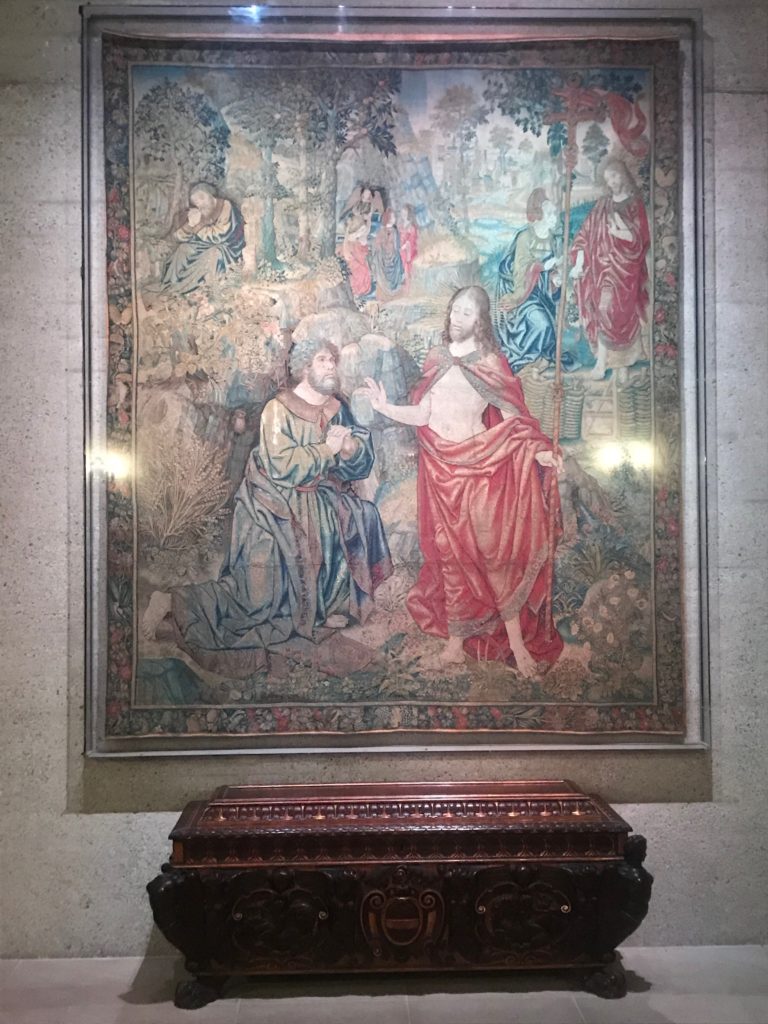 Frescoes portraying important events in American history: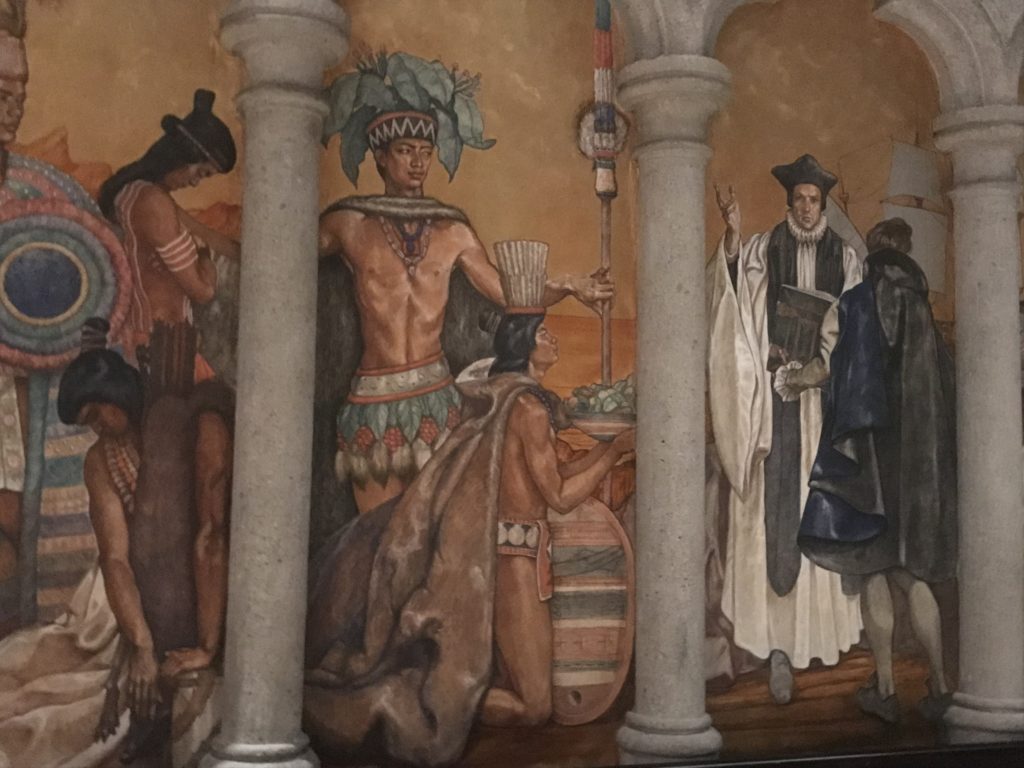 And here's Mary Magdalene holding an egg!: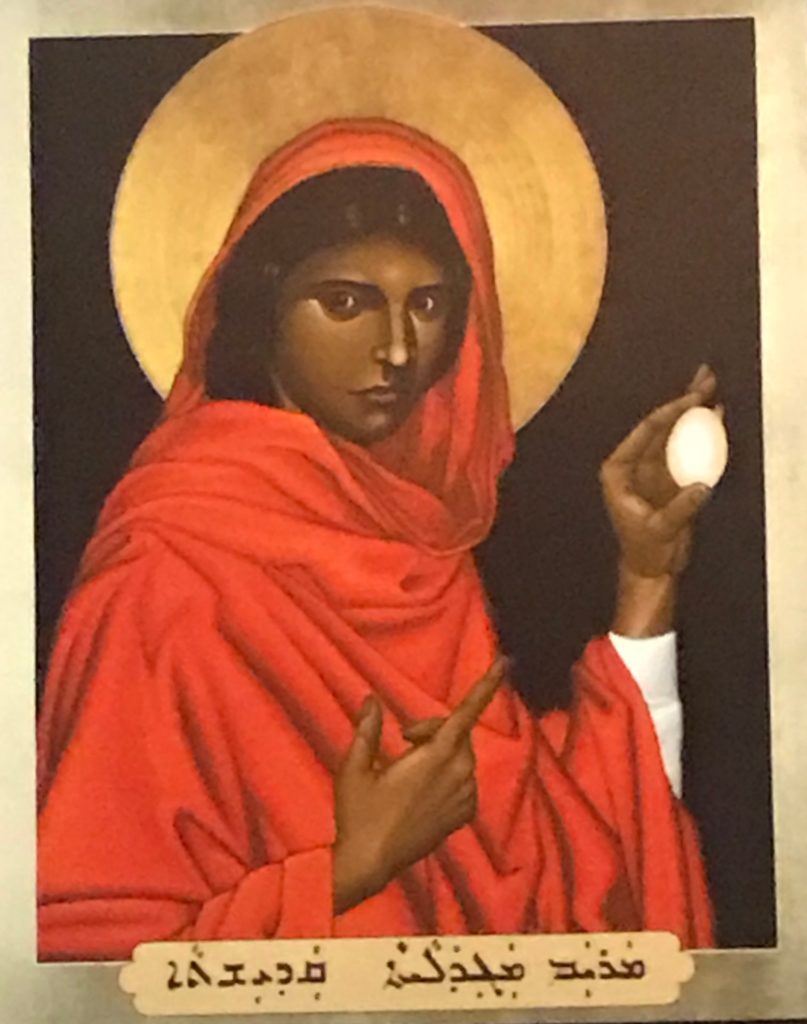 So here's the story, because obviously we're all wondering about this egg: after Christ rose from the dead, Mary Magdalene went to tell the Roman Emperor about it. And the Emperor of Rome, who was clearly an impressive orator, pointed to a bowl of eggs and said something to the effect of: "I believe that like I believe those eggs are red!" So Mary picked one up and incarnadined it, turning the white egg red. Somehow this story wasn't quite exciting enough to merit its own chapter in the Bible.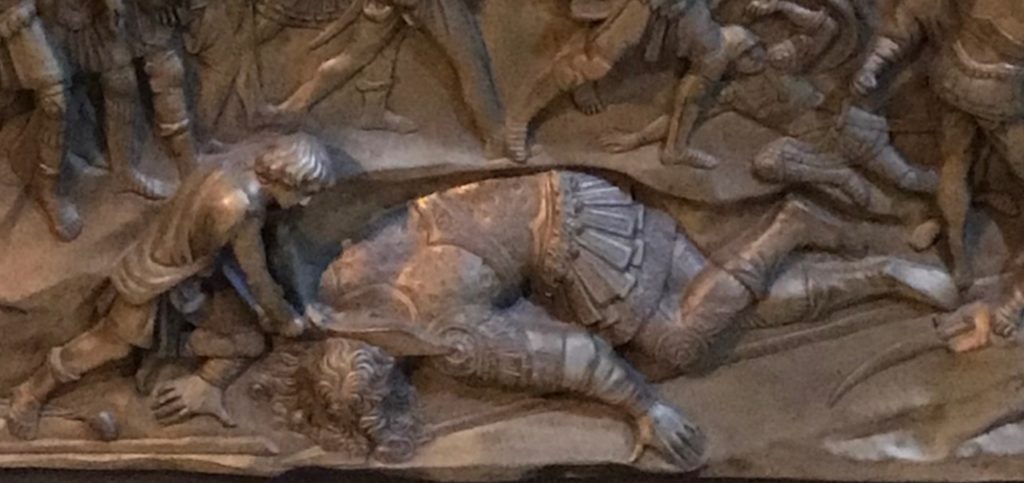 In a thoroughly awesome move, they also have a portrait of Martin Luther King Jr., the saint: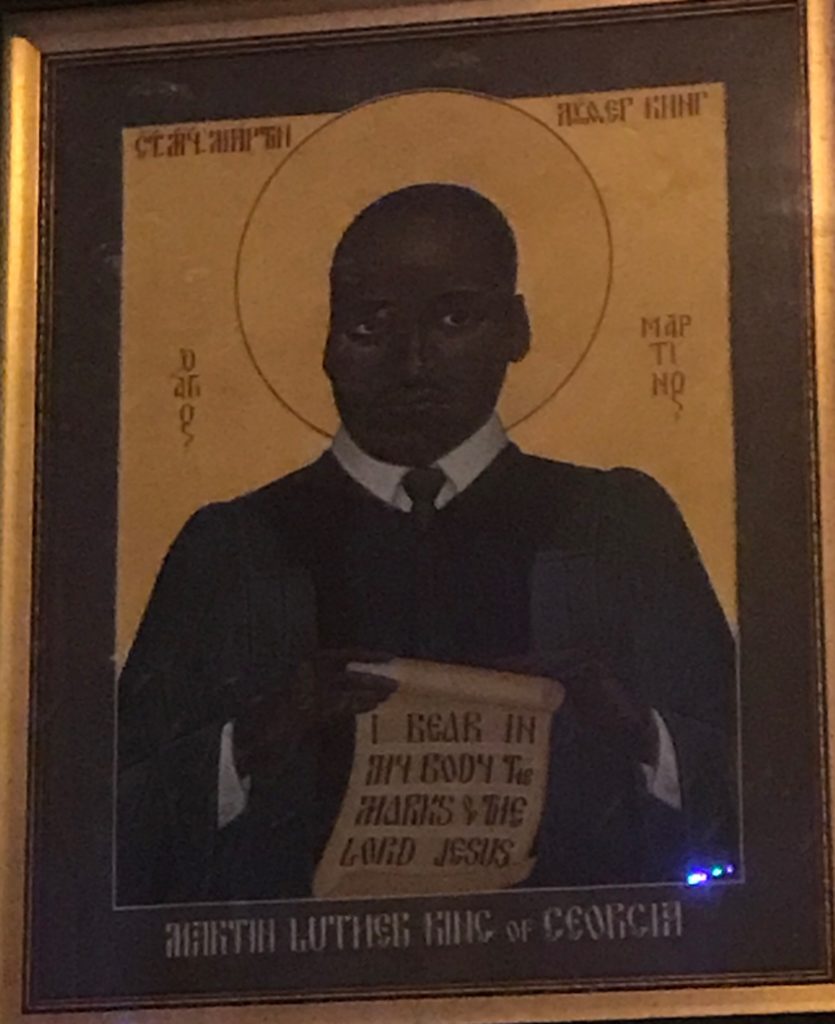 This isn't just religious fan fic either. It turns out MLK was actually sainted (saintified? sanctified? saintmogrified?) by the Holy Christian Orthodox Church in 2016. They was some pushback, due to his noted philandering with women who happened not to be his wife. But we probably shouldn't rule out the possibility that some Americans just didn't want to see a black civil rights leader wearing a halo.
But not to worry, you religious purists out there. Even in the new age, dope-smoking, free-loving, MLK venerating hippy-dippy hellscape that is Northern California, Jesus still gets center spotlight: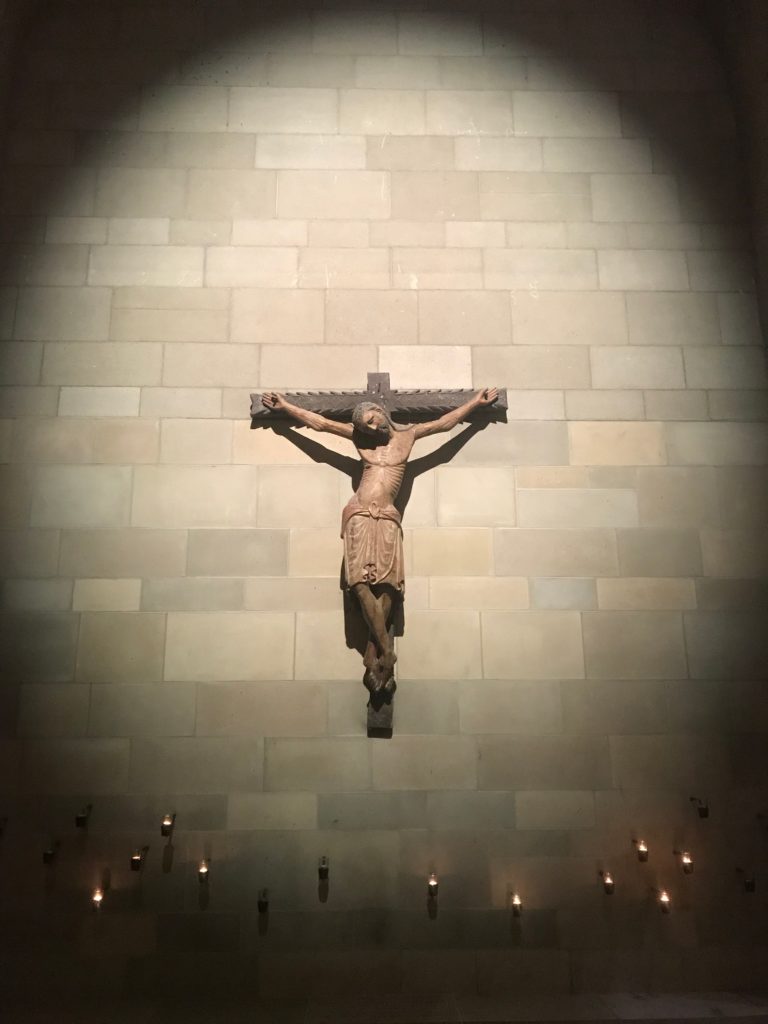 In my opinion, far and away the most exceptional aspect of Grace Cathedral was the event of being there on a Tuesday night. The juxtaposition of being in a church choc full of hundreds of mostly young people, surrounded by bare feet, tank tops and smiles. I highly recommend yoga at Grace Cathedral for anyone in the area on a Tuesday evening, with even a passing interest in improving their child's pose. 
True to their interfaith mission statement, Grace Cathedral makes a point of specifying that they are doing Hatha yoga, which is most of the yoga you will encounter in the west, but usually nobody ever specifies. In Sanskrit, the word "yoga" means "connection" or "union," or sometimes even "yoke." Yoga is a broad term recognized in Hinduism, Buddhism and Jainism and is generally split into six different aspects: Raja (contemplation), Bhakti (devotion), Jnana (wisdom), Karma (selfless action), Mantra (chanting) and Hatha (stretchy). Rather than a mere workout regimen it centers around a philosophical, meditative and spiritual core. Also I've just drastically oversimplified an extremely wide-branching, multi-millennia old system of belief and thought, so let's leave well enough alone. Suffice to say, there is a lot more to yoga than man buns and stretch pants.
The evening began with a nice, super quick sermon about Henry David Thoreau and the yoga itself lasted for a bit over an hour. I do not practice yoga regularly, but it seems to be a good class for people of all skill levels and hamstring tension. There is a band in the center of the Cathedral who play chill music the whole time, one of whom happened to be the dad of an old friend of mine, but I was parked in a two hour space till 9pm so I couldn't stop and give him a high five afterwards. Sorry Gary!
I did make it back to the Falcon before getting a parking ticket. My chakras were in line and I was feeling much better about the Universe than when I arrived. So all in all, I guess you could say it was a very graceful evening
Sayonara.