For years, Dad and I talked about going to Japan.
The cradle of life for sushi, anime, the samurai, Akira Kurosawa…Japan seemed like a land of romance and mystery for me since I was a kid. As I got older and learned more about its culture and history, it became clear this was unlike anywhere else on Earth. I may want to go everywhere, but Japan had made its way to the top of the list. It's amazing to think how much influence a relatively small island half a world away has on my daily life. Even my beloved Falcon is a Toyota. Before this travel journal became the internet-breaking phenomenon it is today, it began in preparation for this trip. I only knew two things going in: 1) we were going to have an awesome time, and 2) I was going to take a lot of funny pictures of my Dad.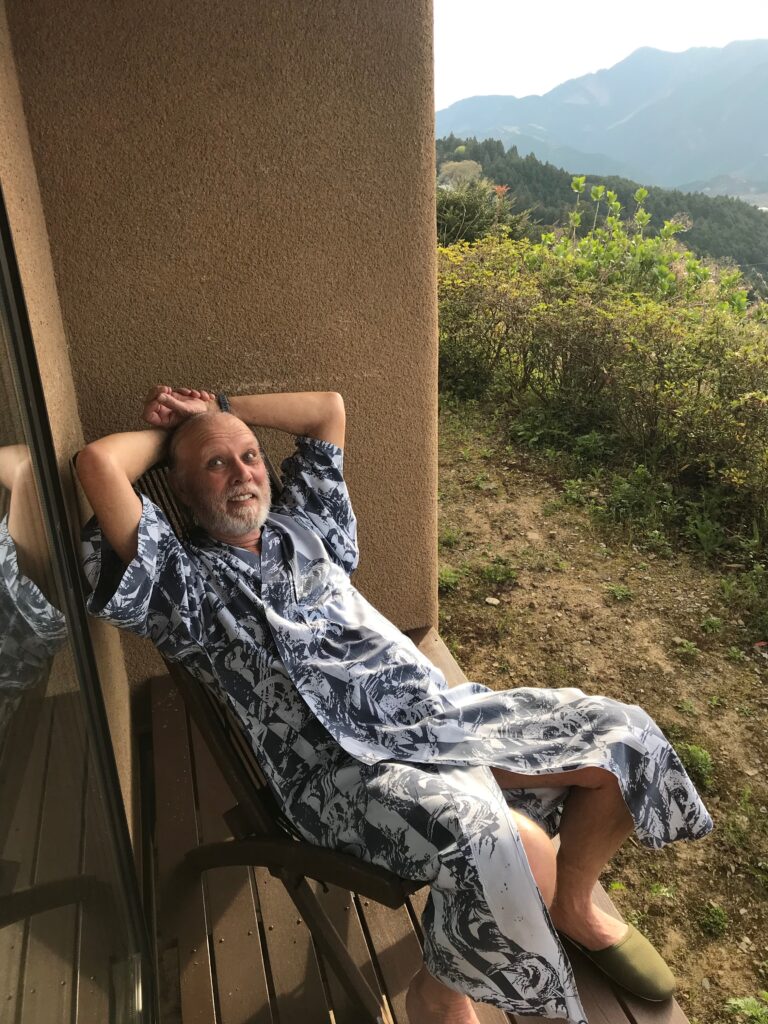 Dad may have wanted to go even more than me. He was even set on buying my tickets. And yet, we kept putting it off. Between price, time and season, there was always some reason not to go. It wasn't until Dad said he wanted to go while he could still walk, that we really got serious about it. He's a healthy guy and will be walking for a long time, but he was feeling his age. While reading up on Japanese culture in preparation for the journey, he seemed especially bemused by Japan's rapidly growing elderly population.
Dad: There are so many old people they're dying alone in their apartments. Have you heard about this? It's called kodokushi, nobody finds them for weeks.

Me: Yeah it's not good when you have a word for it.
So, after dreaming for years, and planning less than we should have, we finally got tickets to go west, so far west, we'd end up in the east.
Dad and I were going to Japan.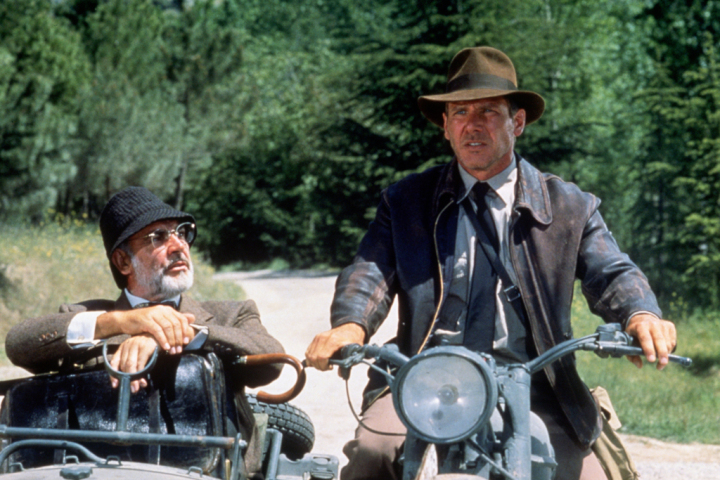 After 4 movies and an 11 hour flight, we touched down in Kansai airport, an artificial island in the middle of Osaka Bay. We'd be spending our first three days in Kyoto, and I'd done some research on the plane about how to get there. Dad was uncharacteristically trepidatious and wanted to take a cab, but I convinced him to buy subway cards which I highly recommend–they were a great buy, we used them constantly and they last up to 10 years. You even get to choose from some pretty sweet designs.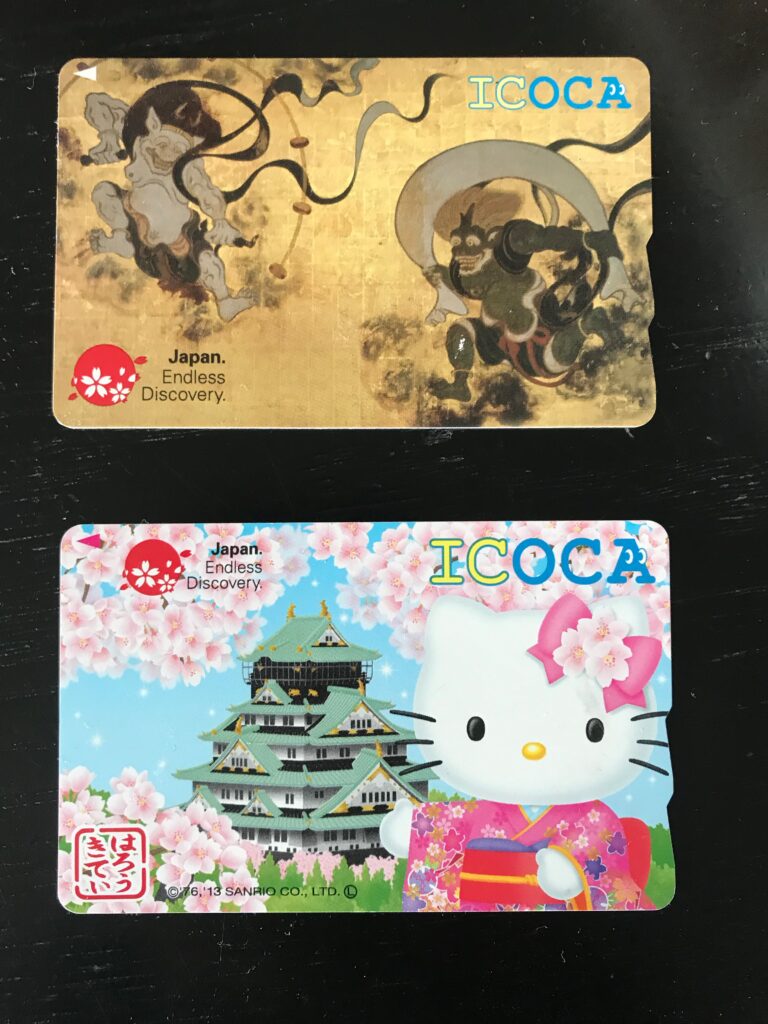 It's long been my opinion that public transit systems are a quick guide to understanding a culture. Whether it's the absolute mayhem of inter-city Indian trains, the once-grand, decaying and seedy NYC metro system, the booming, over-impressive Israeli trains, or even my own affluent county in California, which shares no trains with San Francisco or Oakland, presumably because we don't want to share seats with the peasantry. If you want to know how a place is doing and what it stands for, try using its public transit for a day. I remember Glasgow, a fun and independent city in the heart of Scotland, having only two train lines in concentric circles. One went one way, one went the other way.
This rule holds especially true in Japan. It is not the punctuality of Japanese trains (a couple years ago, a Japanese train line issued a formal apology because one of its trains ran 20 seconds behind schedule), nor is it the overwhelming number of 7/11s along the way from the airport to our hotel (12 stores, two trucks and one "7/11 bank machine"). No, the thing that stood out most to me about Japanese trains, was the absence of trash on the tracks.
Now when I say there was no trash on the tracks, I don't meant they were relatively tidy with a couple pieces of rubbish here and there–I mean there was nothing, at all, anywhere. In general, Japan has to be the tidiest industrialized country in the world. And I want to harp on this for a bit, because it touches on that distinctive, mindful, even self-sacrificial ideal of what it means to be Japanese. Something so small as a clean train track speaks to very big trends in Japan's public consciousness. There are no samurai anymore, but the spirit lives on in the cleanliness of their sidewalks. We talk about patriotism a lot in the U.S., but seeing the real thing on such a broad, individual scale caught me by surprise. A true example of patriotism means loving the land your live on and respecting your neighbors enough to sort through your recyclables. Though in this country, being a patriot has come to mean barbequing hotdogs on the fourth of July and tweeting death threats at Colin Kaepernick.
Trying to outstep jet lag, we dropped our bags in the hotel, grabbed a map and went to skulk, sleepily, around the city. Our hotel was nice but the city was nicer–even if our toilet (like all Japanese toilets) had a control panel comparable to piloting a Gundam.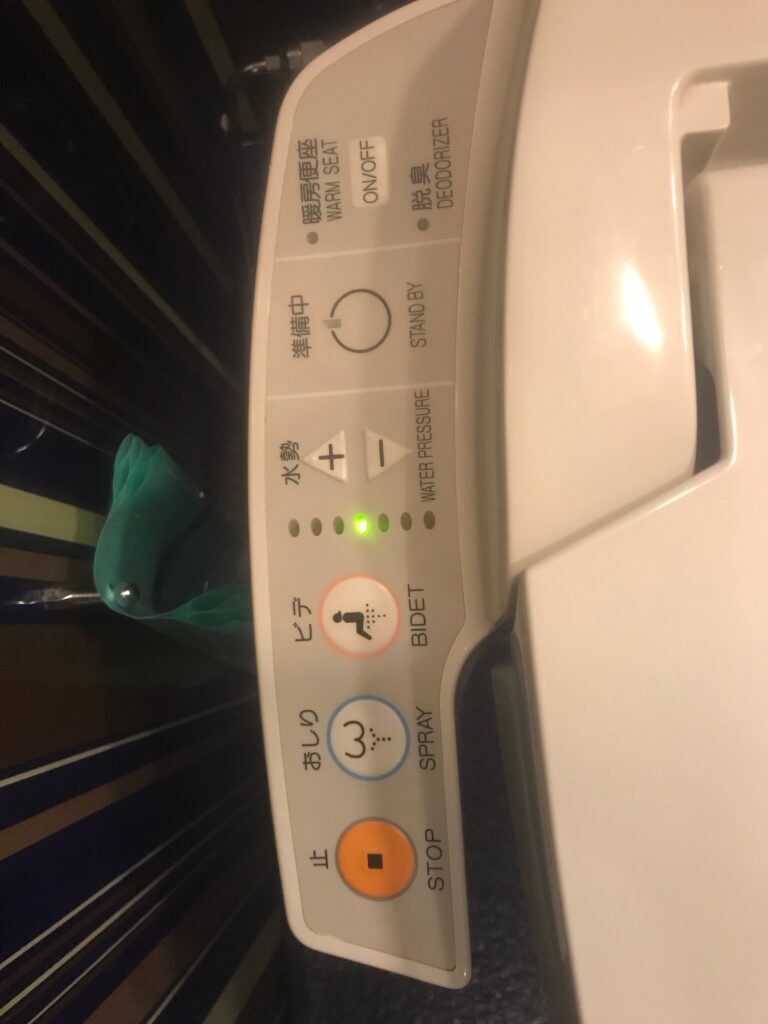 Kyoto is synonymous with temples and history. It was the Imperial capitol of Japan for over one thousand years. We ended up walking in circles searching for Nijo Castle, a fortified palace constructed by the mega-famous shogun Tokugawa Ieyasu, who in a power play move, had every feudal lord in Western Japan contribute to its construction. We crossed through side streets and alleyways. The Japanese don't speak a lot of english, but they are enormously polite, often going out of their way to help tourists. So, we had no idea where we were going, but we were loving every step of the way.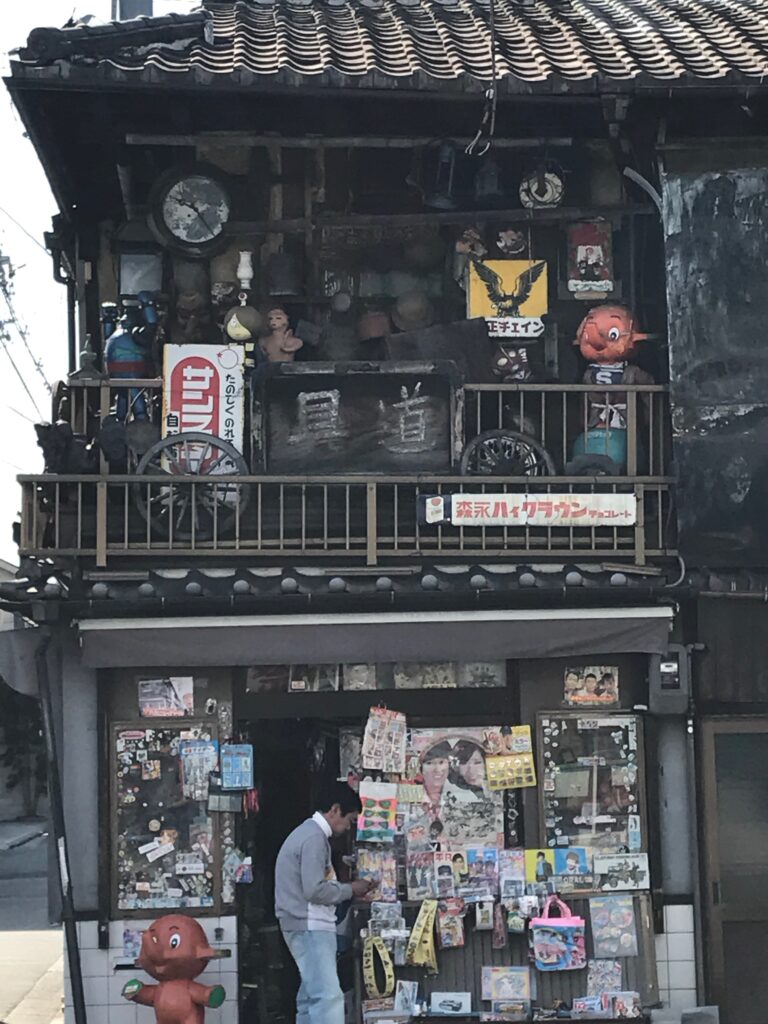 And I do mean every step. Dad, like many men his age, wears a wrist pedometer he treats as a sort of amalgamated trinity between personal trainer, sherpa, and spiritual advisor. He announces the achievement of "10,000 step days" with gleeful relief akin to ancient seafarers discovering land. In his defense, Dad's pedometer is easily the most complicated piece of technology he's ever successfully learned how to use, so he probably sees it the same way most people would see a a pair of smart glasses, or a robot butler.
Suffice to say, by the time we found Nijo Castle we'd gone well over the sacred 10,000 step threshold, and were exhausted from the time change. Dad wanted to go back to the hotel for a merciful night's sleep and I would have been right there with him. If there hadn't been hundreds of people lined up outside the castle walls.
And they were all Japanese.
Now a line that long merits investigation. Especially in the evening. Especially-especially outside a well-known tourist destination, comprised of locals instead of ignorant, cheese-fingered tourists like us.
We started walking away, but I kept glancing back at it, and Dad, in his infinite wisdom and dadliness, relented.
In typical Japanese fashion the line moved quickly. After paying 500 yen each (the price, it seemed, of every tourist destination of Japan–under five USD) we stepped through the imposing front gate.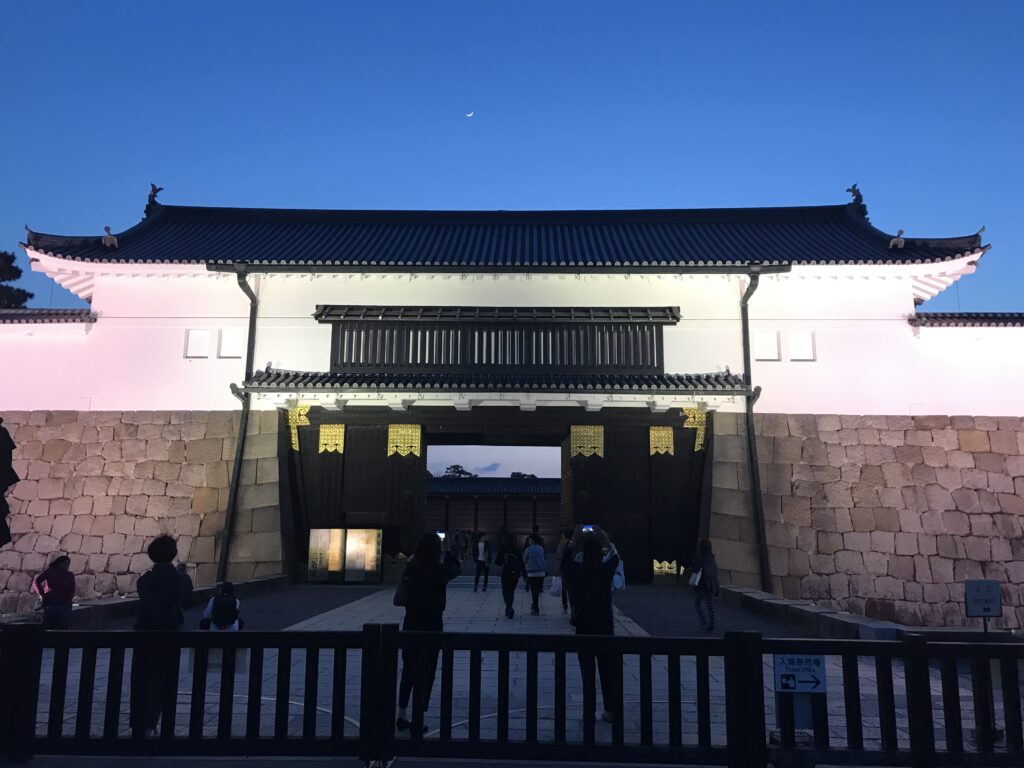 What we stumbled into was an illuminated light show. I had encountered these before in Egypt and India, but had all but forgotten about their existence. Essentially, it's a spectacle in which beautiful lights are cast upon the faces of great monuments (in the Sphinx's case, literally.) They are not popular in America, probably because it's too young a country to have any buildings that would justified it.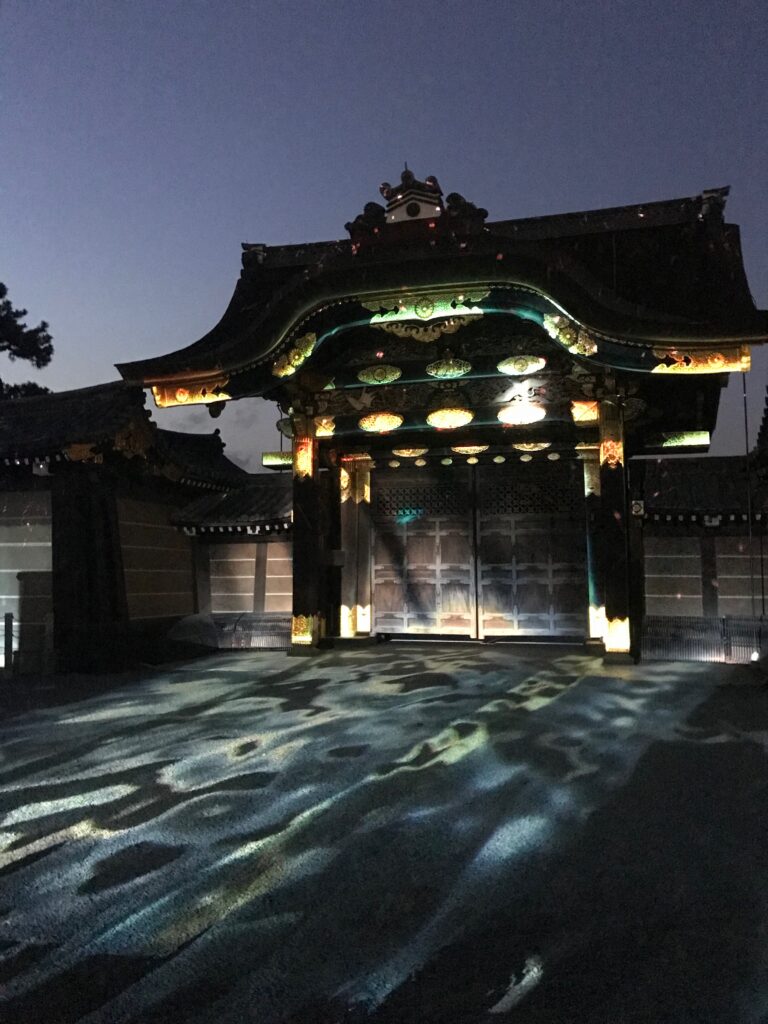 Dad was enthralled, which I was glad to see after essentially yanking the pillow out from under him. So was I. We watched the same two-minute show three or four times. Soft music played while different designs swept across a wooden gateway, until cherry blossoms rained down and ultimately floated away, transformed into butterflies.
That was only the beginning. It was cherry blossom season, and Nijo has a collection of small blossom groves. Every tree was illuminated. Pinks, purples, reds, whites. There were soft-glowing neon lawn decorations that looked like giant pieces of candy, and soothing, smooth music playing from nowhere.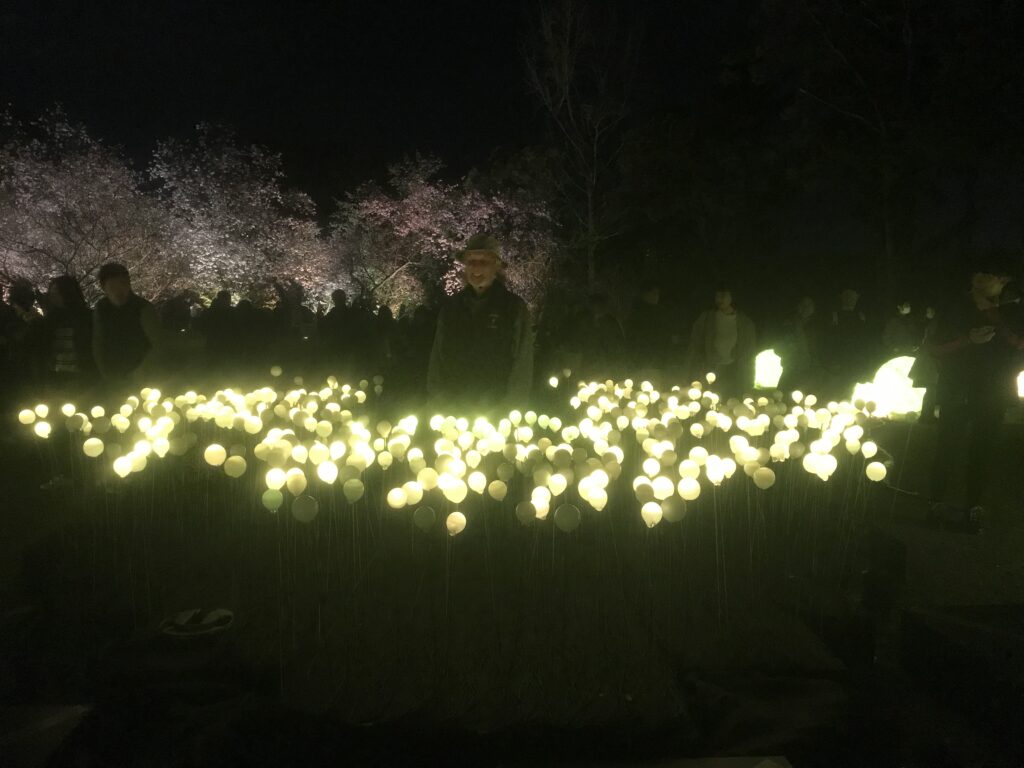 The sleep deprivation was working in our favor. Dad and I felt we'd walked into a dream. The white, sliver moon hung low, reflecting off the moat. When we felt hungry, we walked into an open courtyard selling bowls of soba. We had accidentally entered some strange dimension, where everything was exactly right.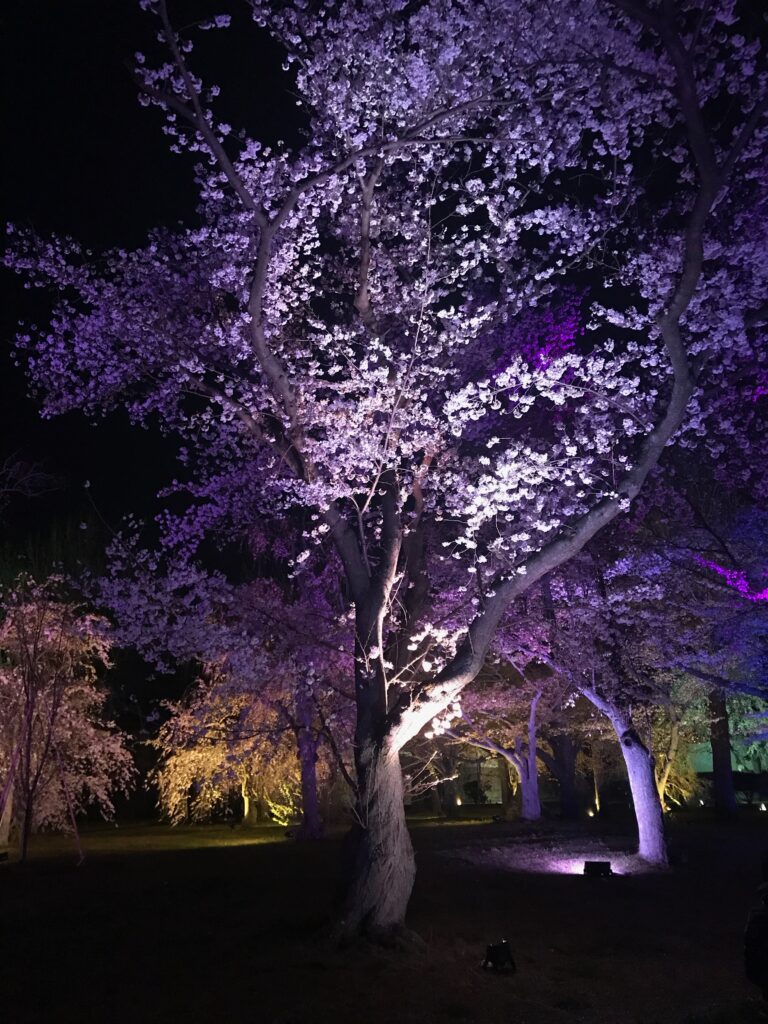 So we wandered our way, dazed and peaceful through the castle grounds. Nijo turned out to be a sterling example of one of traveling's the great joys: the unexpected. The gratefully unexpected, anyway. As the night drifted on, we left Nijo behind and I gave one last look to the illuminated cherry blossoms, the pale moon reflecting in the water, the masterful silhouette of the slanting castle roofs.
"What a stone wall!" Dad commented, staring in the opposite direction.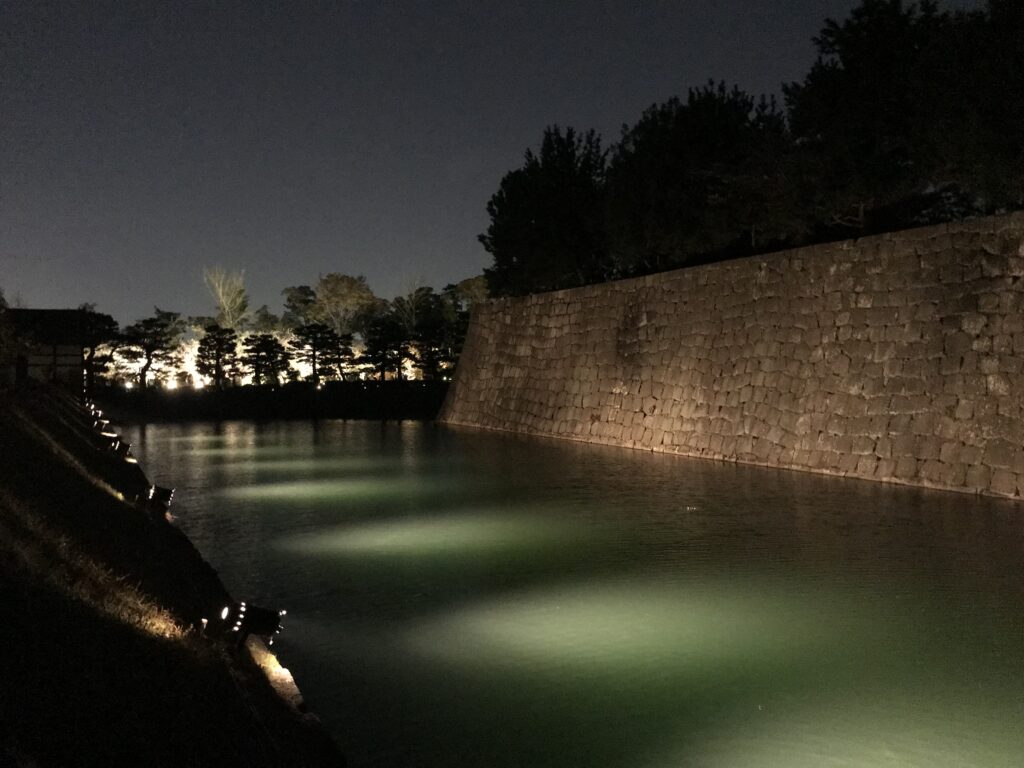 Our journey to Japan kicked off on the right foot, and we had hardly taken the first step.
That night, we slept like the dead.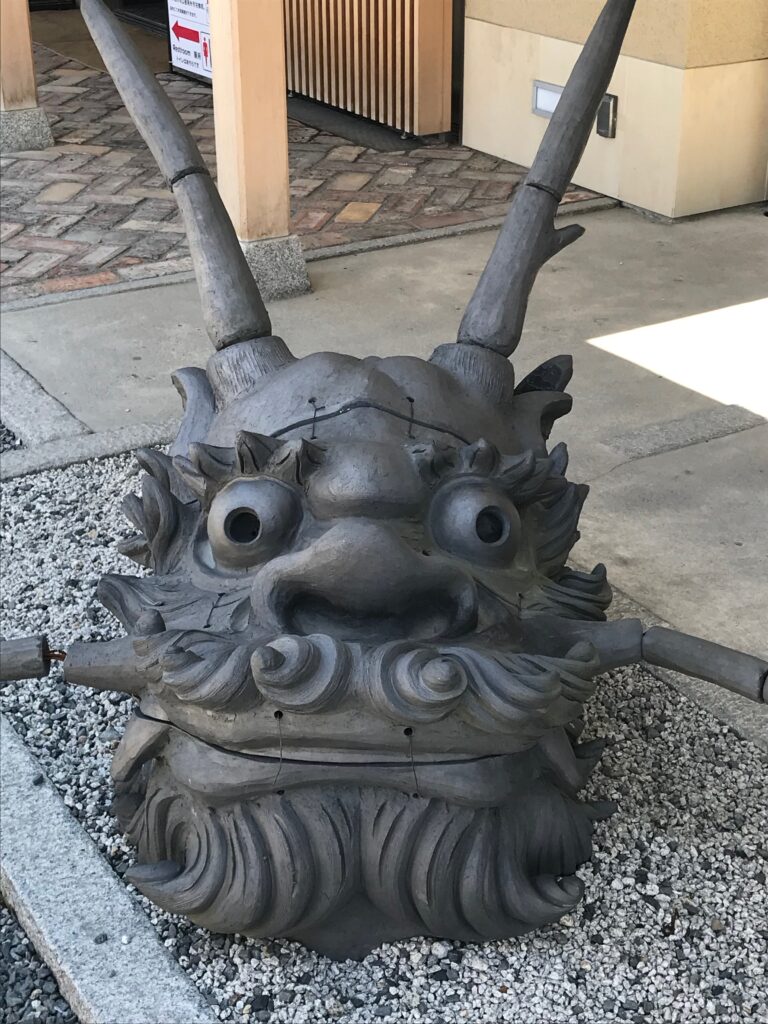 To be continued in: Nate Currier and the Land of the Rising Sun, part 2.