Our first day in Kyoto, we did everything.
The day started with an early morning subway ride to Fushimi Inari shrine, a temple complex that came well recommended from a couple friends of mine who used to live in Japan. By this time, Dad realized that I had a wizard-like ability to find my way around (google maps), and proposed the following deal: "You figure everything out, and I'll pay for everything."
This happened to be exactly the arrangement I wanted.
Fushimi Inari is the head shrine to the kami (god) Inari, a principle deity of Shinto associated with fertility, rice, tea, sake, success, industry, agriculture and, adorably, foxes. Unsurprisingly, being the god of rice in Japan makes you automatically sort of a big deal.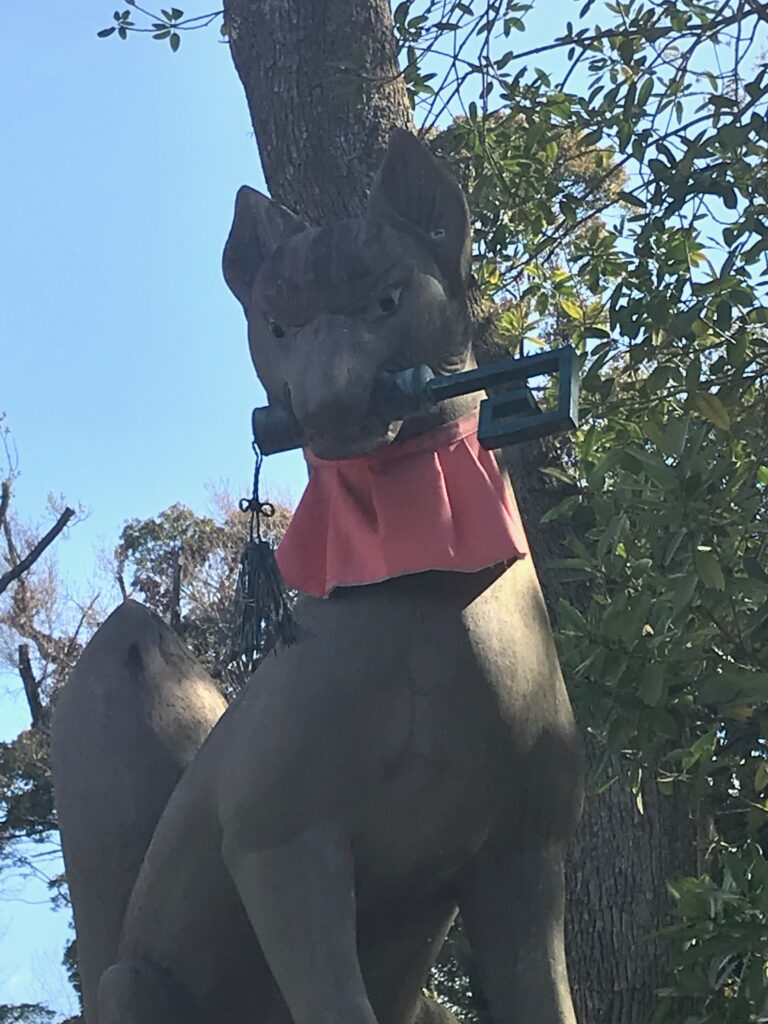 I should probably get this out of the way now. Shinto is the ancient, traditional religion of Japan. It's a polytheistic system predicated on the belief that places, qualities, phenomena and anything in the natural world has a spirit or god associated with it. These kami exist in a spirit world hidden from, but also overlapping with, our own. They are sometimes called the 8 million gods, which is a pretty cool name, though there's no official count.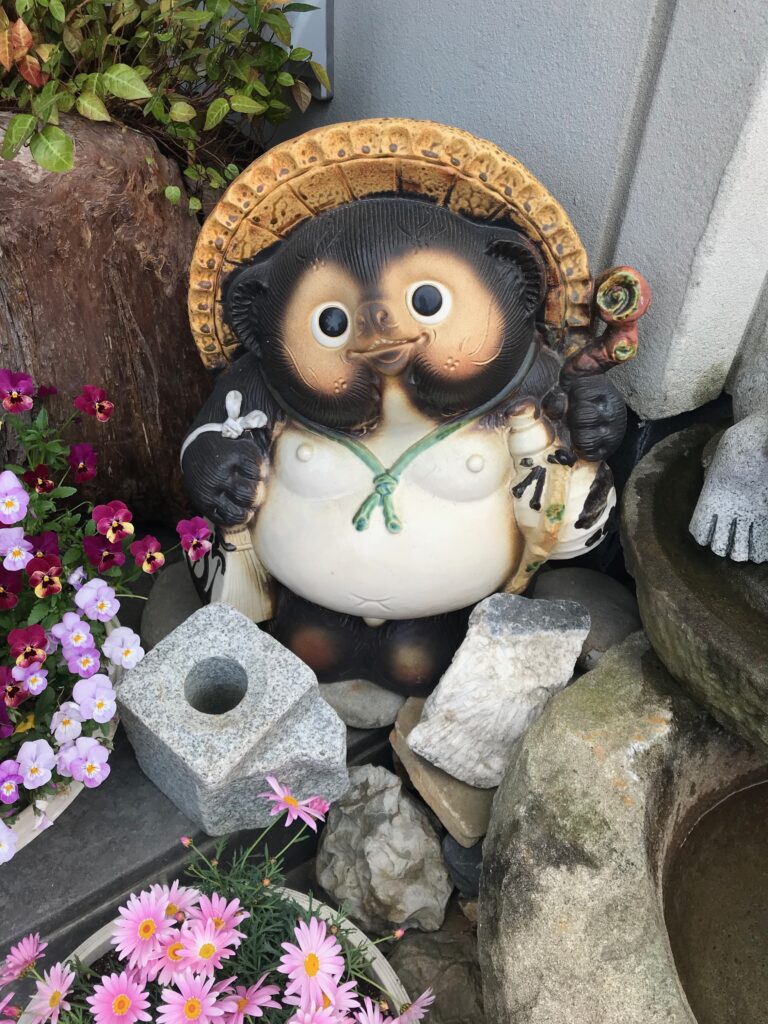 Fushimi Inari sits at the foot of Inari mountain. It's a jovial temple complex with shrines of deep red (an auspicious color in Japan), monks, peddlers, tourists and statues. Its earliest structures date back to 711 A.D.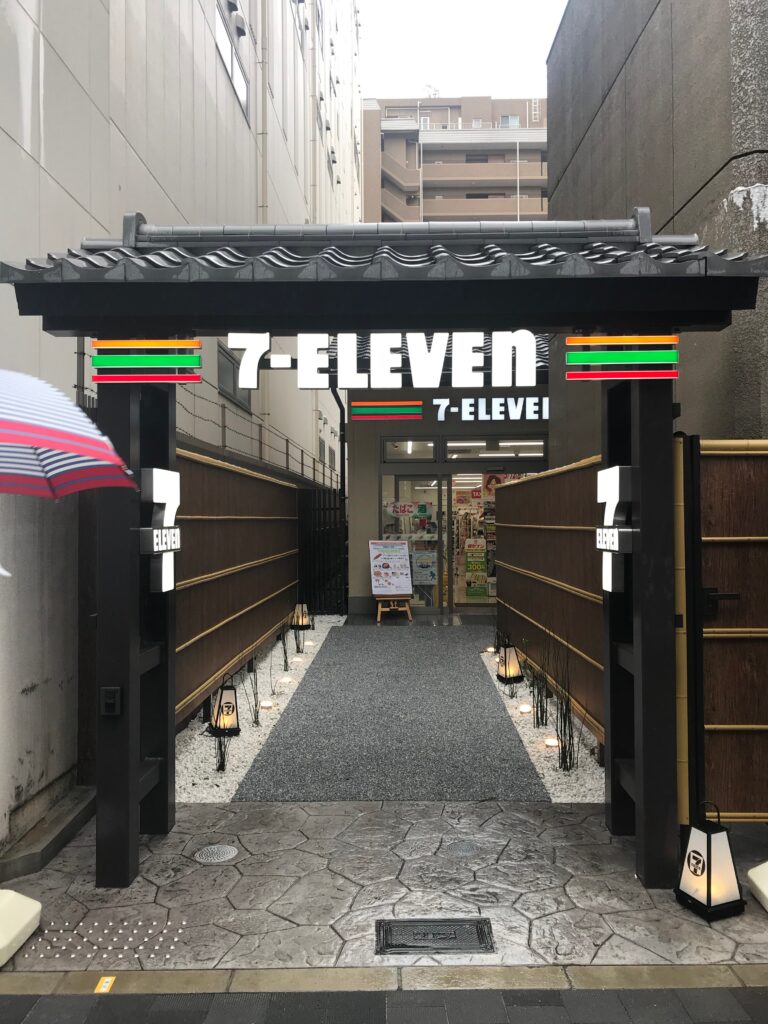 But the highlight of Fushimi Inari is the Senbon Torii, a series of red gates erected in pathways up the mountain, each independently donated. There are around 1,000 of these torii gates, and Dad and I walked through most of them.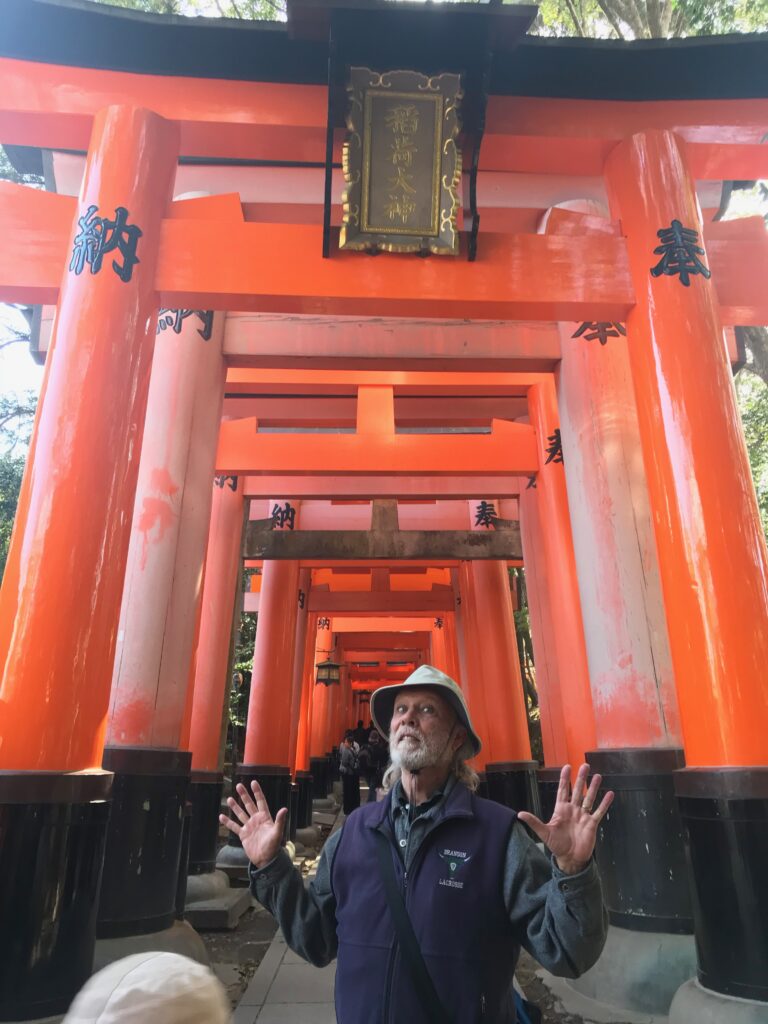 We continued through the Higashiyama district to the nearly empty Tofuku temple, a building so massive it's hard to get the whole thing in frame.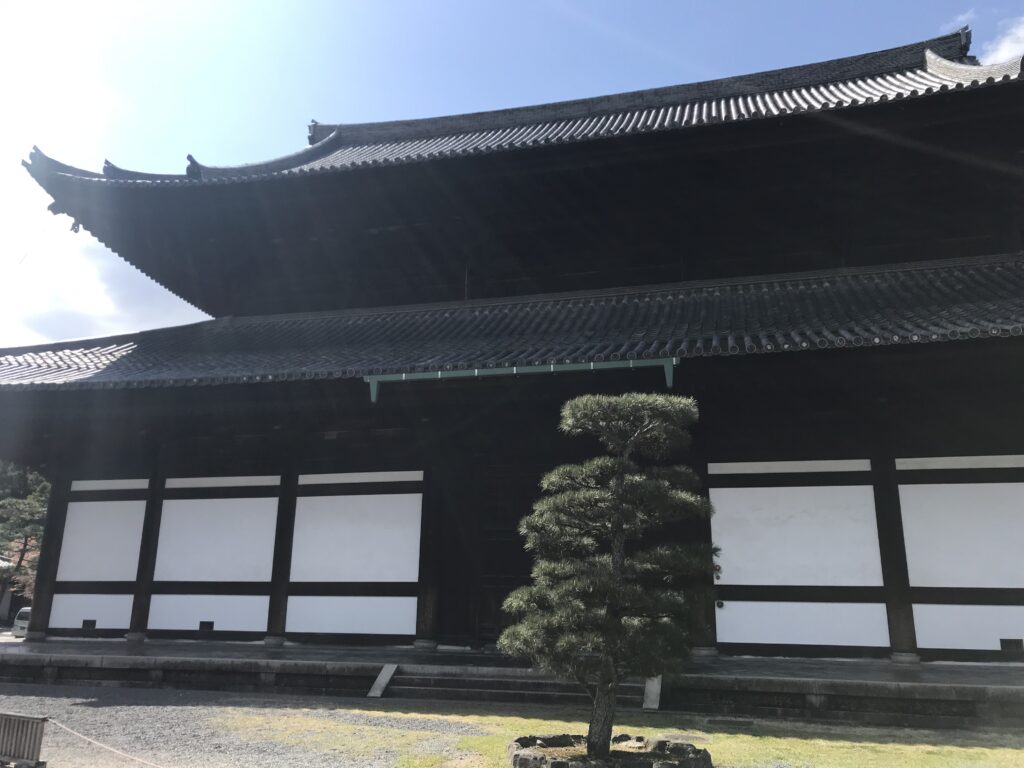 Tofuku, while less popular than Fushimi Inari, turned out to be a pretty cool place. They have this tasteful mini-zen garden made from old toilet seats.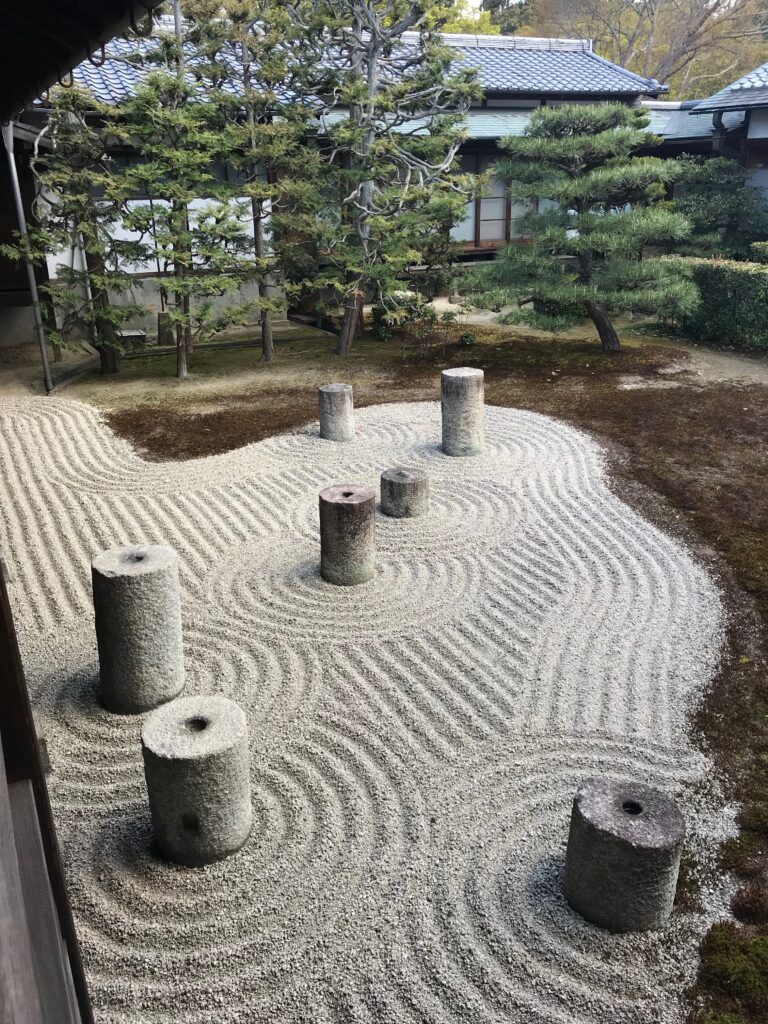 But the toilet rock garden is right across from the big-boy rock garden, which, spoiler alert, turned out to be our favorite in Japan. In fact we loved it so much, I'm posting three pictures of it.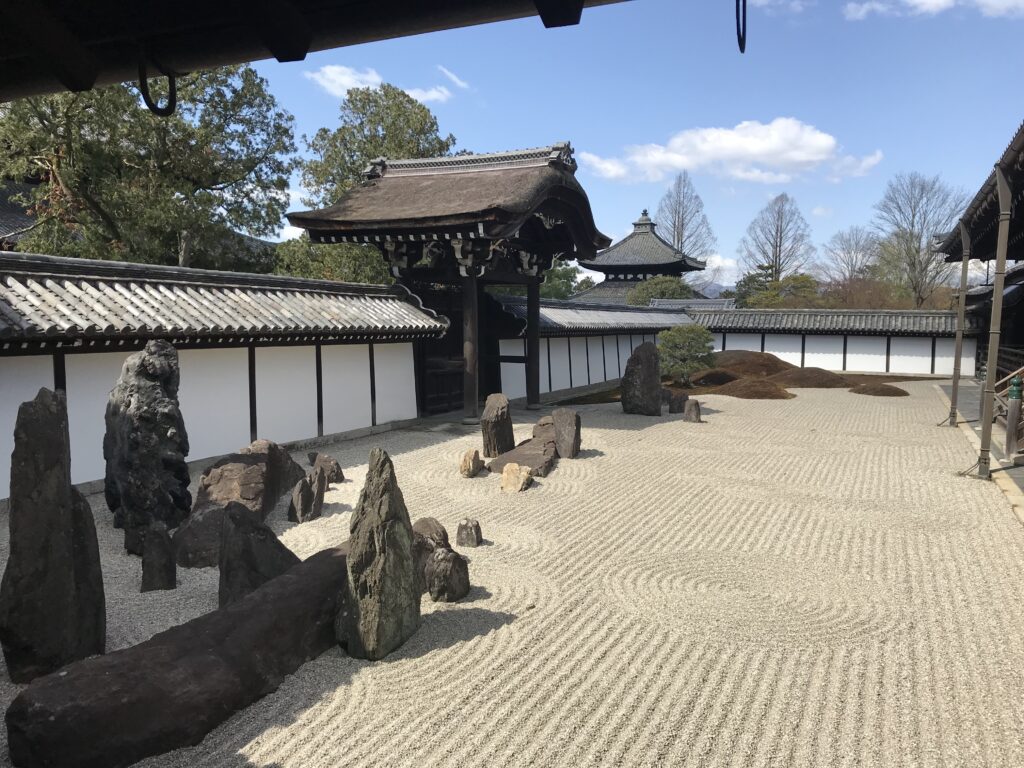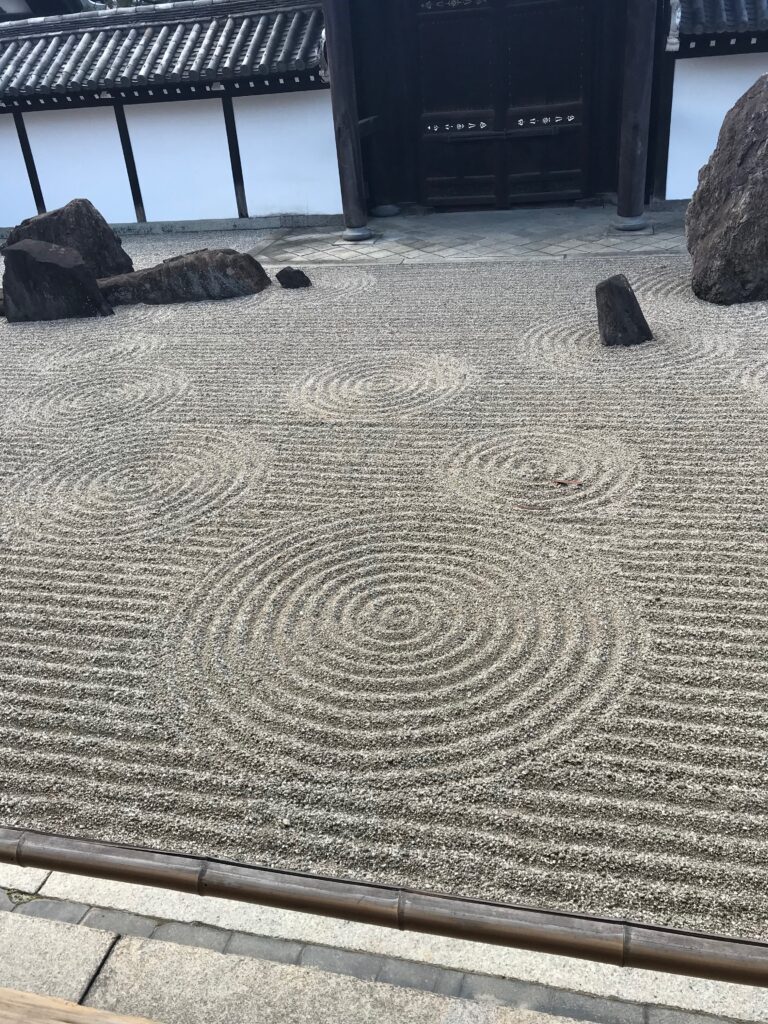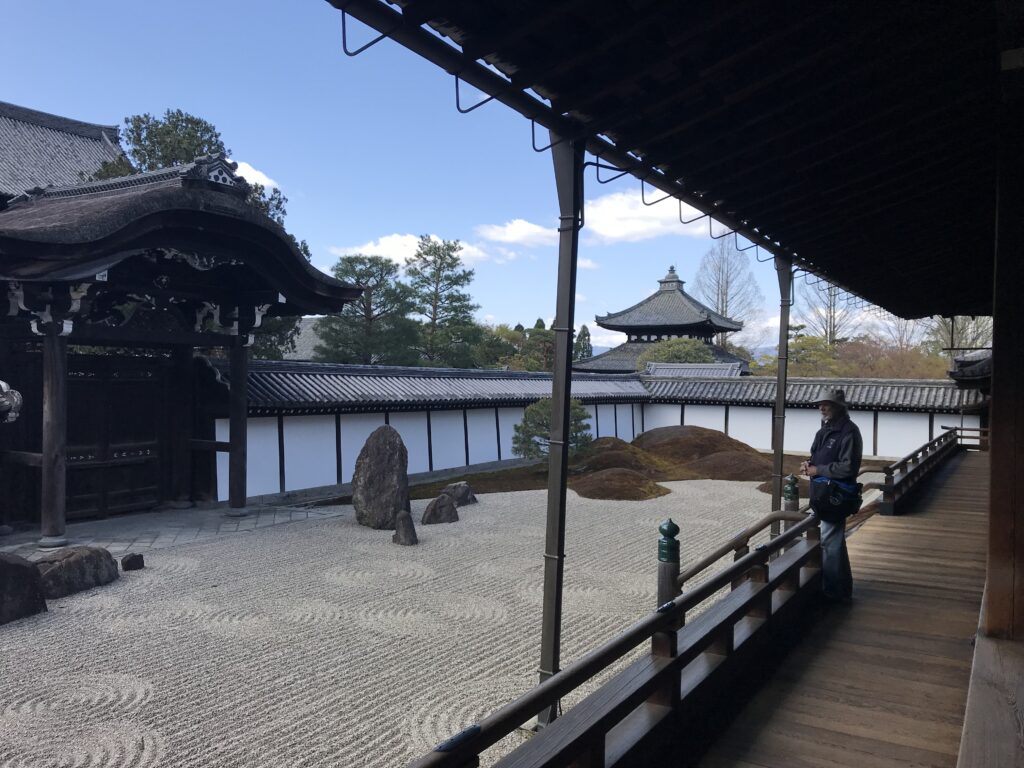 This place is just sorta beautiful. We sat on the steps for a few minutes talking about how they manage to rake it without leaving footprints, and generally introspecting on the nature of the universe. I'd love to offer some religious or spiritual insight to the rock garden and how it got started, but I have yet to hear a compelling history. More than anything, the zen rock garden is one more example of the uniqueness of Japan.
We ventured onward to Kiyomizu-dera, arguably the most famous temple in Japan. It's located on a hilltop and the best way of getting there is hiking through the sprawling, oddly panoramic Otani Cemetery.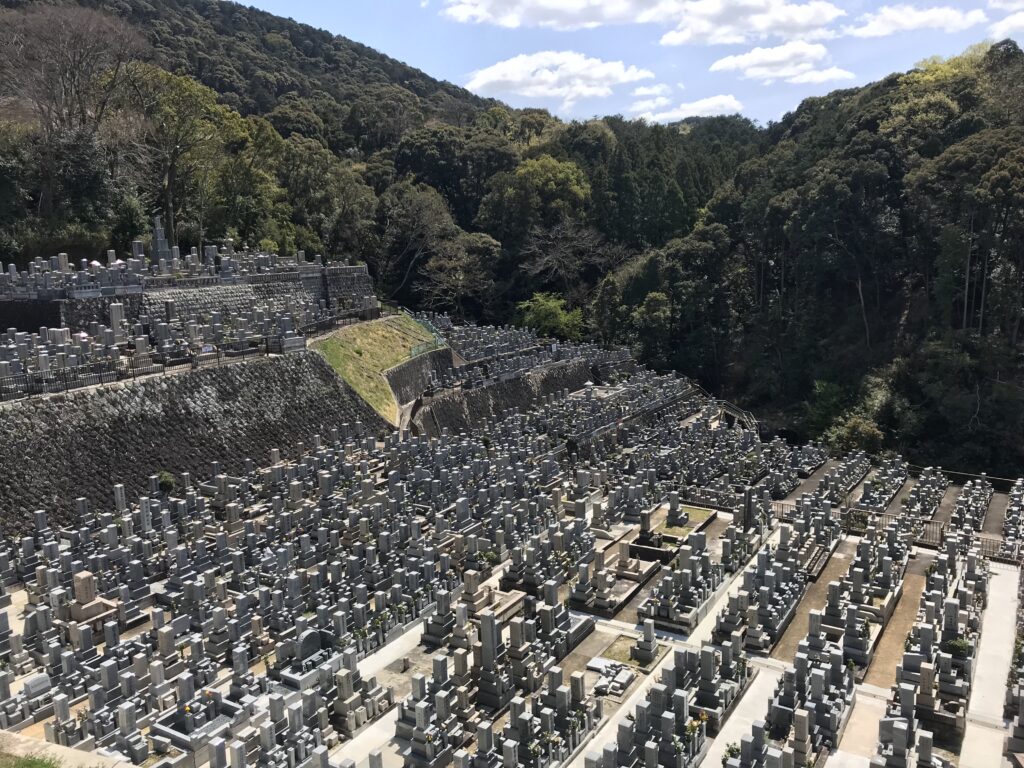 This labyrinthine cemetery appears to still be in use. From what I can tell, Japan doesn't venerate the dead the same way other Asian countries do, but there were still a good number of offerings placed along gravestones.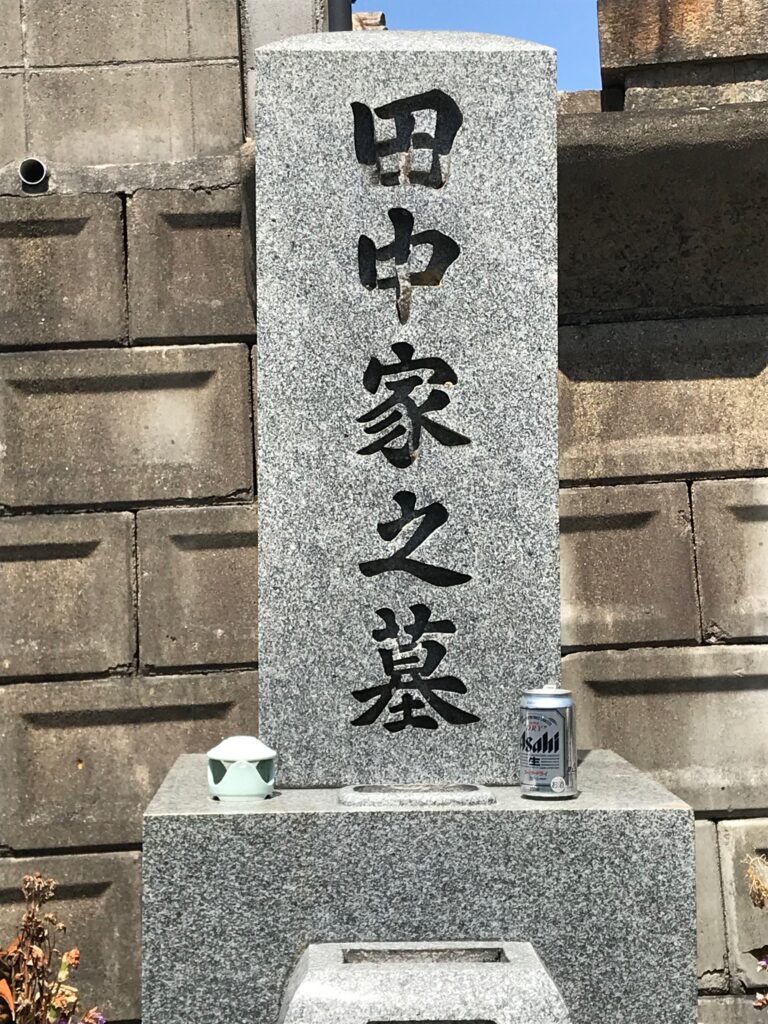 Kiyomizu-dera is a Buddhist temple founded in the eighth century, whose current buildings were commissioned by Tokugawa Iemitsu, the grandson of the man who built Nijo Castle. It's known to be especially beautiful during cherry blossom season.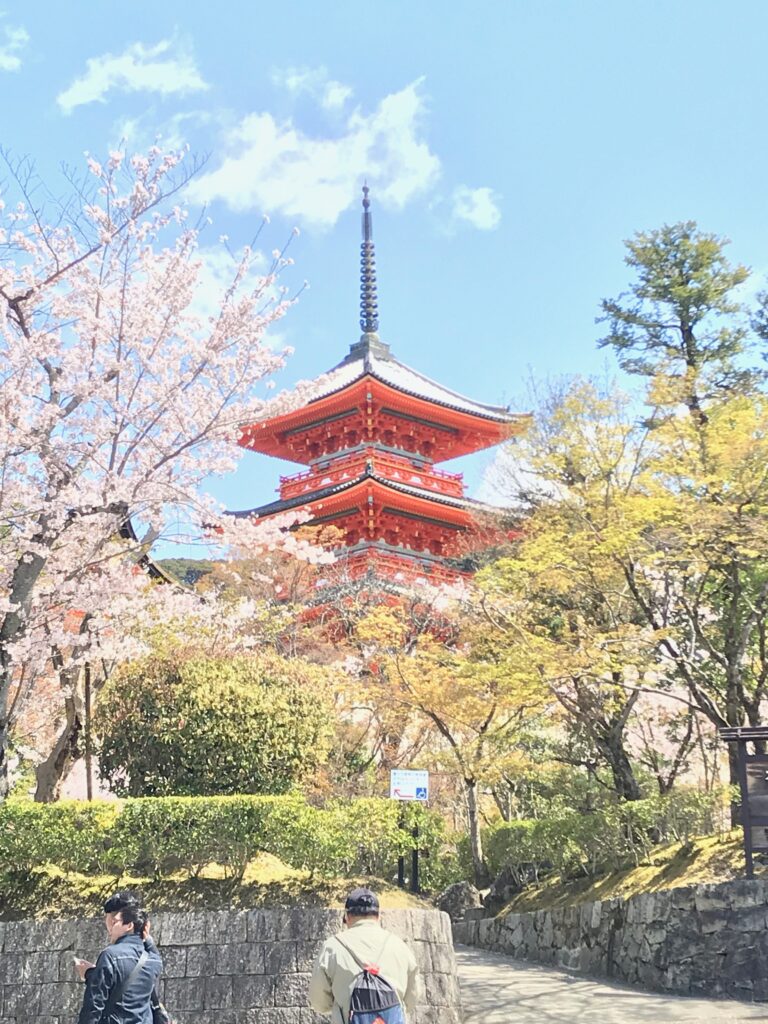 Kiyomizu-dera has several claims to fame, including sacred water from a nearby waterfall, and this impressive veranda.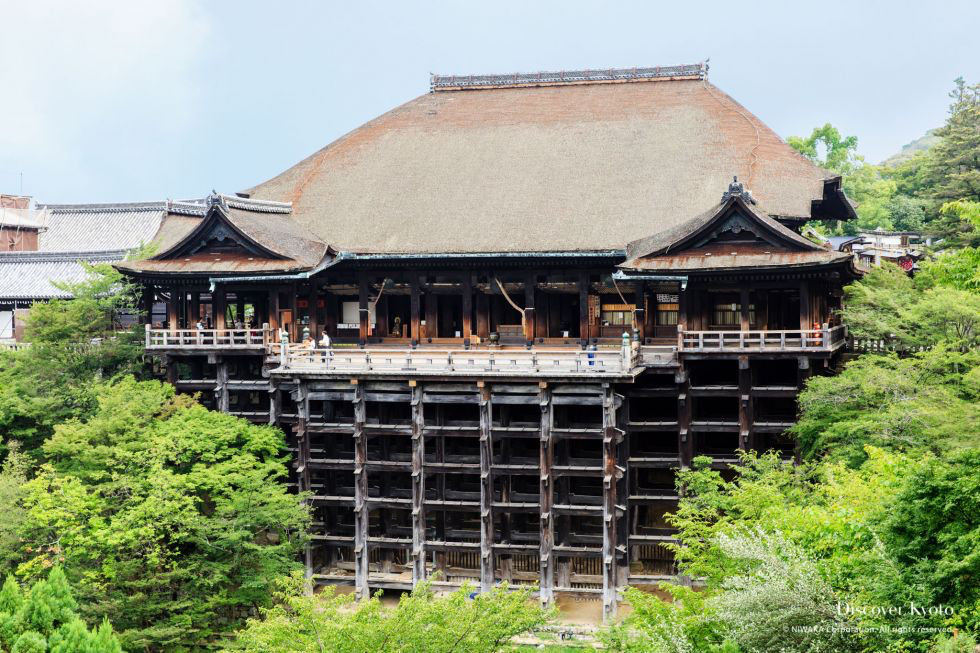 This huge veranda, and the incredible main hall (which unfortunately was under renovation while we were there) were constructed without using a single nail. The Japanese employed a building method called jigoku-gumi, which literally translates to "interlocking hell." The name derives from the complexity of the patchwork, and the difficulty of taking it apart once it's finished.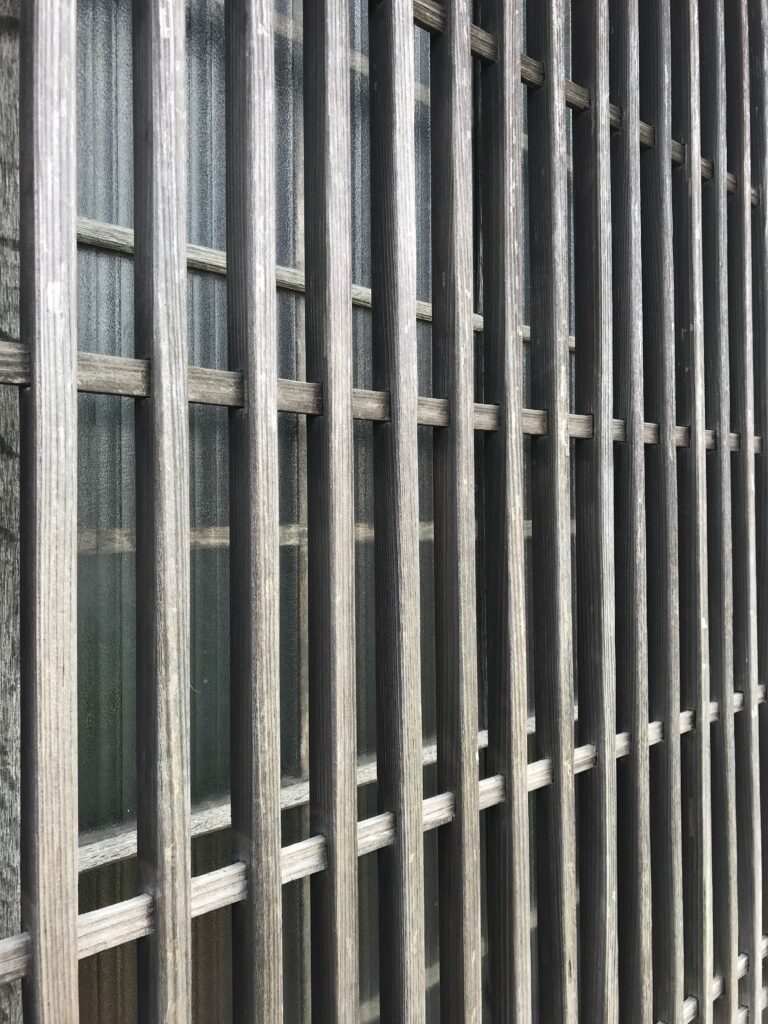 There is a legend associated with this veranda, that anyone who jumps off and survives will have their wish granted. This seems like a harmless old wive's tale until you remember that the Japanese take everything to the extreme. 234 jumps were recorded during the Edo period (1603-1868). The practice was prohibited in 1872, with an 85.4% survival rate and 34 deaths.
One last peculiarity of Kiyomuzi-dera is the Womb of Boddhisatva. For a small fee, you can walk through the Zuigudo, a pitch black tunnel underneath the main hall which symbolizes the womb of Daizuigu Bosatsu, female Boddhisatva/mother goddess figure with the power to grant any wish. We continued along the Higashiyama walk, descending through the winding shop-speckled streets of Ninen-zaka and Sannen-zaka, known for their hole-in-the-wall restaurants. Here we stopped for lunch in a small, traditional spot we never learned the name of, that didn't skimp on the herring in its soba.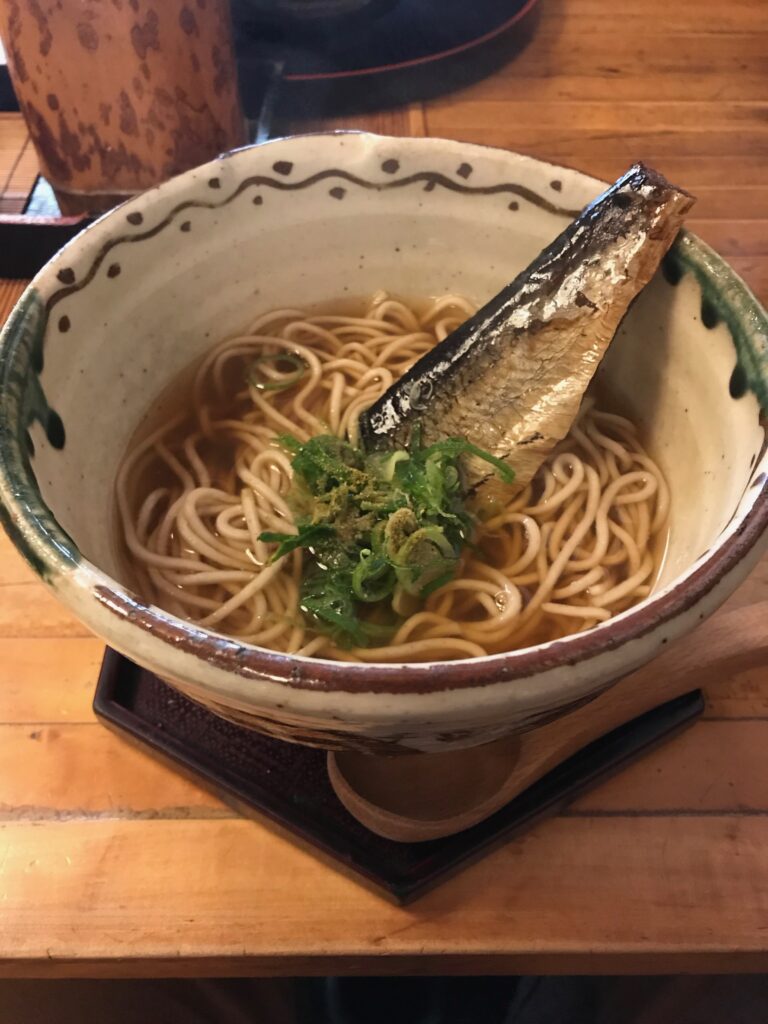 We continued past the famed Yosoka pagoda to a temple complex boasting both the Kodai and Ryozen Kannon temples. We were excited for this complex: me, because Kodai-ji is well-known for its gardens, and Dad, because Ryozen is famous for its 80 ft. Buddha statue.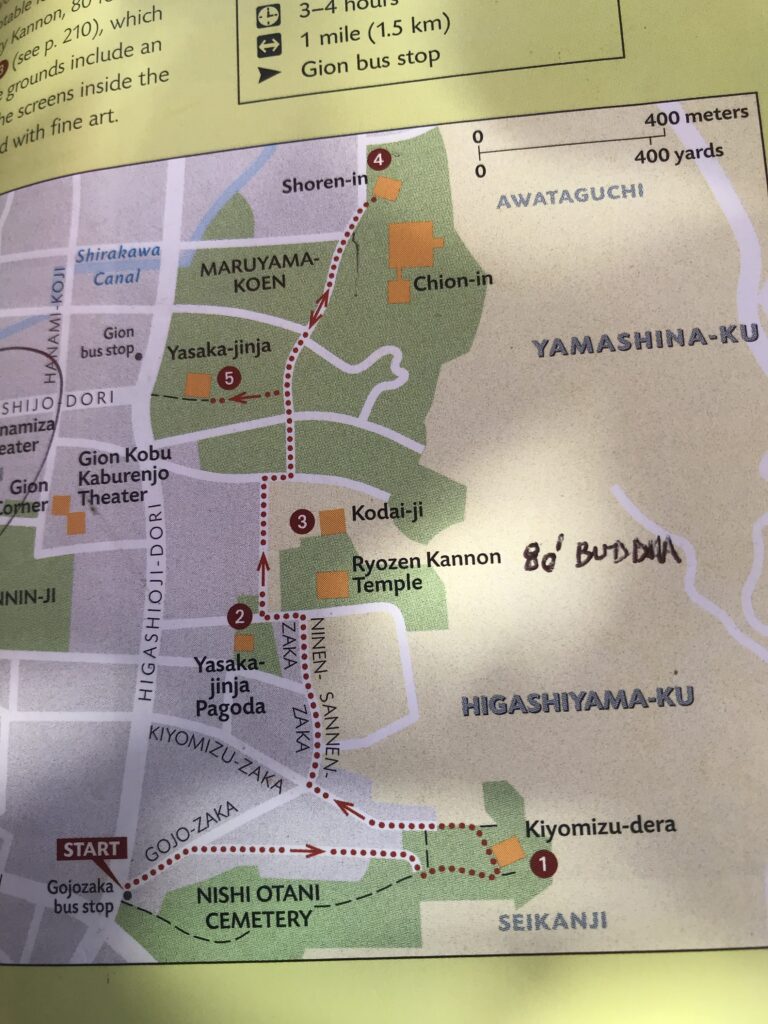 Neither failed to impress. The Kodai-ji gardens are…well, just look.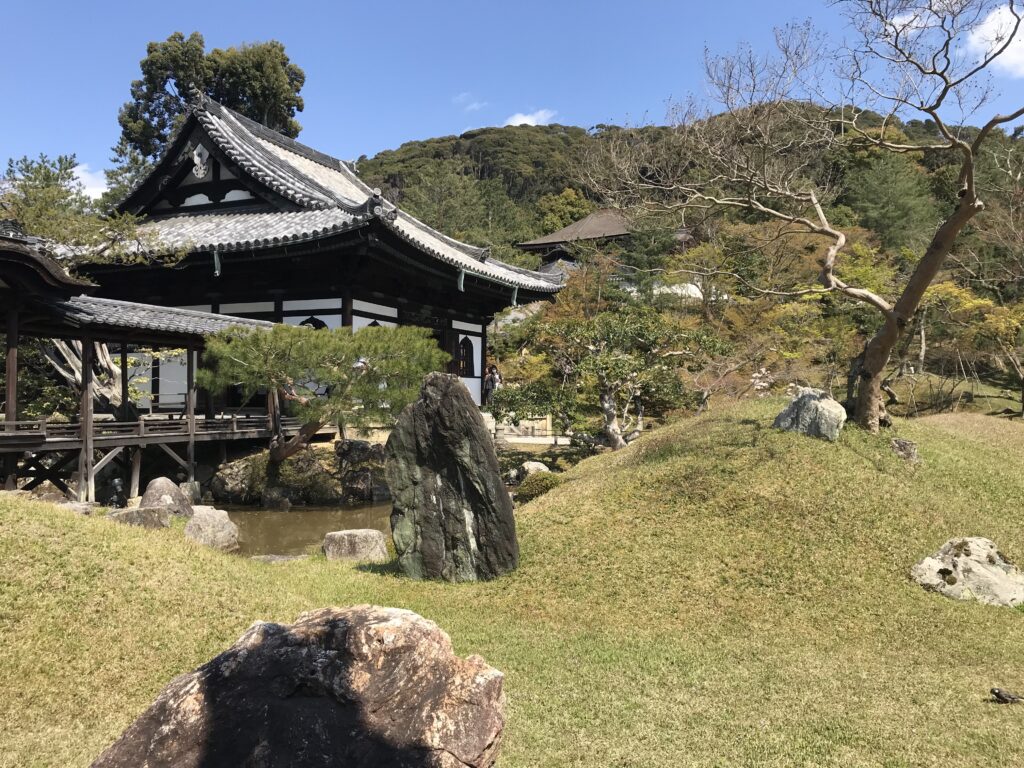 Kodai-ji also has its own rock garden: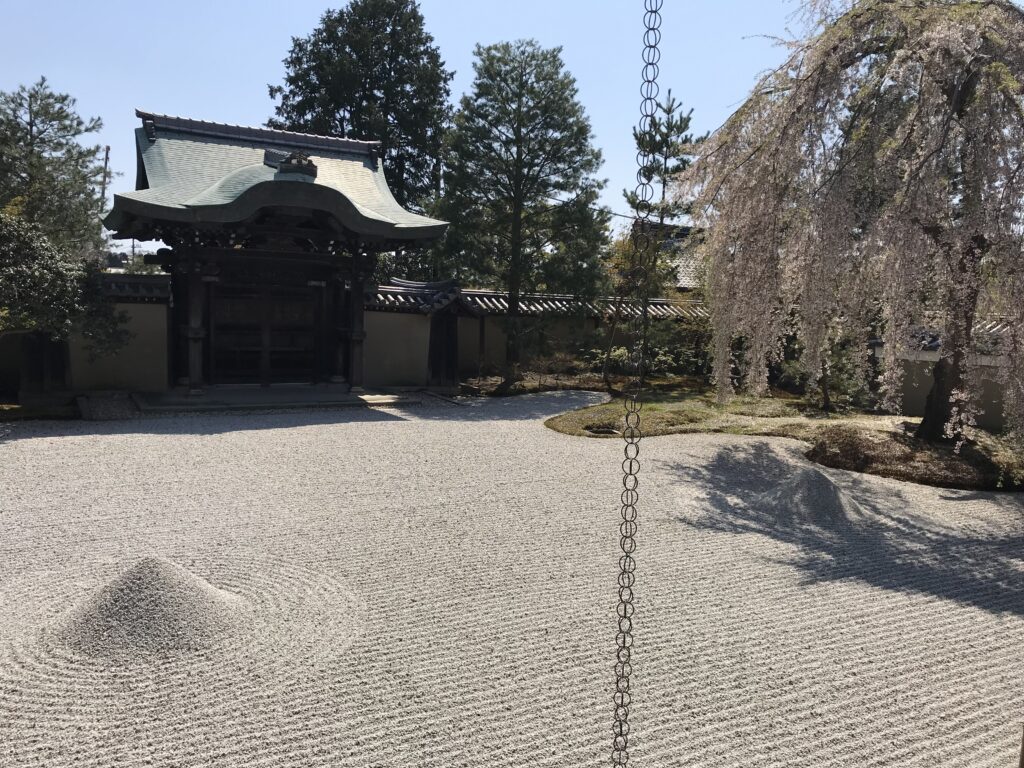 Awesome painted rafters: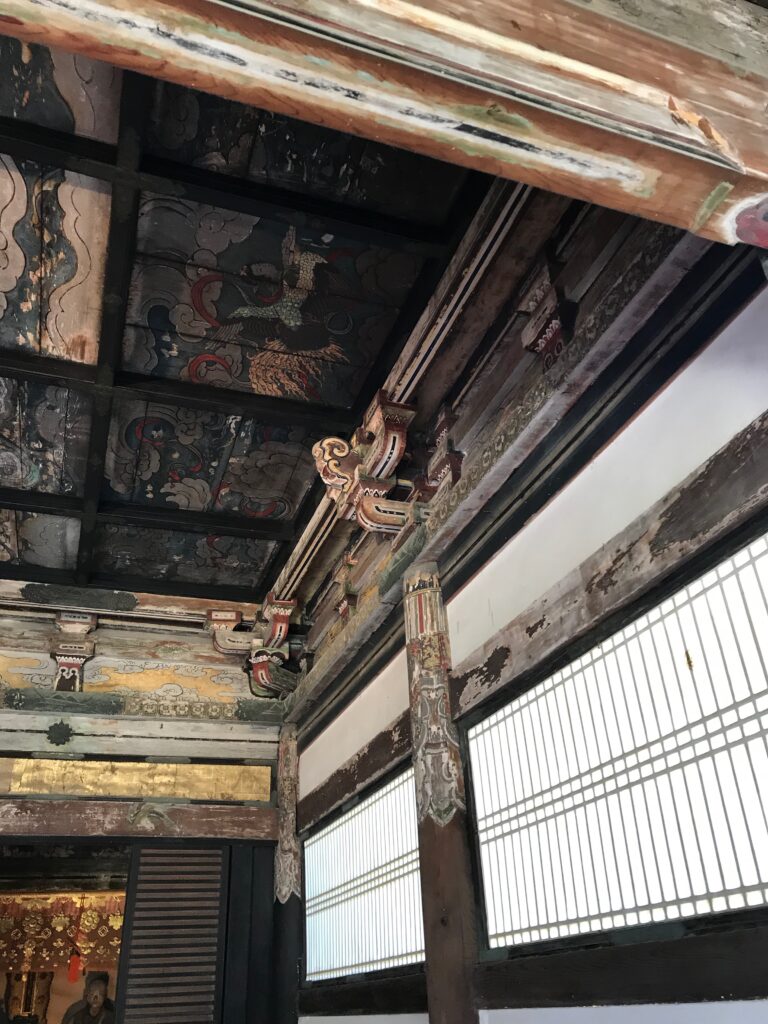 And this crane! Look at this cute lil' guy!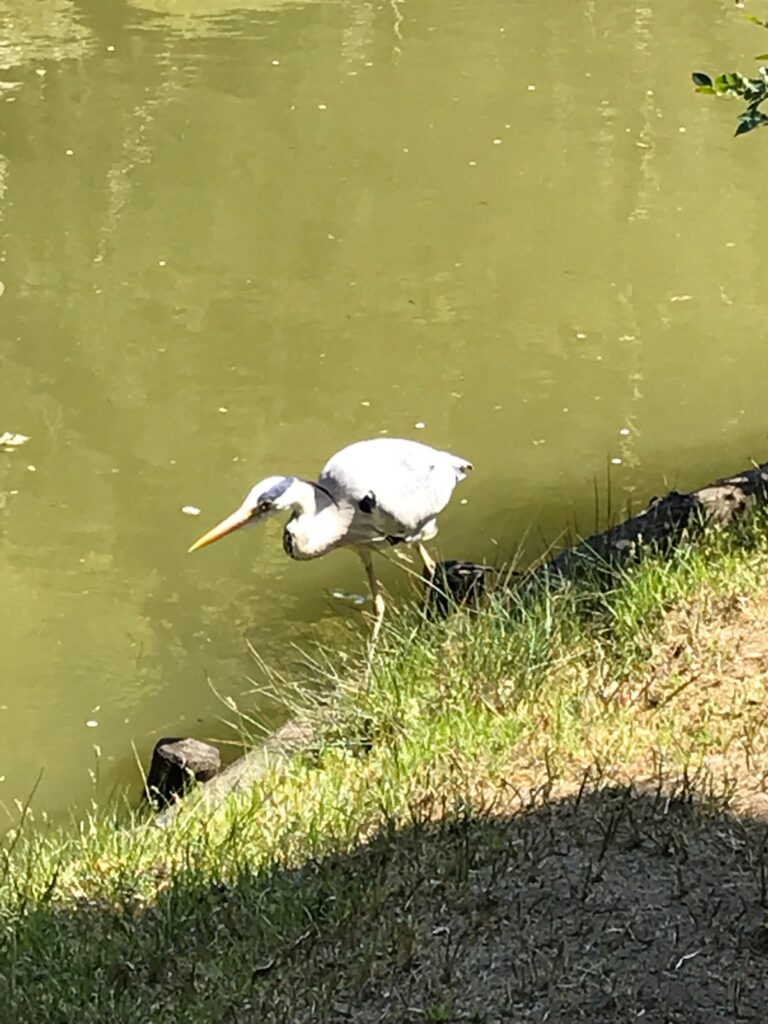 Kodai-ji was established by the nun Kodai-in, who was the widow of Toyotomi Hideyoshi. Their son was deposed by Tokugawa Ieyasu (Nijo Castle man strikes again!) It's pretty neat how much political intrigue and Japanese history can be gleaned from Kyoto's buildings. Dad, of course, had his own interests. "Planks of wood," he noted, walking out of the rock garden.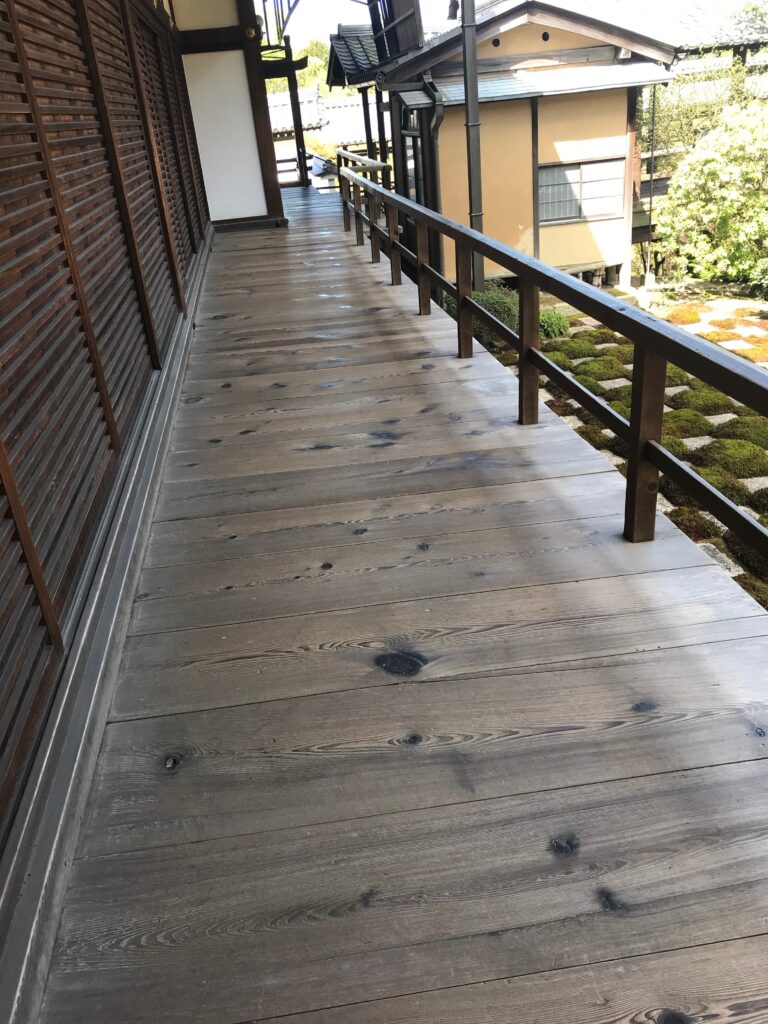 The 80 foot Buddha at Ryozen Kannon was truth in advertising.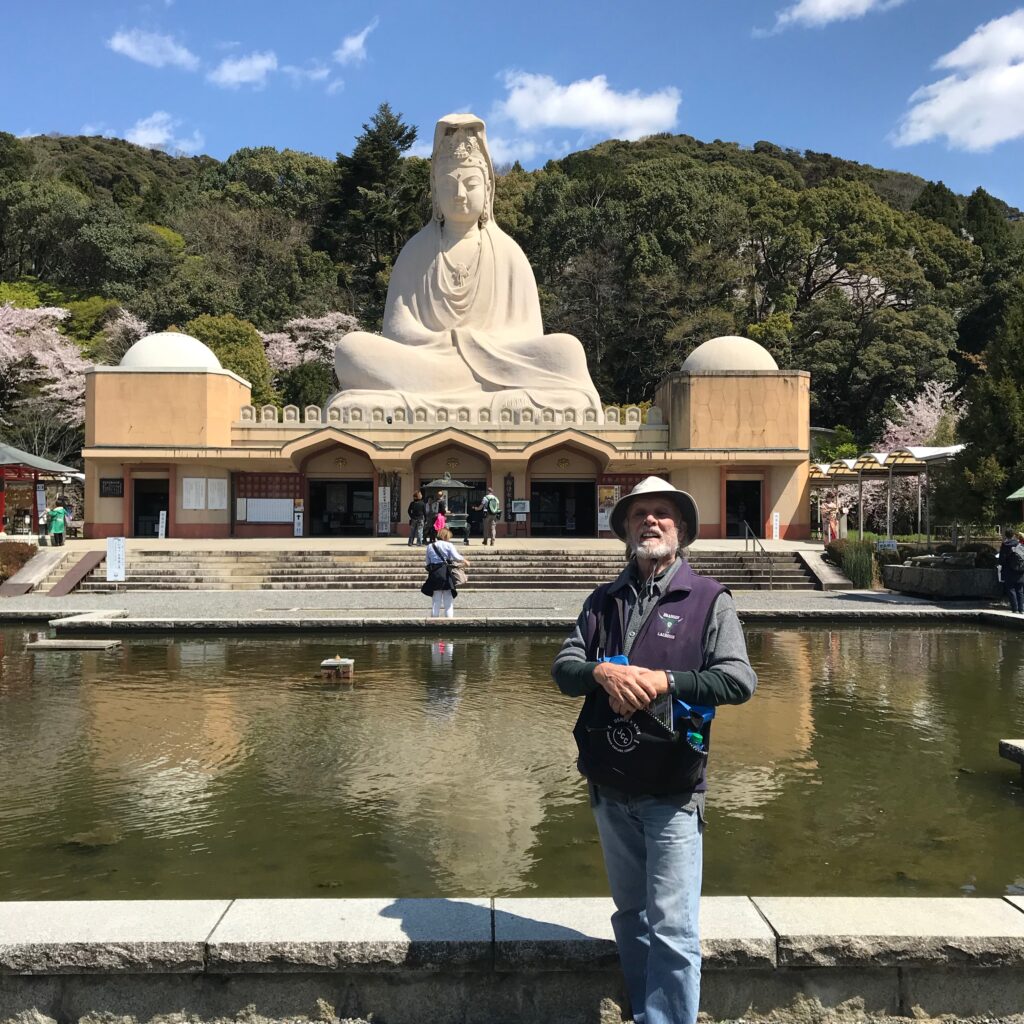 Ryozen Kannon is not a temple, but a war memorial commemorating the fallen in the Pacific War. Being American (Californian, no less) it felt a little strange–though not wrong–being there. The 80 foot Buddha is not THE Buddha, but Avalokitesvara, a bodhisattva embodying compassion who is depicted as male or female in different cultures. Upon entering Ryozen Kannon, we were each given a stick of incense to stick into a shrine in the middle of the courtyard
Dad: I want to hold my incense a little longer.


Me: Buddha's not really into attachment.

Dad: Okay. I'll detach.
Ryozen Kannon also boasts a small grove of bamboo trees.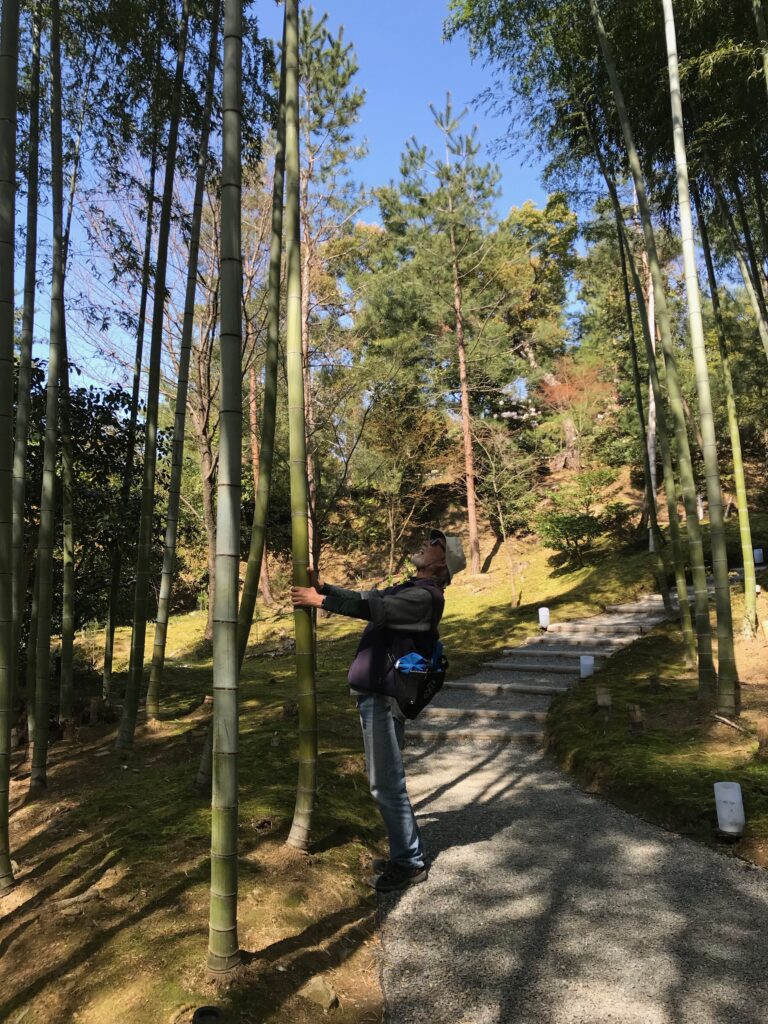 Between Kodai-ji and the Ryozen Kannon, we came across a sign for a robotic Buddhist monk, who reportedly recites the Buddhist Heart Sutra.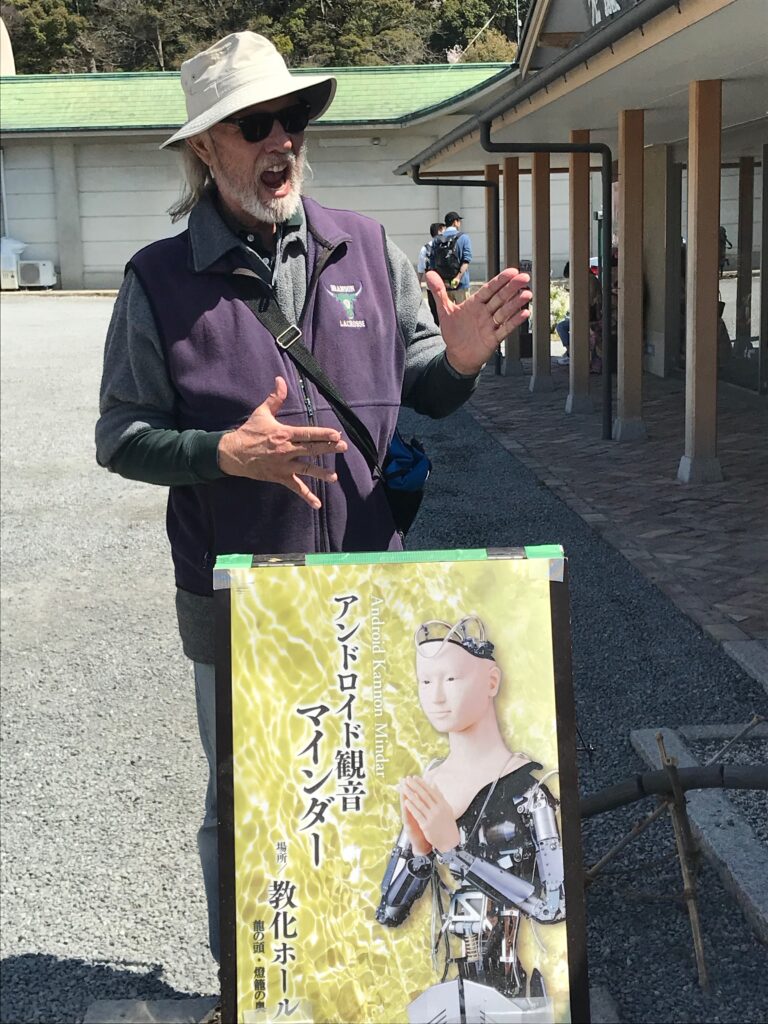 We stopped at a couple more temples: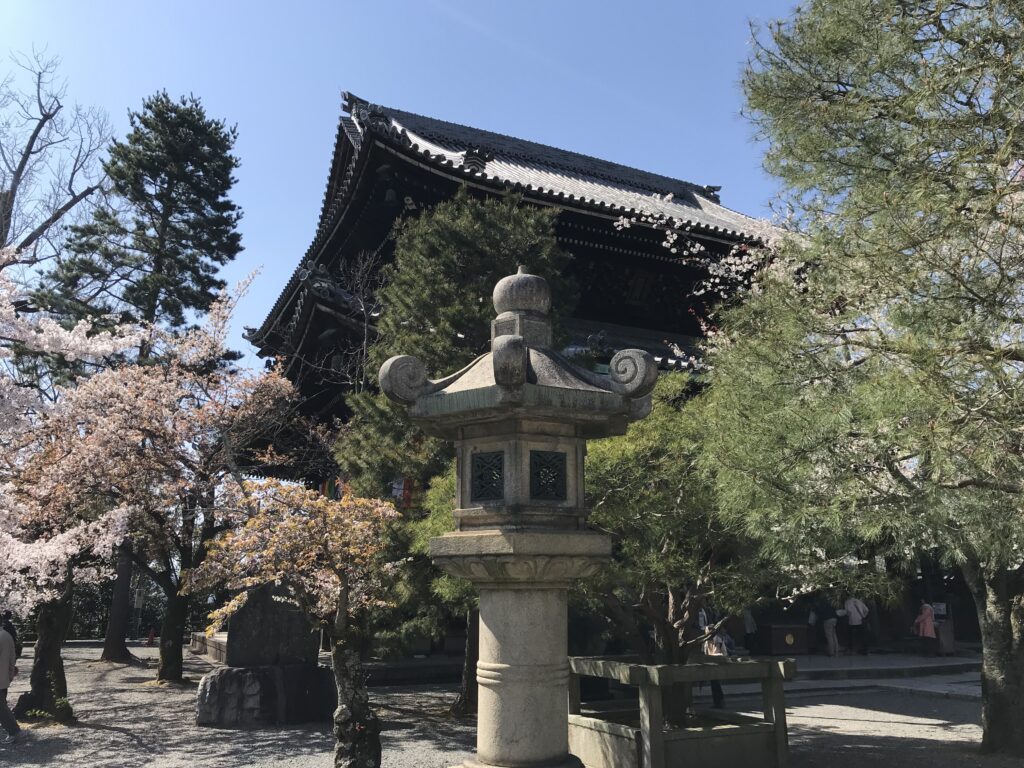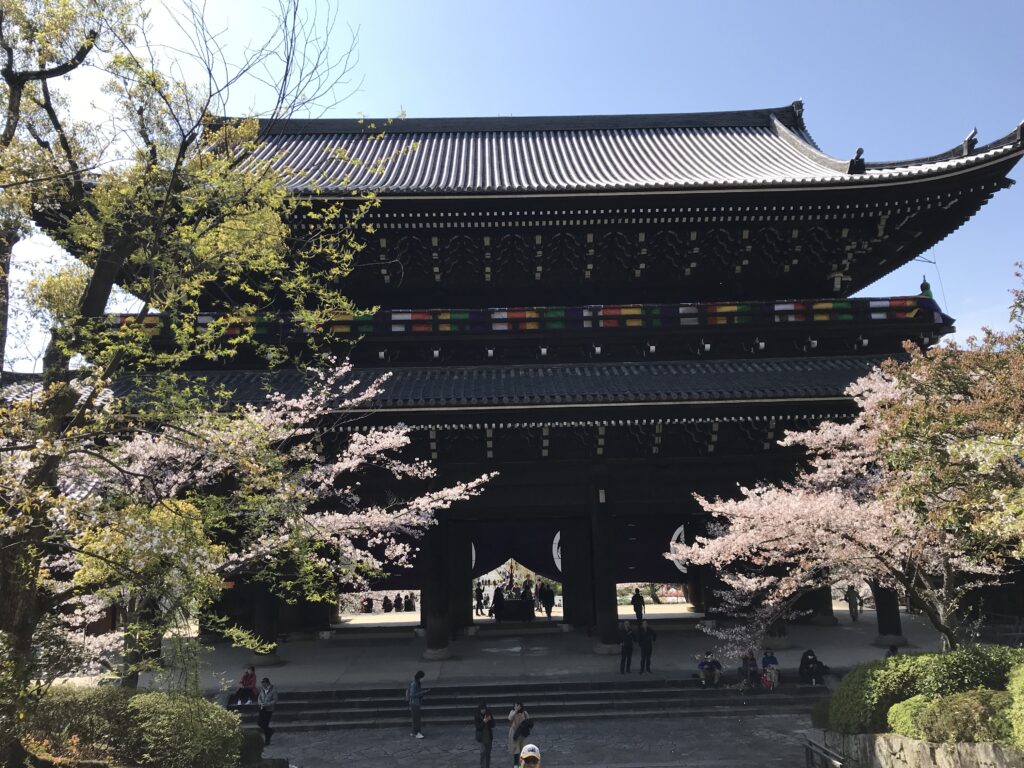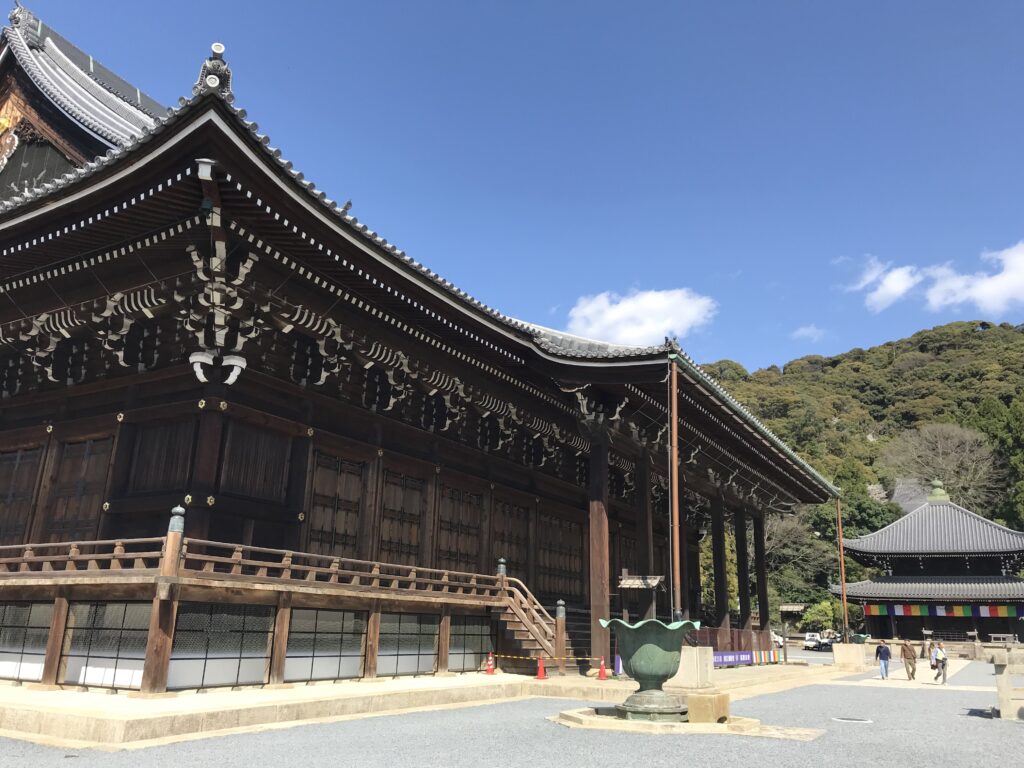 But had started making our way back towards the hotel. We also crossed through Nishiki, a bustling shopping district where you can eat crab: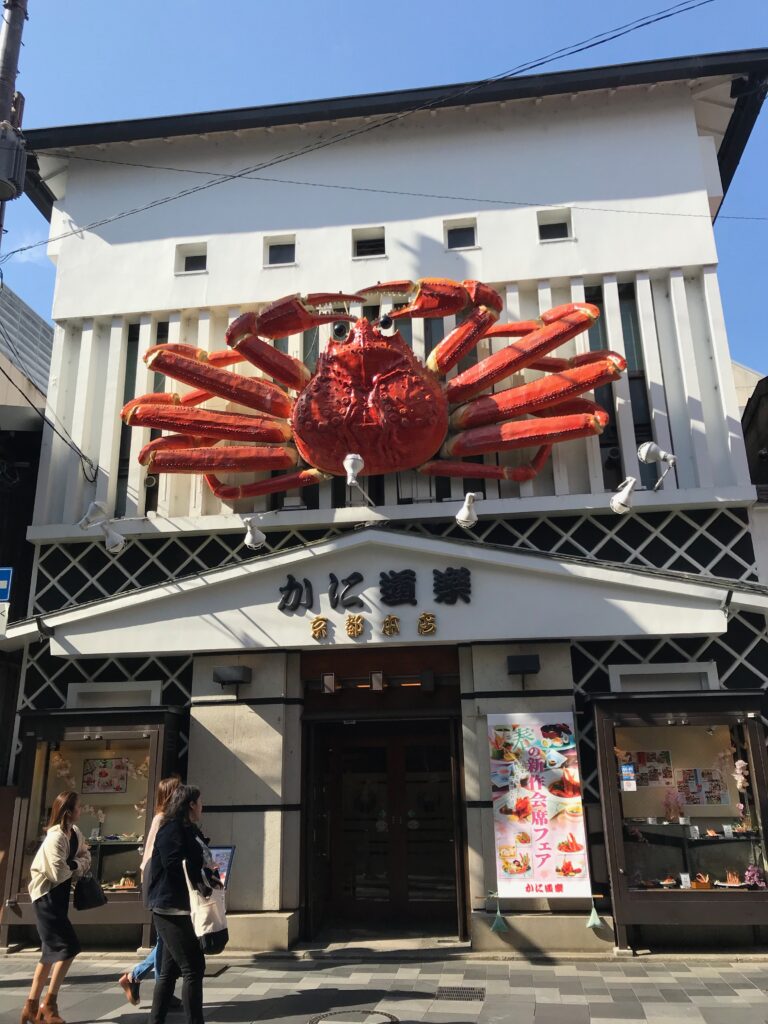 And buy dinosaur skulls: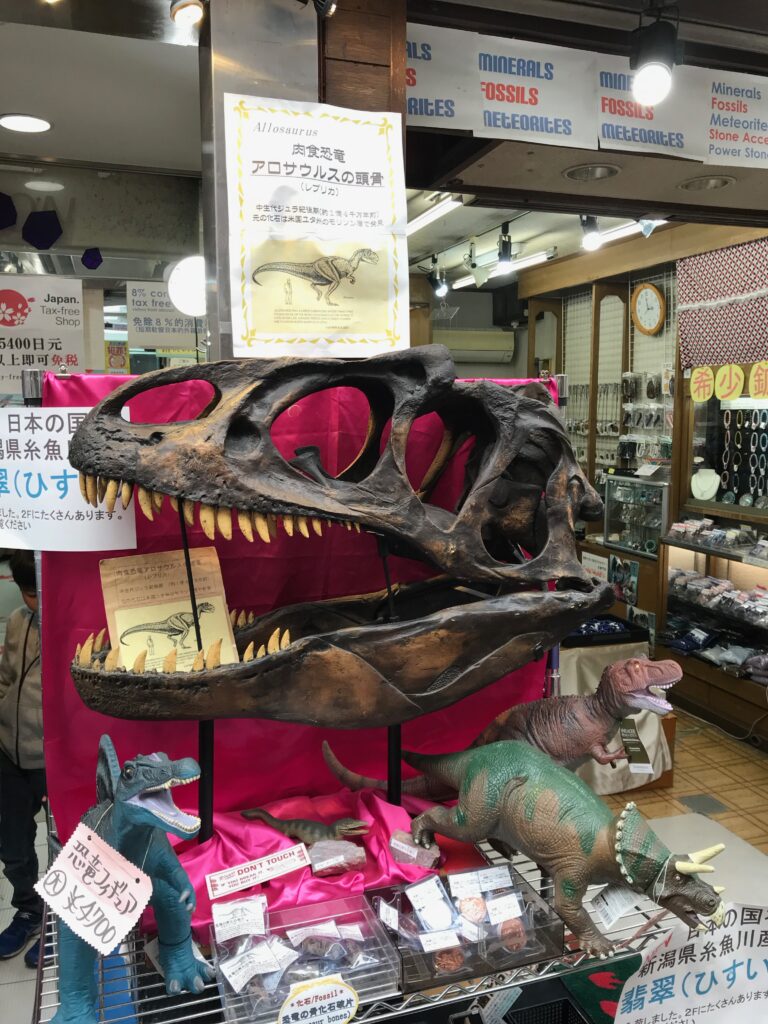 Come evening, we were pretty tired. Dad announced proudly that is had been at LEAST a 34,000 step day, and probably more than that. That night, we decided to go back to Nijo Castle. We loved the place. Our one full day in Kyoto had been an overwhelming success.
The next day we visited Kinkaku-ji (the golden pavilion), hindered only slightly by the rain. Kinkaku has the reputation of being a must-see destination of Kyoto, and really all of Japan. The golden pavilion's not made of gold, but decorated with thin golden leaf sheets. Between the color and the surrounding gardens and ponds, Kinkaku really pops, even on a gloomy day.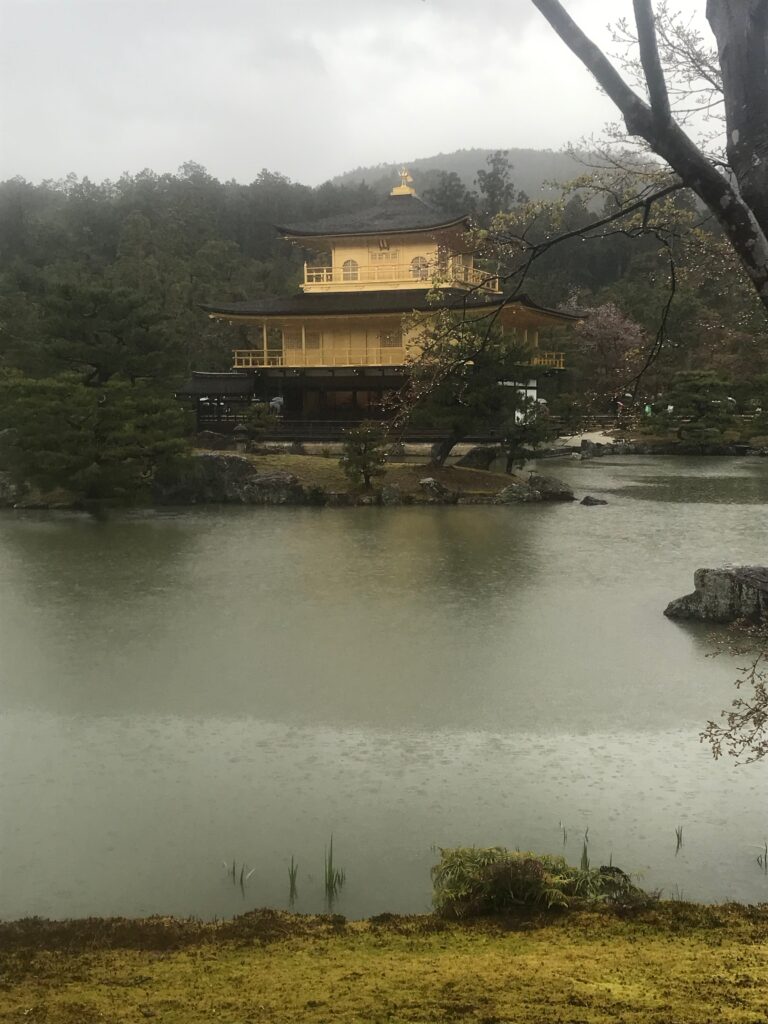 Unfortunately, you're not allowed to go inside, though considering how many times this place has been rebuilt that's probably for the best. It was the villa of a statesman with extremely good taste, and eventually found new life as a zen temple. It was burnt down a couple times, including once by a young monk whose biography I'm lifting from wikipedia, because he might be in the running for one of the worst lives ever.
On July 2, 1950, at 2:30 am, the pavilion was burned down by a 22-year-old novice monk, Hayashi Yoken, who then attempted suicide on the Daimon-ji hill behind the building. He survived, and was subsequently taken into custody. The monk was sentenced to seven years in prison, but was released because of mental illnesses (persecution complex and schizophrenia) on September 29, 1955; he died of tuberculosis in March 1956.
Ouch.
Let's uh, look at a nice picture, I guess.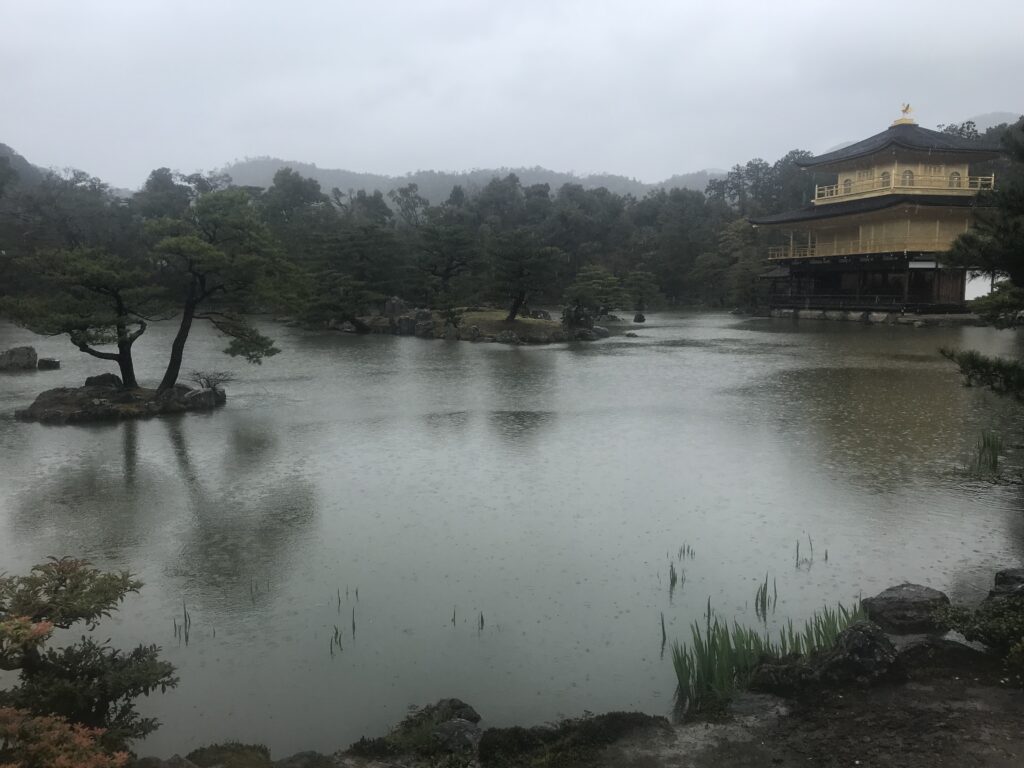 It's a quick twenty minute walk from Kinkaku to Ryoan-ji Temple, which boasts the most famous rock garden in Japan. Most zen gardens offer the chance to contemplate, somewhat esoterically, the nature of illusion, life, and the universe. Ryoan-ji, however, comes with a gimmick. It consists of 15 boulders, only 14 of which can be seen from any perspective around the garden. Once you've reached enlightenment, you can see all 15. This expression of perspective is possible because some of the boulders are smaller than others, and positioned closely together, making them difficult to photograph. It's also a popular field trip for Japanese schoolchildren.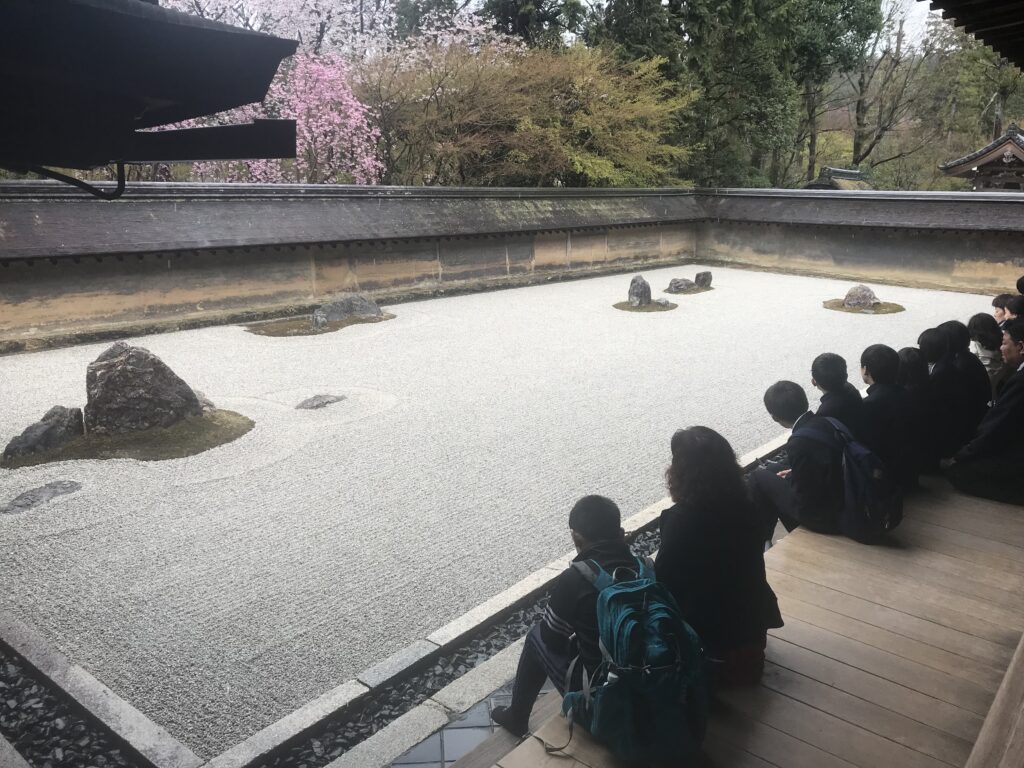 Truth be told, we preferred the rock garden at Tofuku-ji the day before. Nonetheless we spent a good deal of time contemplating Ryoanji-ji.
Me: I think it's saying something about perception, and mankind's inability to see the whole universe.

Dad: I thought it would be bigger.

Me: You know what, me too.
We stopped at Ninna-ji temple as well, but my phone died and this is a long post as it is. So, we took a bus back to Kyoto central, picked up our bags, and boarded the train to Osaka. Kyoto had left us exhausted. We went to bed early that night, which usually feels like a capitulation during traveling. But sometimes it's necessary, and that night it was.
Q: Those stone toilet seats are arranged to look like Ursa Major, also known as the Big Dipper constellation.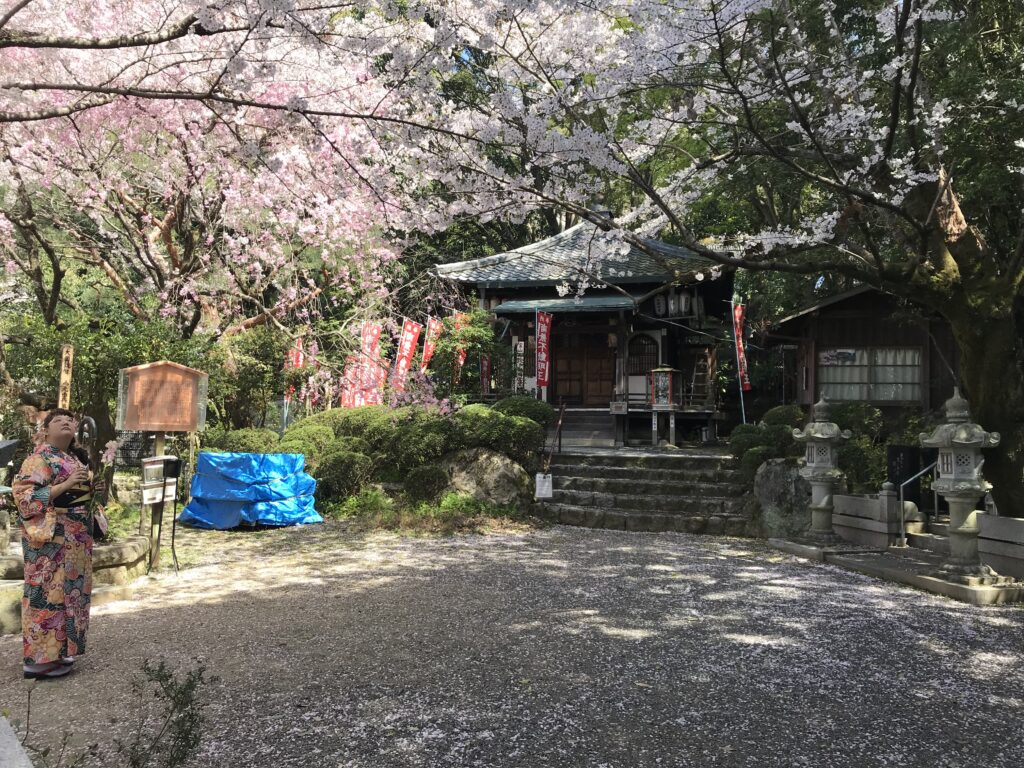 To be continued in: Nate Currier and the Land of the Rising Sun, part 3.