The next day, our third morning in Japan, we got an early start in (comparatively) sunny Osaka.
Osaka is a city. A city city. The second or third biggest city in Japan, depending who you ask. Tall buildings, a buzzing downtown, and enough neon lights and seedy casinos to make Atlantic City go: "Hey man, calm down." By far it's most famous attraction is Osaka Castle, which is one of those rare buildings that, like me and Dad, looks gorgeous from any angle.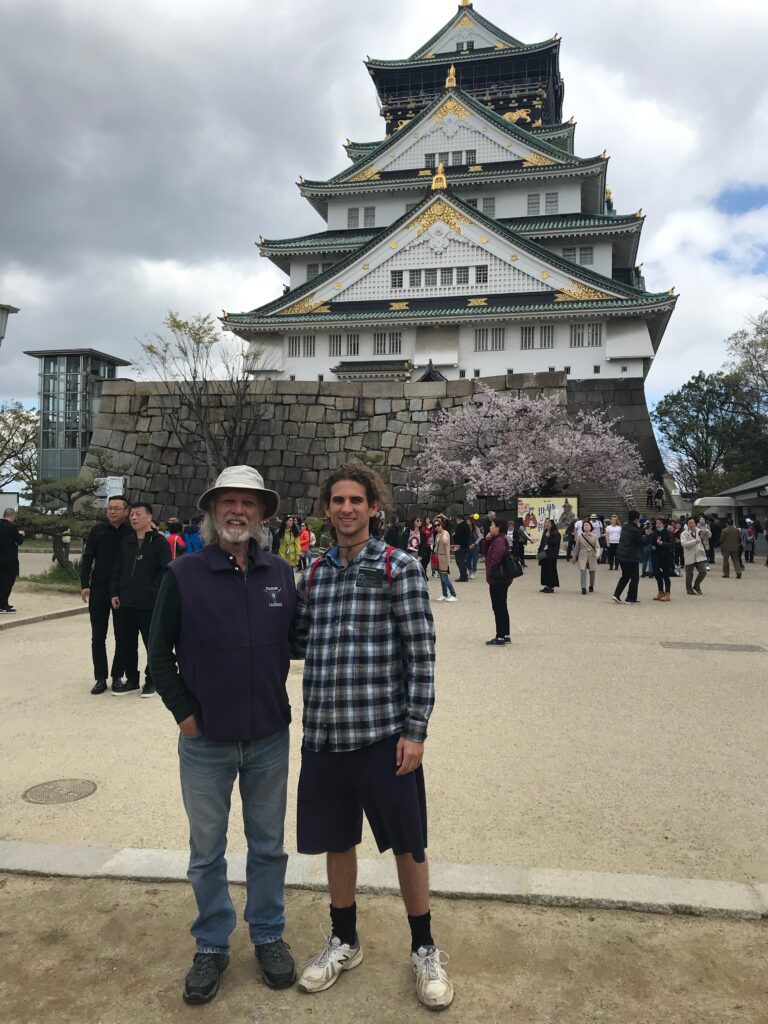 Osaka Castle is an impressive building rising out of an impressive moat surrounded by impressive stone walls. Dad, a fan of carpentry and masonry in all forms, was especially taken by these walls, so I made him pose for a picture with the "Octopus stone," a 108 ton behemoth rock, the largest in Osaka Castle.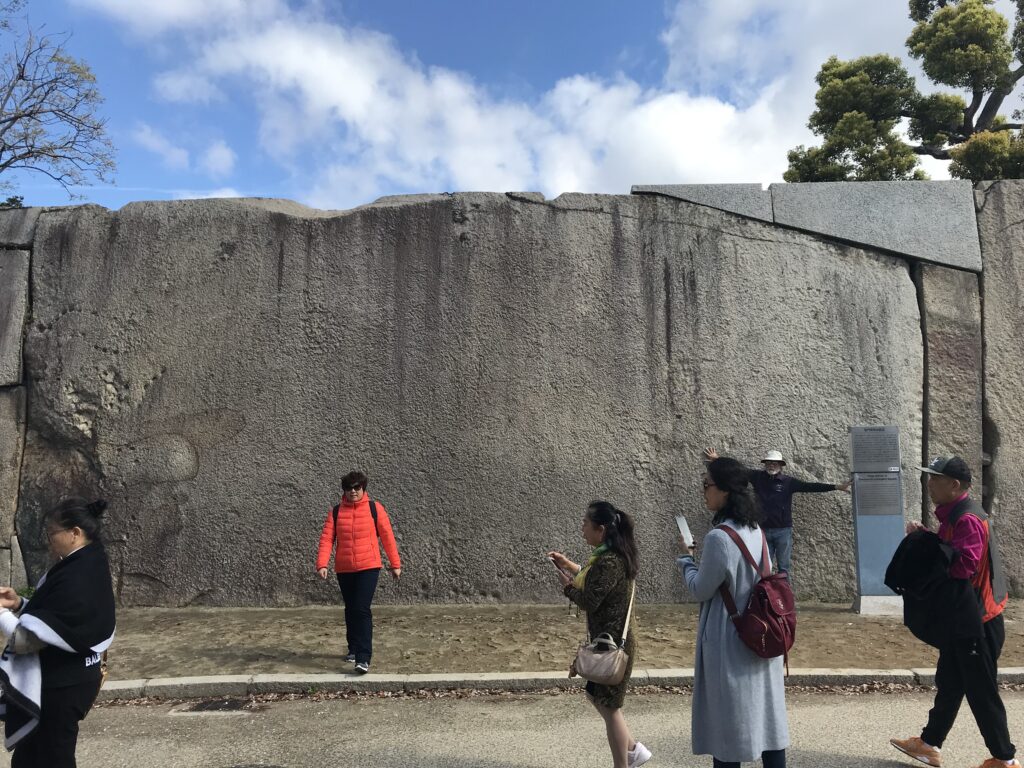 Osaka Castle is beautiful before you've walked up to it: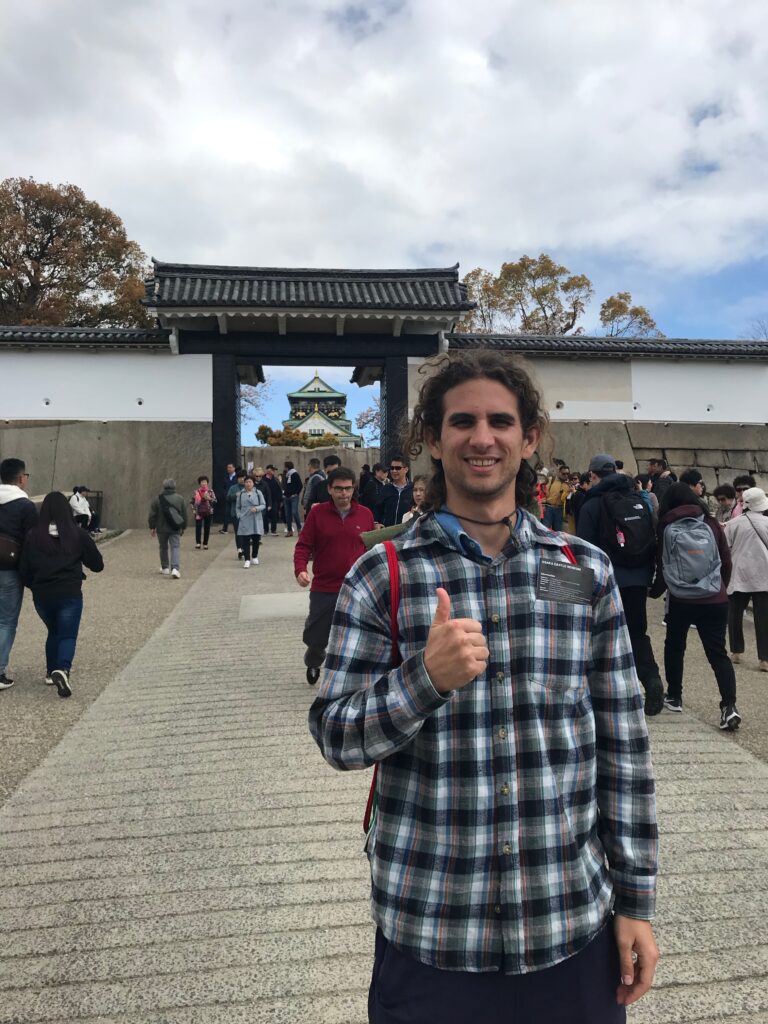 Through the trees: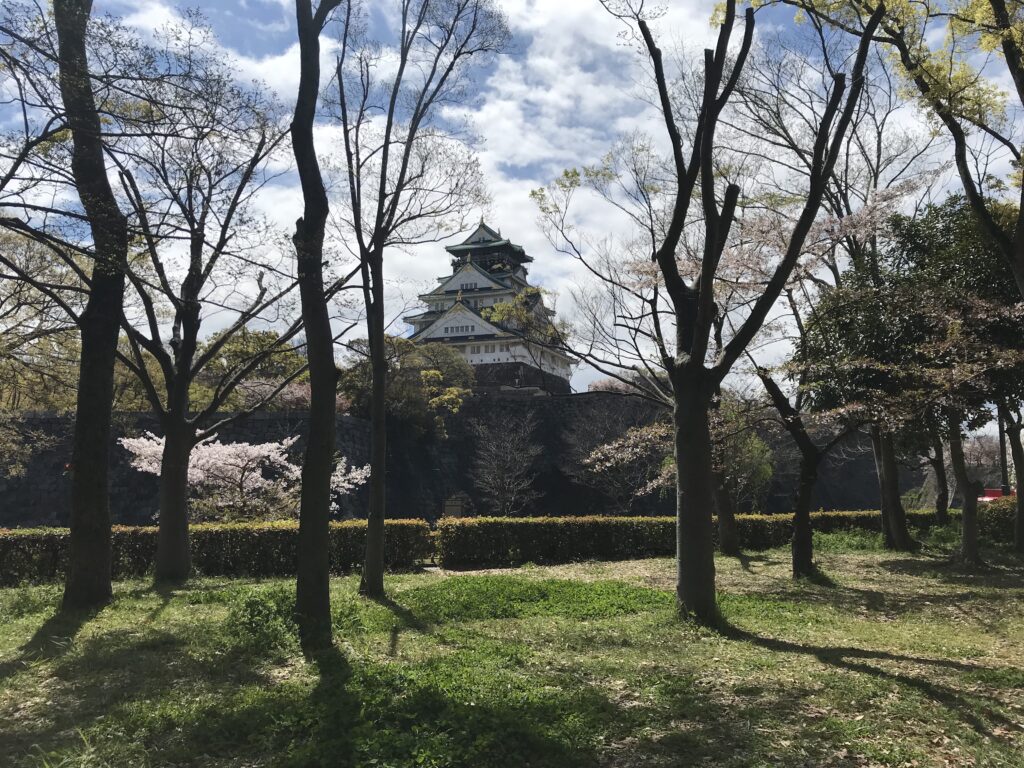 Even its ramparts are beautiful.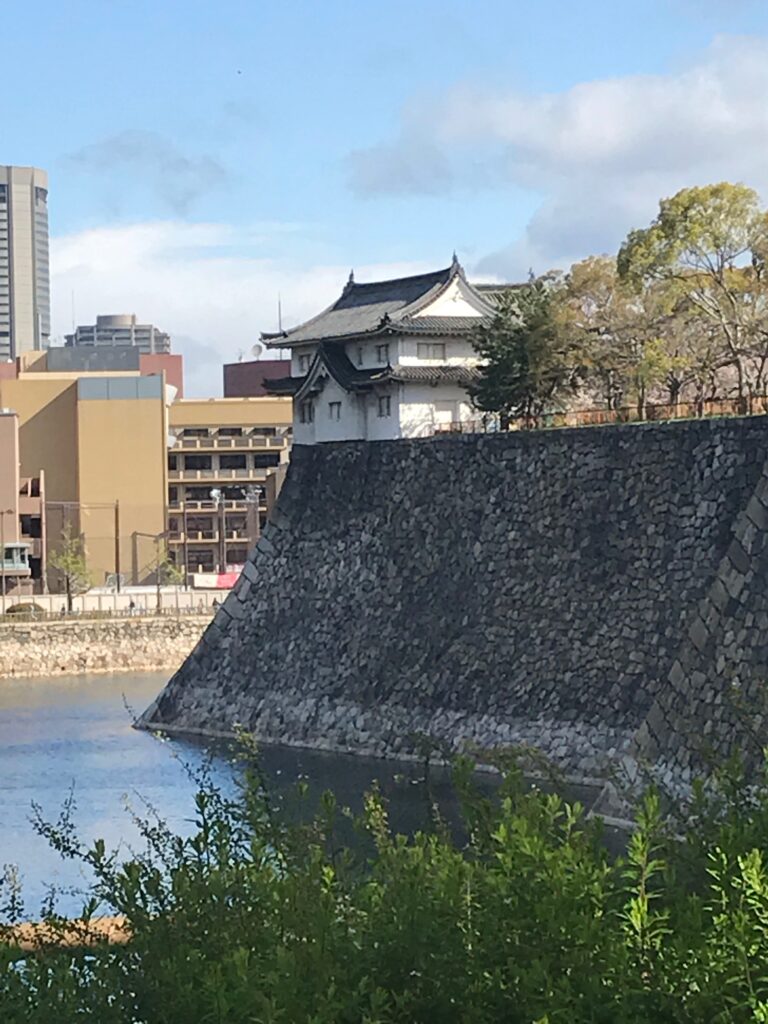 It was constructed by Toyotomi Hideyoshi, whose widow became a nun and founded Kodai-ji temple from a couple days before. He was one of the three great unifiers of Japan, and instituted one of the famous "sword hunts." An attempt to destroy the rigid samurai class by taking all their weapons away from them. He also killed 26 Christians who somehow ended up in Japan.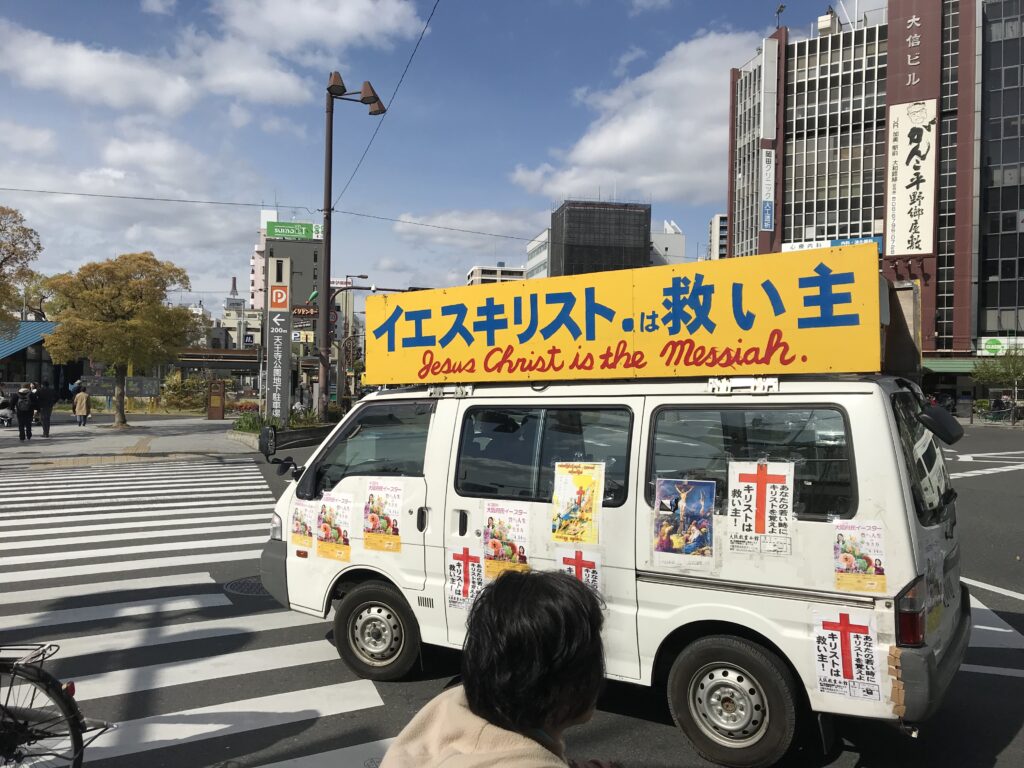 Toyotomi Hideyoshi ordered a comprehensive census of Japan–the sort of thing that was a big deal back then–and banned slavery, at least in name. He also attacked Korea a couple times. Every floor of Osaka castle offers a retrospective on a different period of his life, which is how we learned that during the second Korea attack, towards the end of his life, Hideyoshi stayed in Japan and spent all day rehearsing Noh theater. Considering two of Dad's greatest passions in life are theater and, as I learned on this trip, stone masonry, I think there's an outside shot he's Hideyoshi reborn.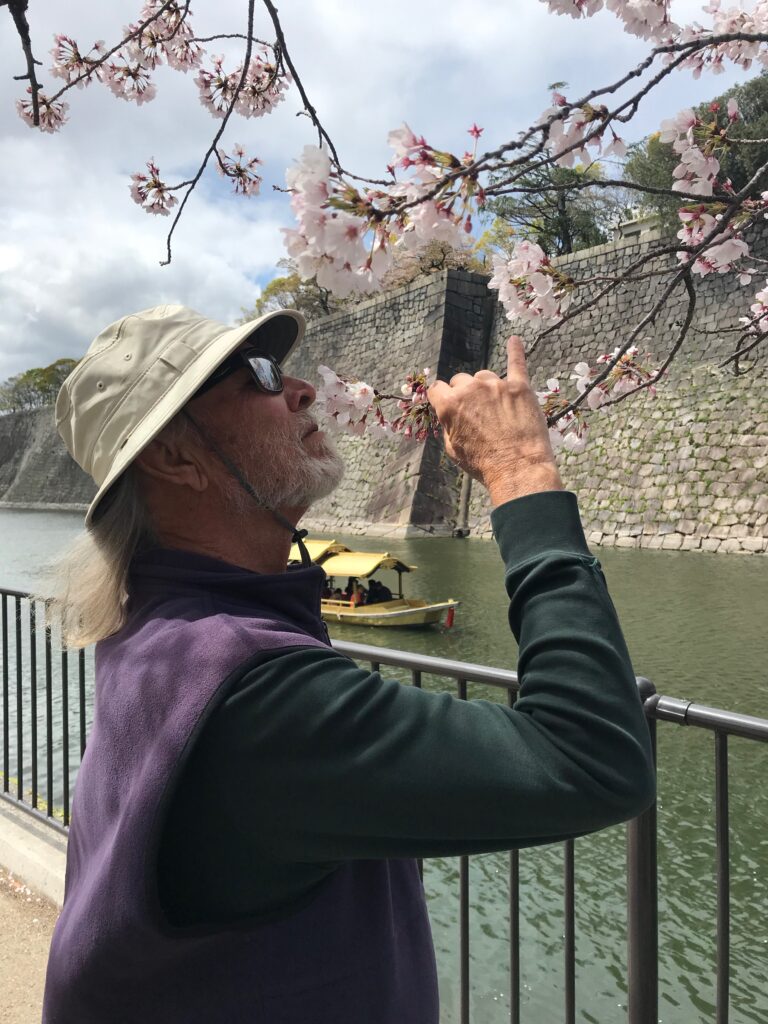 Following the castle, Hideyoshi's spiritual successor needed a nap, so I took the opportunity to visit the famous downtown district of Dotonbori.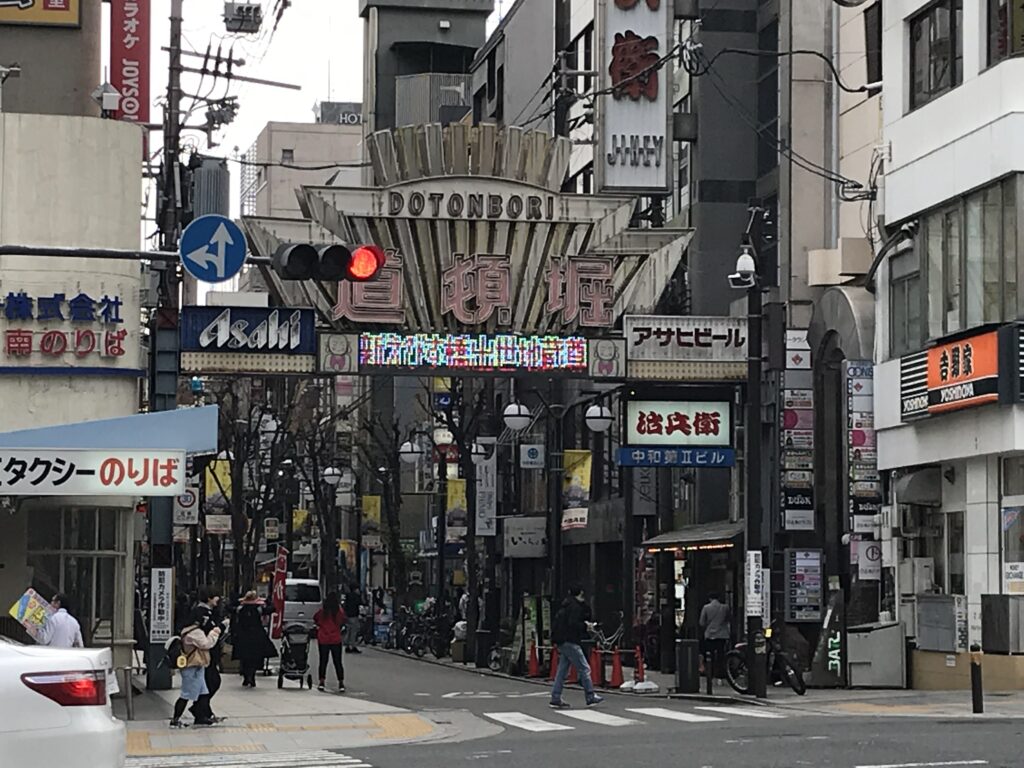 Look, I just…I can't write about Dotonbori, alright? It's too much, there's too much of it, there's this: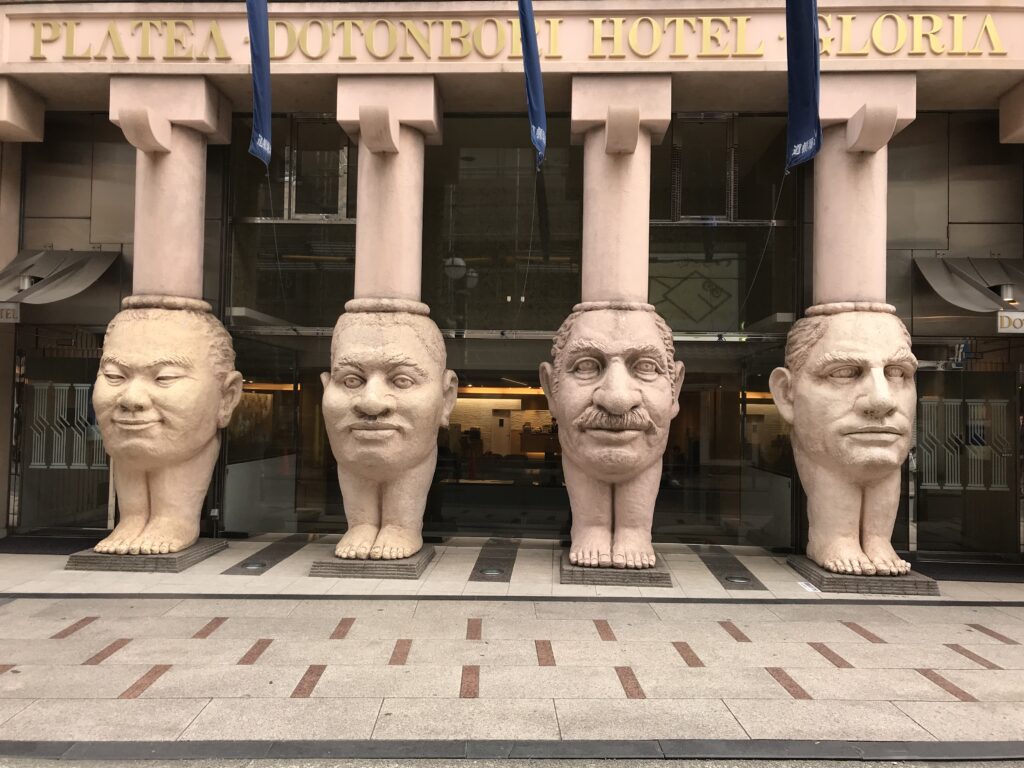 And this: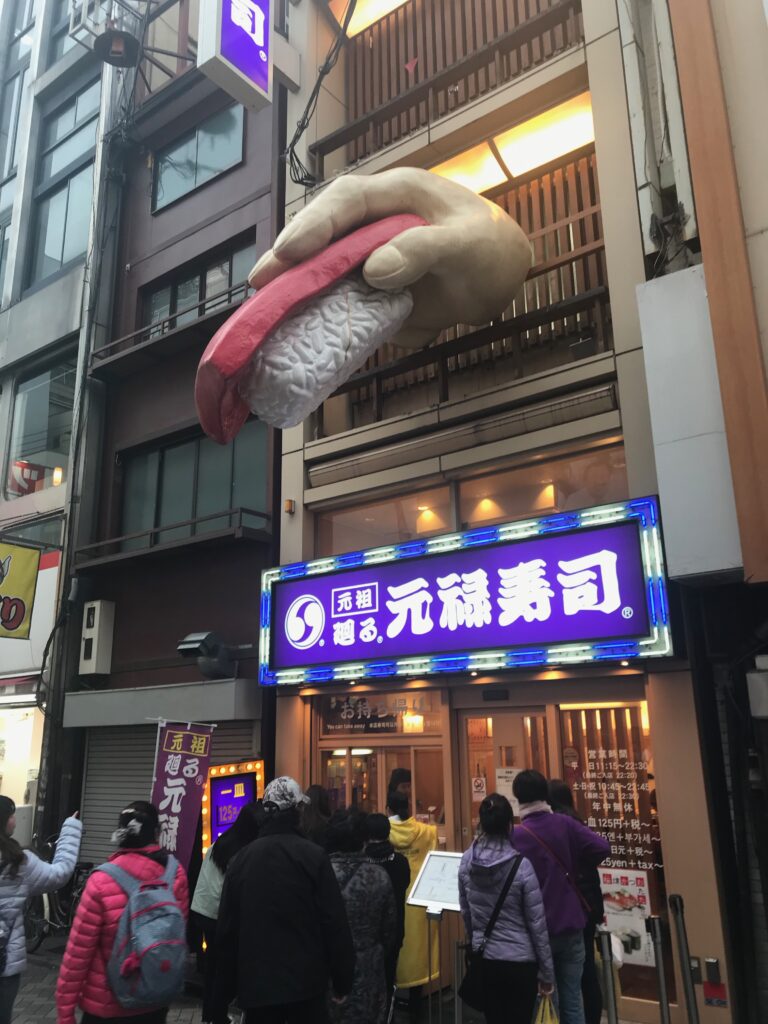 And this: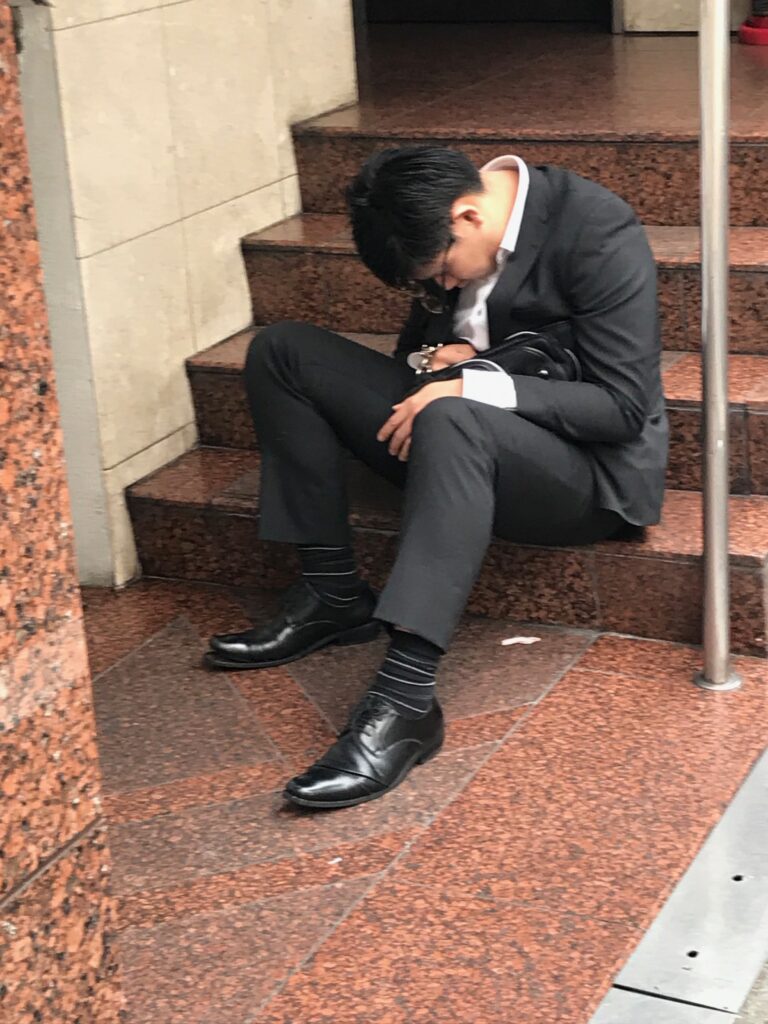 It's all too much, and none of it has to do with religion and this travel journal is called the Pilgrimage to Everywhere, dammit. The only thing here I want to mention is the Glico running man.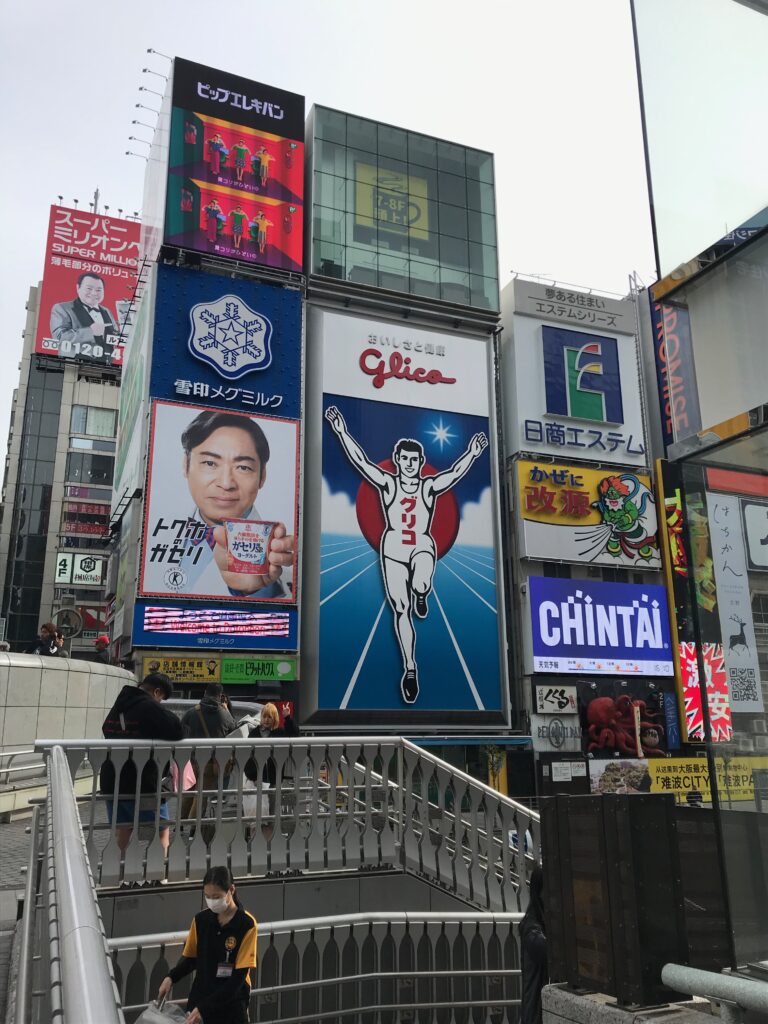 The first iteration of the Glico running man was in 1935, advertising the Glico Candy company. It holds the strange distinction of possibly being the most famous billboard in the world. It's a landmark of Osaka. People line up to take their picture with it. Hell, I ended up taking my picture with it.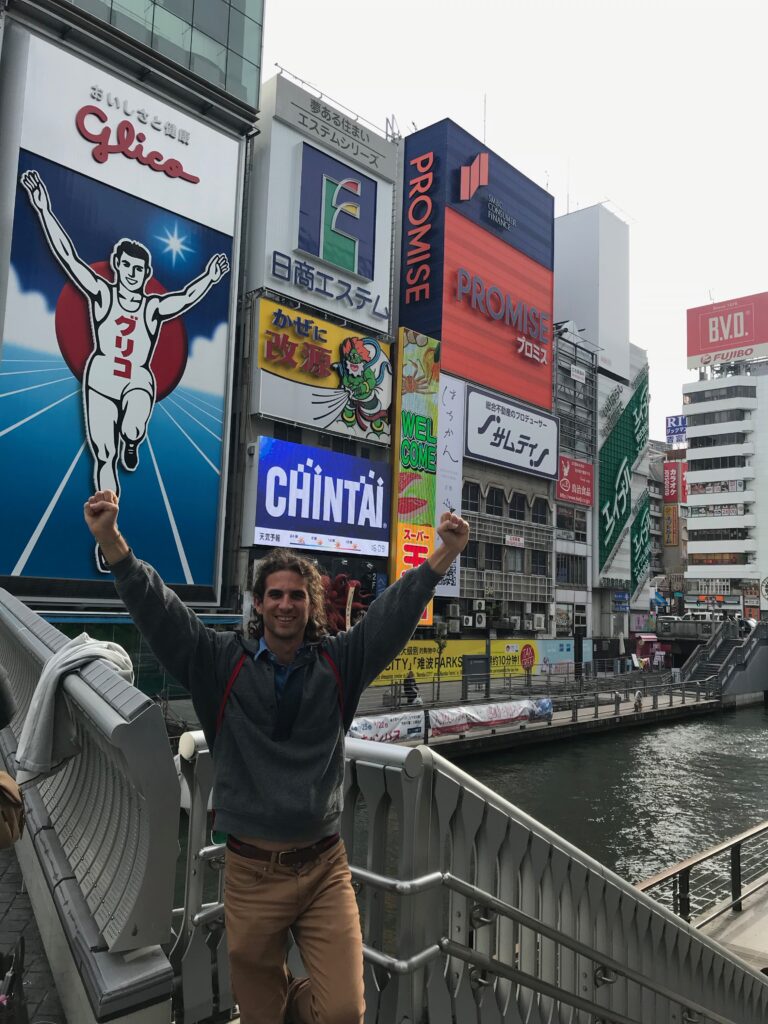 There's something about this Glico Running Man. I'm about to sound like a crazy person, and truth be told I was a bit dehydrated, and pretty hungry and sorta tired, but I'm telling you, there's something quasi-spiritual about this billboard.
This billboard has absolutely nothing to do with candy. It's arms are raised in that victorious pose. It's a billboard, of a man finishing a race, that has existed since before World War II. It's almost become something bigger than itself. It's even got its own live-action remake.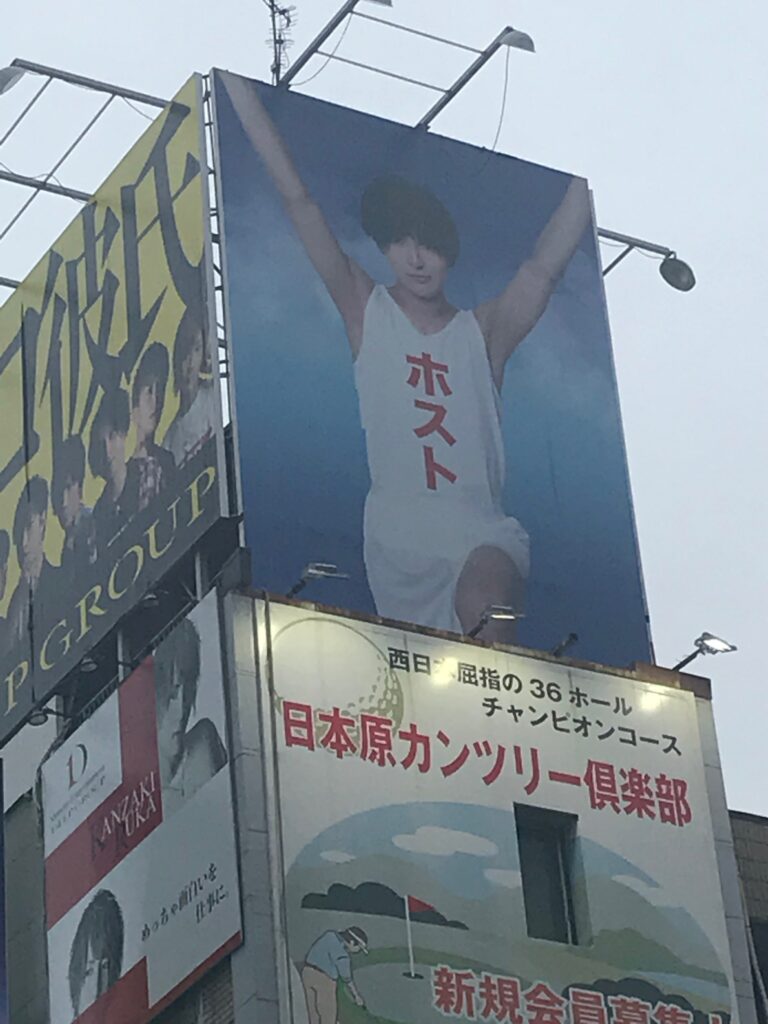 Where else in Japan, one of the most reserved countries in the world, do you see a man raise his arms so triumphantly? Japan in 1935 was an explosive place, a rising force in the world reaching the height of its powers. That all changed after the war, and yet, there's the Glico man, still running his race. While everything changed around him, he stayed where he was–and by staying where he was, weirdly seems to have moved forward. I get how this random billboard in the middle of downtown Osaka became an offbeat pilgrimage destination. All I can say is, go see it yourself. The Glico running man will run on.
Seeing all I was gonna see of Dotonbori, I rushed back to the hotel. That night, Dad and I were having dinner with our tour group, with whom we would travel the next week and a half. Yes, against my better judgment, Dad and I were signed up on a tour.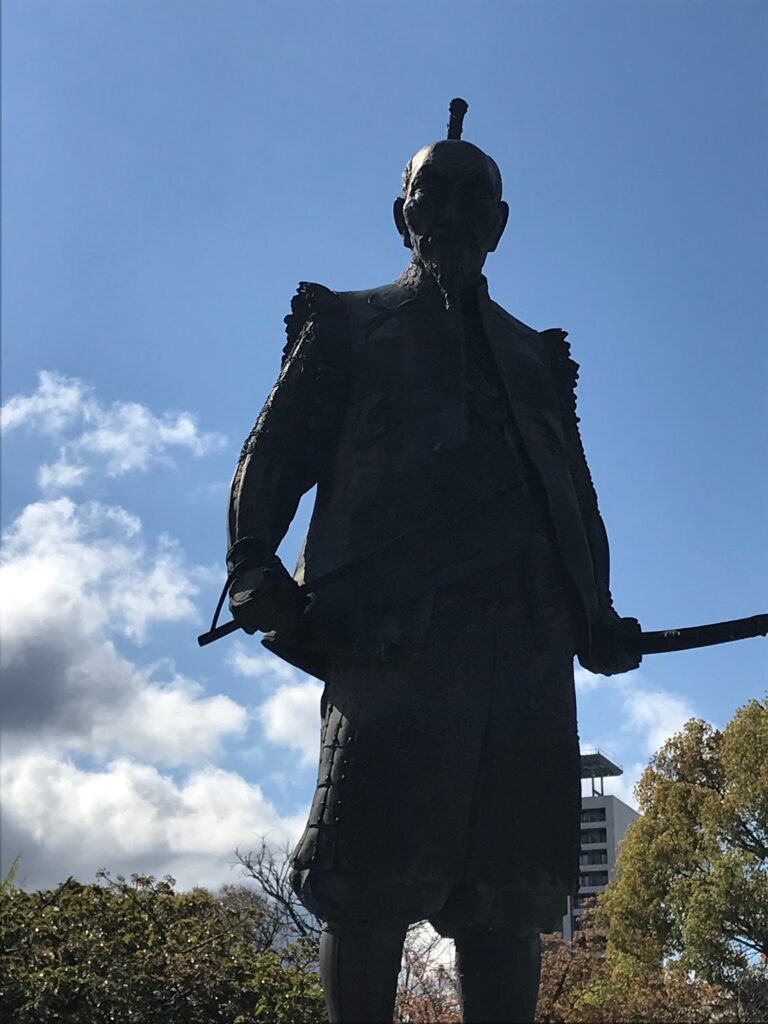 To be continued in: Nate Currier and the Land of the Rising Sun, part 4.