Kumano Kodo is not one of the great hiking trails of the world, though it's certainly a lovely one. This opinion is partially informed by growing up in California, where many of the great hiking trails are at one's fingertips. It has several nice stretches, and if you're into cedar trees, boy have you come to the right place.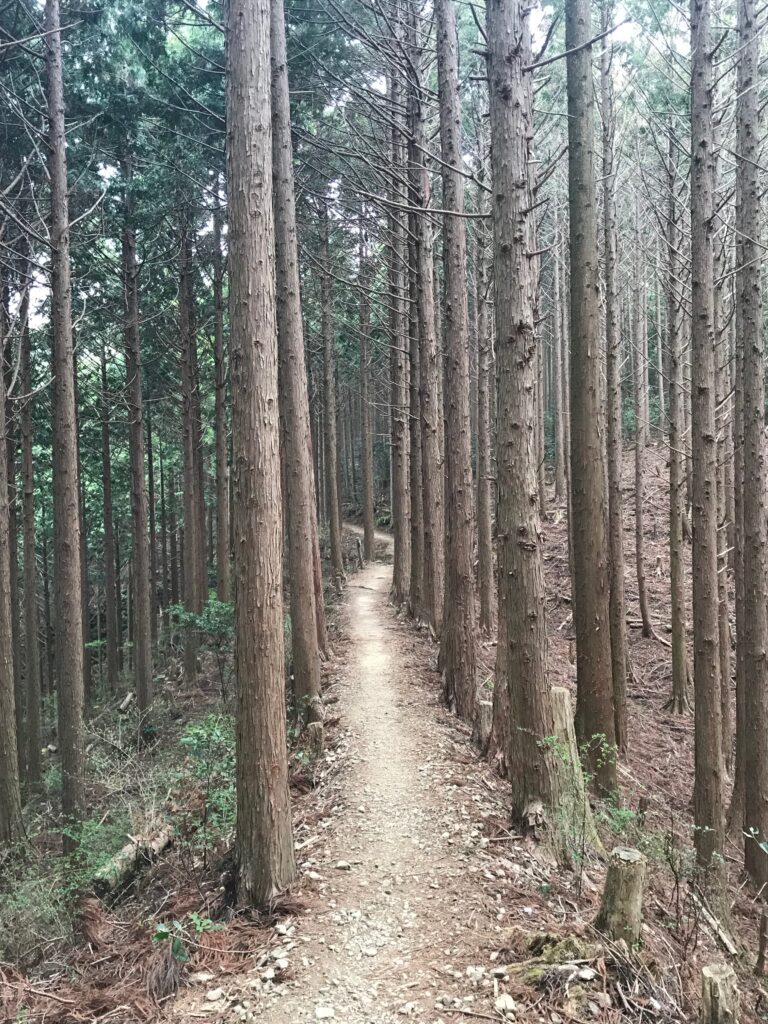 There's spookily little wildlife on this trail. Like Japan itself, it's also pretty homogenous. What Kumano Kodo may lack in sheer natural beauty, however, it more than makes up for in spades: with shrines.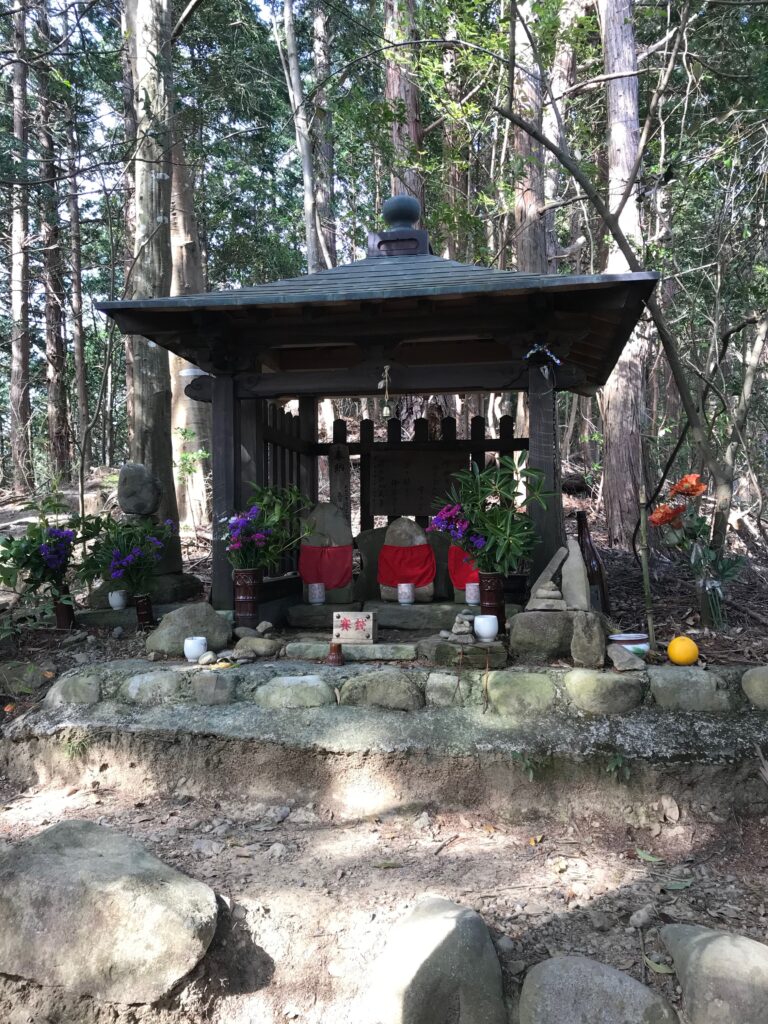 How cool to walk through the woods and come across a small torii gate, or a statue of Emperor Kazan riding a horse and a cow.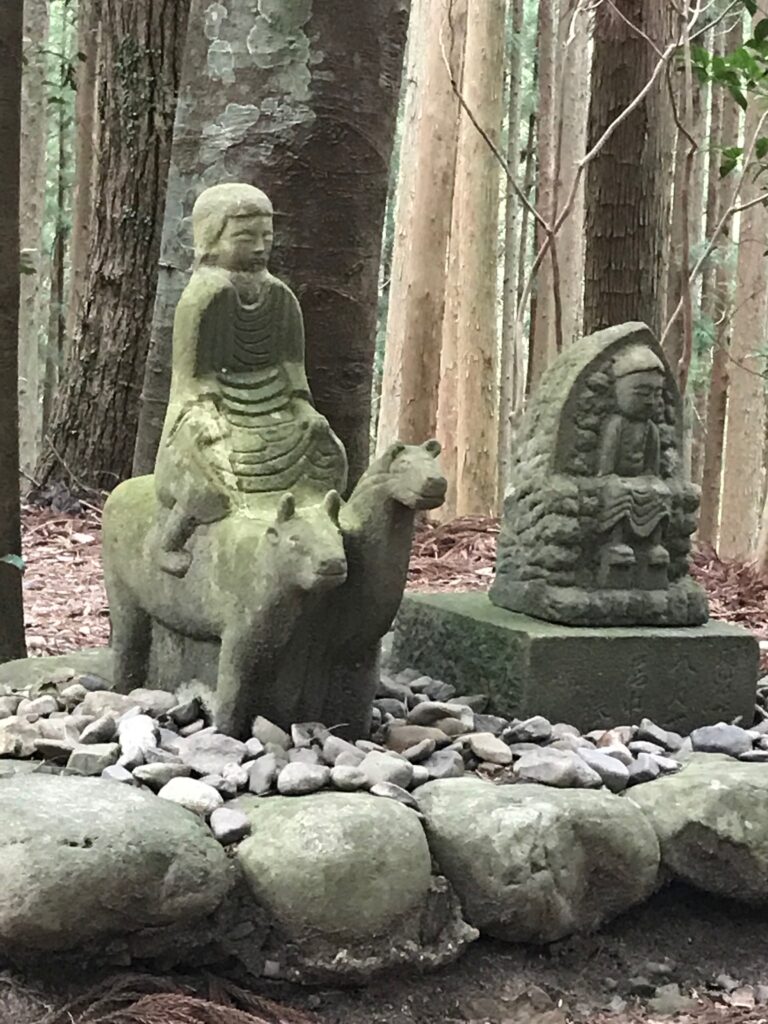 Emperor Kazan (968-1008) walked the Kumano Kodo. It's a historically popular destination for the imperial family. Kumana Kodo keeps a pretty low-profile outside Japan, but within the country it's well-known. Originally the natural landscapes made it an ideal place for Shinto worship, but following the introduction of Buddhism it became a popular among monks, and the two religions mixed (as happened everywhere in the country.) It is one of two pilgrimage roads to be designated a UNESCO world heritage site (along with Camino de Santiago in Spain) and is said to have purifying properties. The effort of walking Kumano Kodo cleanses a person of their sins.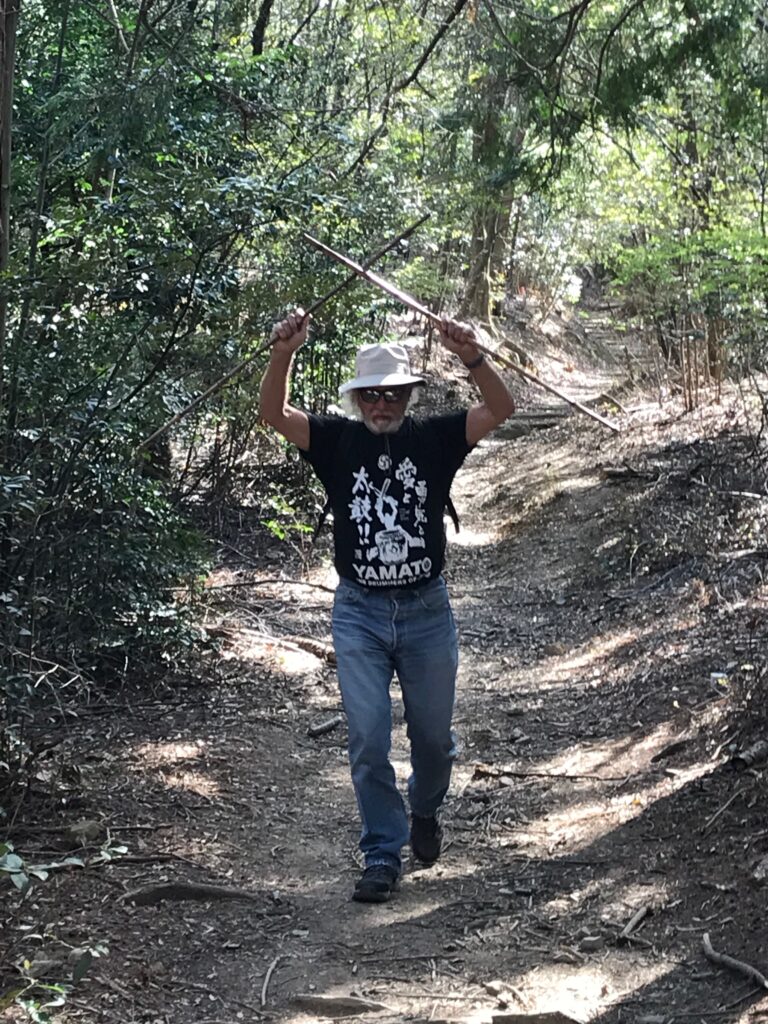 It's difficult to cite an accurate distance for the Kumano Kodo, since it's a series of seven trails connected by a local bus system. The larger loop routes average around 70 km, or 43 miles, and we probably did a little over half of that. For those keeping track at home, we were on the Nakahechi route, which google tells me is also the most popular. There are small towns, hostels, hot springs and beautiful views speckled throughout Kumano Kodo. It also connects three larger shrines I won't bother with the names of here, because you wouldn't remember them anyway.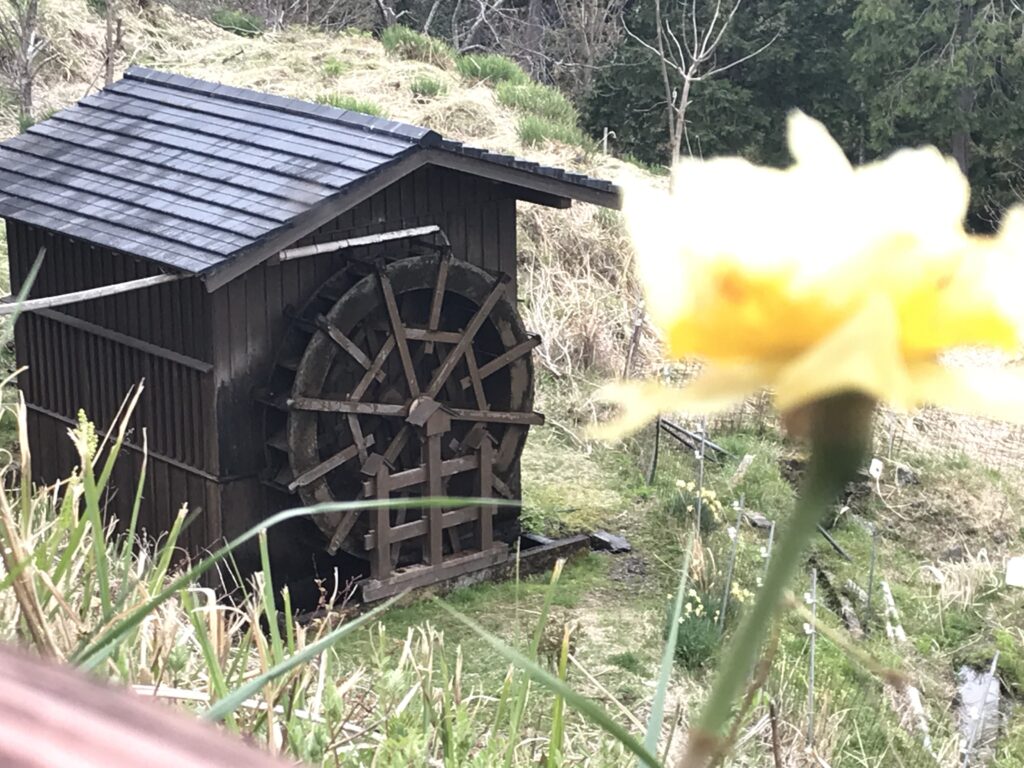 We started the journey at Takajiri-oji, Kumano Kodo's traditional starting point. We purified ourselves in a fountain, which I haven't mentioned yet but are EVERYWHERE in Japan. Here's the formal way of cleansing yourself with the ladle: first wash your left hand, then wash your right hand, then splash some water on your mouth. Then cleaning the ladle handle.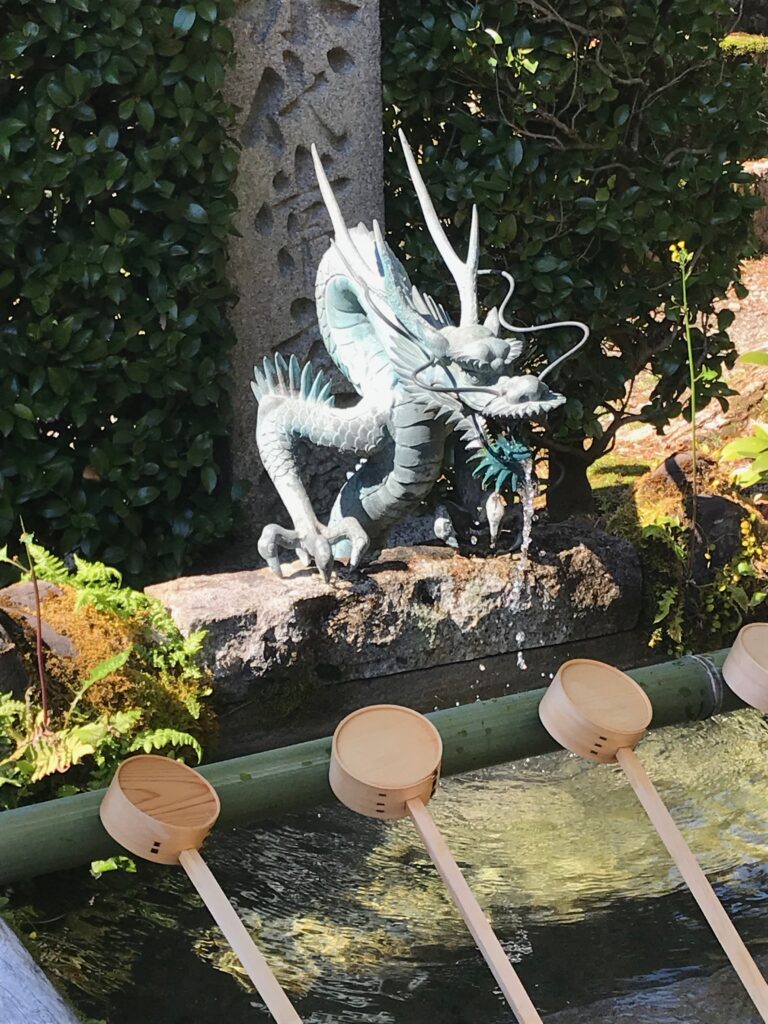 Then we walked through Takijiri's torii gate to ring the bell, clap two times, and pray for a safe journey. When walking through a torii shrine, you're supposed to walk on the left or right side of the path to leave space for spirits to pass through the middle.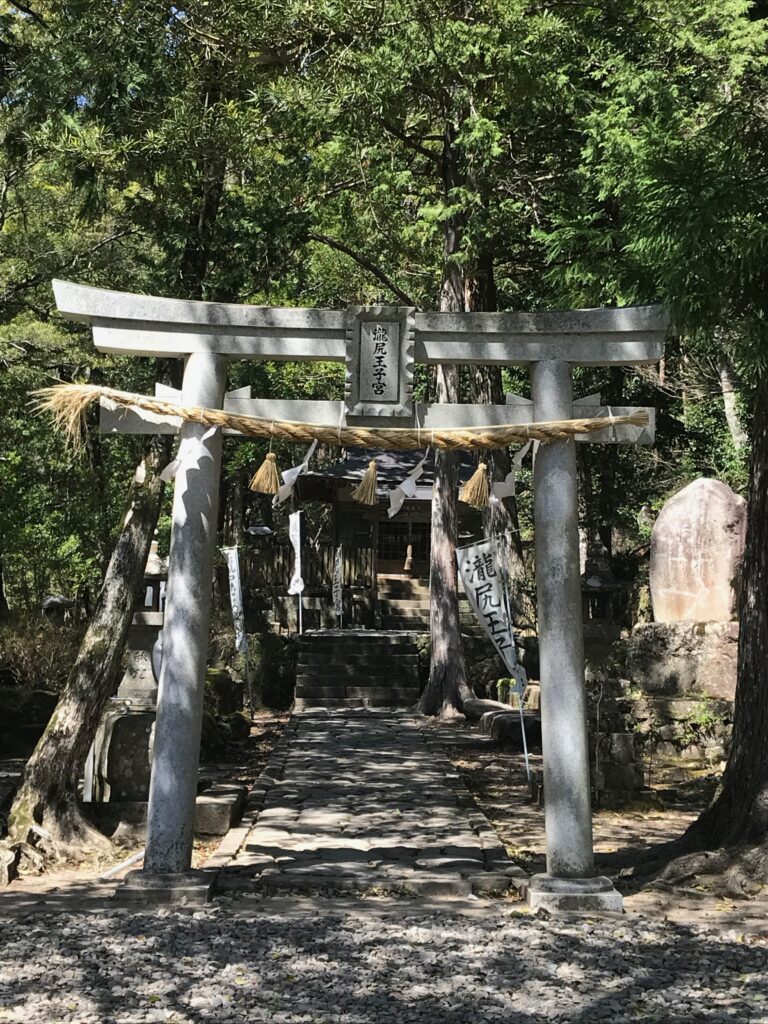 And we were on our way!
Dad had been a little trepidatious about this part of the trip, reminding me early and often how "old, weak and stupid" he was and making me promise to carry him on my back if he passed out, or at least use his corpse to sled down the hill in the most dignified manner possible. Of course he killed it, though he seemed to experience an unexpected break of faith in his pedometer. From the very beginning, walking behind him to make sure he didn't sprain an ankle out of the gate, he could be heard counting steps under his breath. On a couple occasions he even argued against the kilometer markers.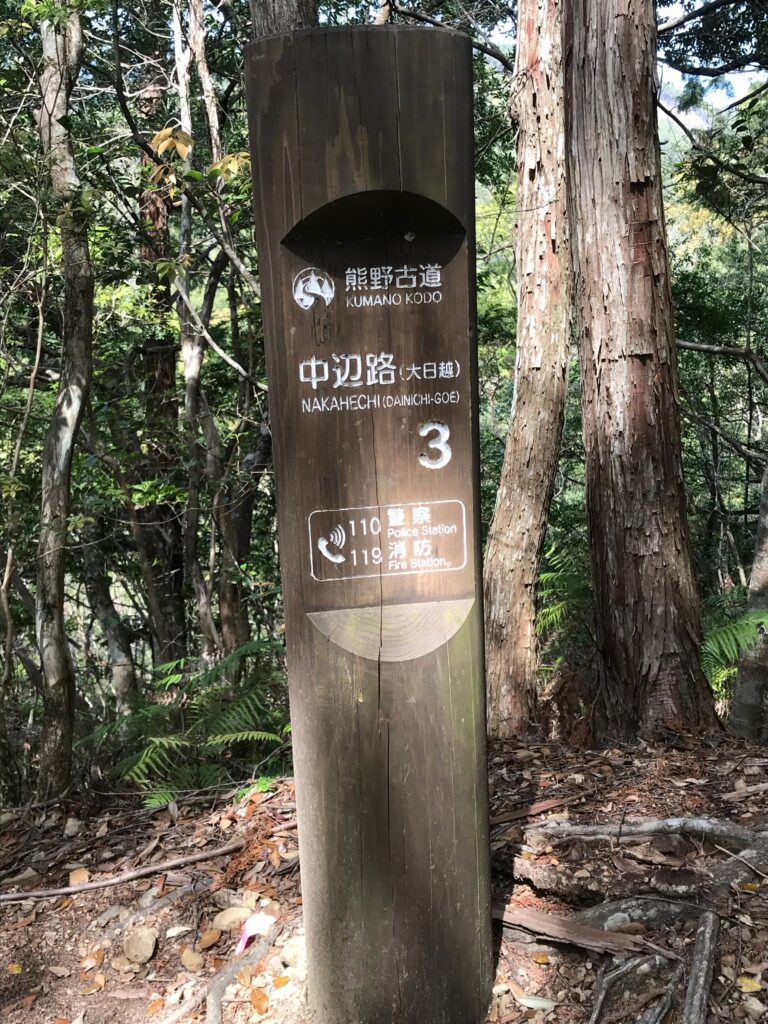 We both fantastically enjoyed ourselves. For anyone with hiking experience Kumano Kodo isn't a super challenging trail, which lets you soak in everything a bit more. Being the youngest person in our group by about five presidential terms, I'd often sprint ahead and enjoyed some woodsy solitude, while looking for monkeys. It also gave me time to do things like the "Test of Faith," a slight detour that involves squeezing through a small opening in the rocks, traditionally to ensure an easy childbirth.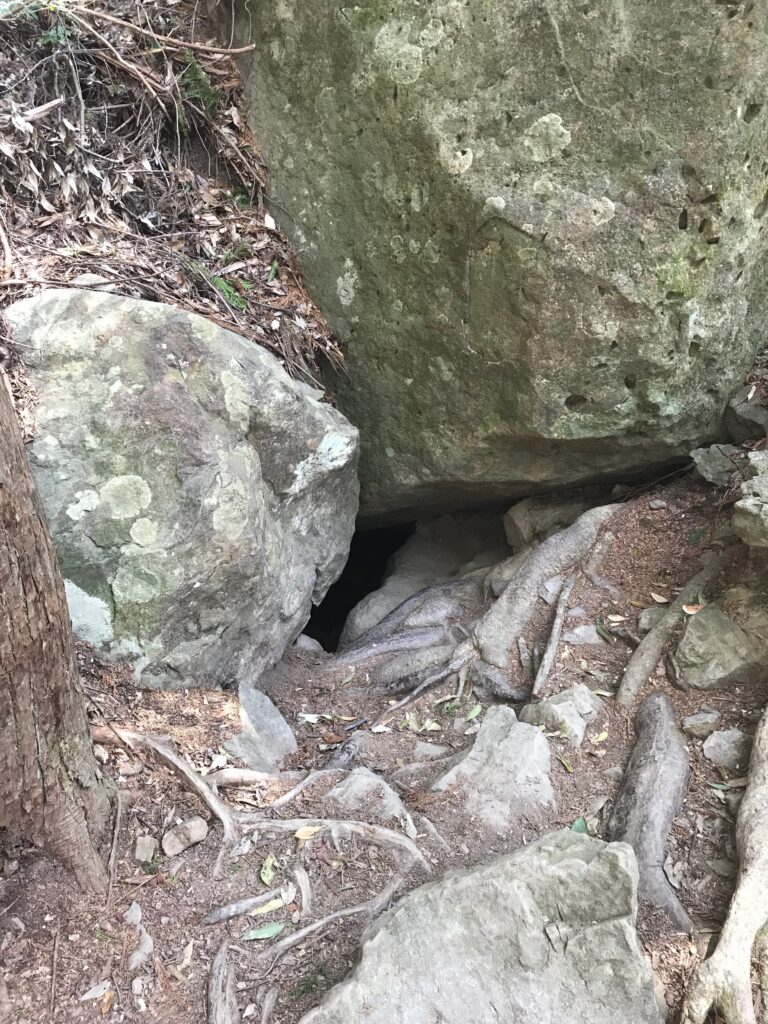 Our first two nights on the trail, we stayed at the Kirinosato "Organic Hotel," which with zero hyperbole, is possibly my favorite hostel/inn/hotel I've ever been to. The nature of Kumano Kodo makes it possible to stay multiple nights in the same lodging, walking by day and bussing back at night, returning the next day to your point of progress. Kirinosato is owned and operated by an affable Japanese flamenco-guitar master named Jiang.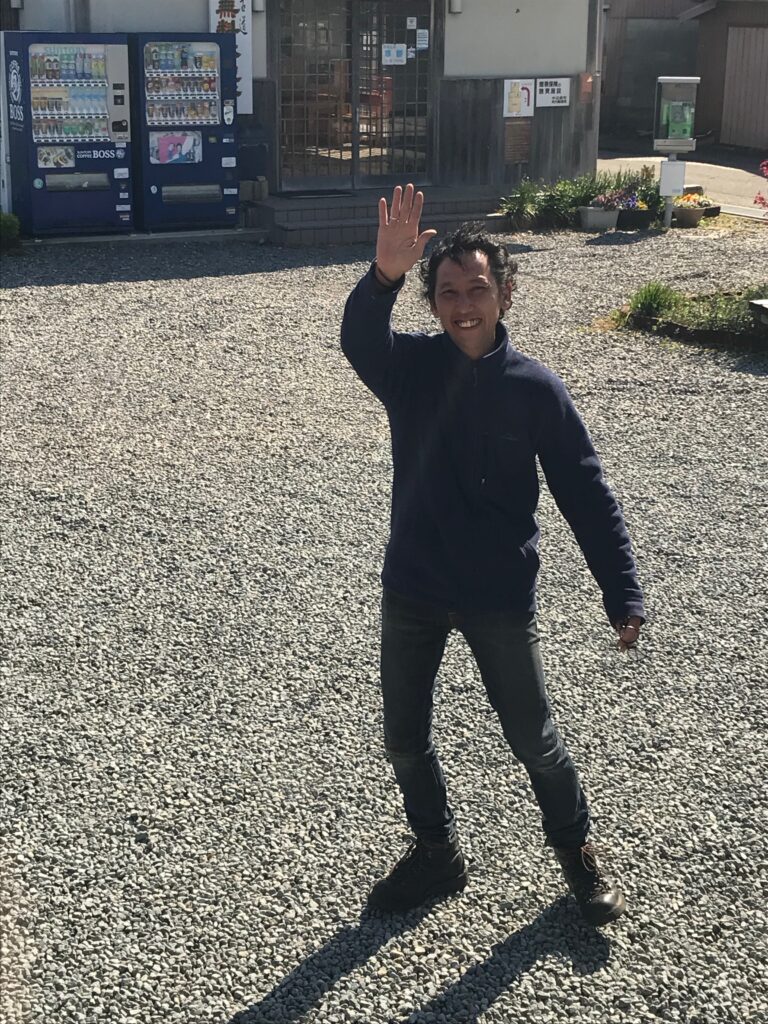 This dude is super cool. He lived in Spain for a few years mastering the strings before coming back to run the sort of out-of-the-way hostel travelers dream of. Despite how far it is from anything, a few past tenants have ended up living there. Dad and I had a nice bonfire chat with a whale conservationist-turned Kirinosato employee from New Zealand. And even though the rooms were full, Jiang was letting a couple Australians pitch a tent under the deck for free. To say we were enjoying ourselves would be an understatement.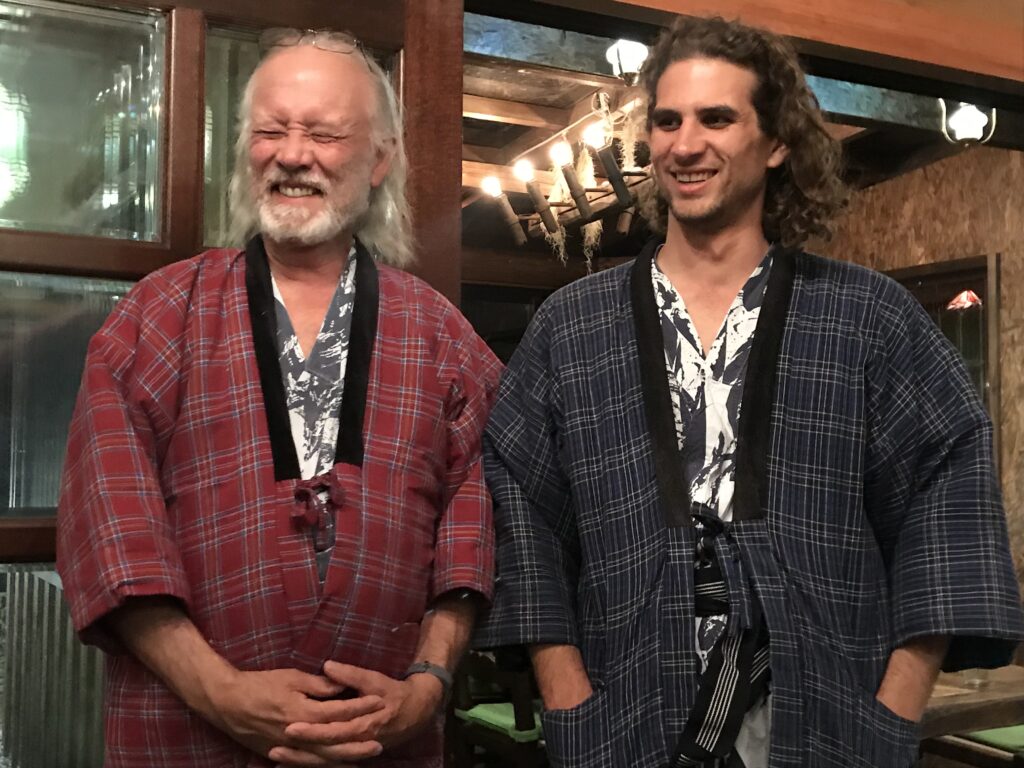 Dad and I were the only ones in our tour to immediately request a Japanese-style room. Up til now, everything had been western, and we were psyched to finally sleep on tatami mats and slide some shoji doors. Our room happened to be next to the hot springs, and we loved it.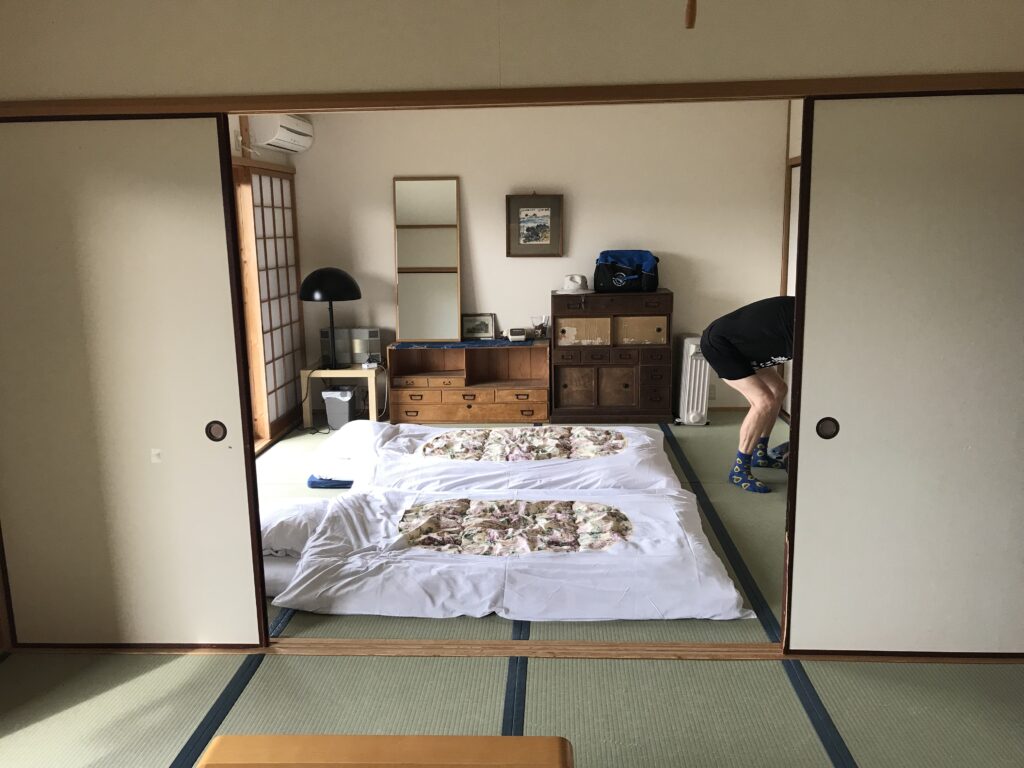 A quick word on these hot springs, which are called onsen. I didn't take any pictures of onsen. Not one. From here on out, everywhere we stayed had Japanese style rooms, and everywhere along Kumano Kodo had onsen. Pictures weren't allowed in them for obvious reasons. If you're into naked old men, I could've made a whole instillation. Even so, I meant to take my phone and sneak at least one shot, but we always went in robes, and I always forgot. So, quick onsen etiquette: you wash yourself off before you get in, and again after you get out. Some onsen have specific religious affiliations. Izanagi, a Japanese creator god, is said to have cleansed himself after going into the underworld searching for his dead wife, and the other gods were made from the drops of his tears and wet clothes. Sometimes onsen are mixed gender, though none of ours were. Don't stare at anyone's junk, and no rubber ducks. Here's a photo of me and Dad on the walk up to Kirinosato.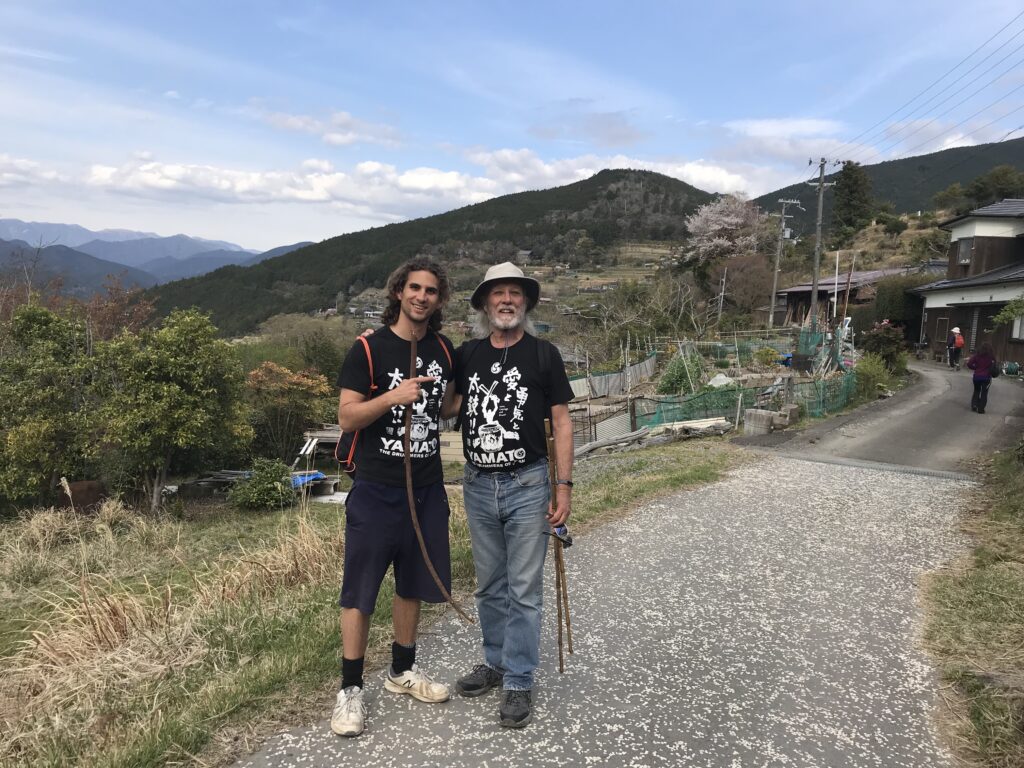 Different regions in Japan have different culinary specialties, and one specialty in Wakayama is plum wine. This is the sweetest drink I've ever tasted. It only takes a few sips before you're hit with a strange combination alcoholic-sugar high. Our second night there, Dad played a few songs on the piano (how Jiang got a piano out there is anybody's guess) and after a rousing rendition of "Werewolves of London," stumbled a little through a song I didn't recognize.
"He's a little drunk," I told Jiang.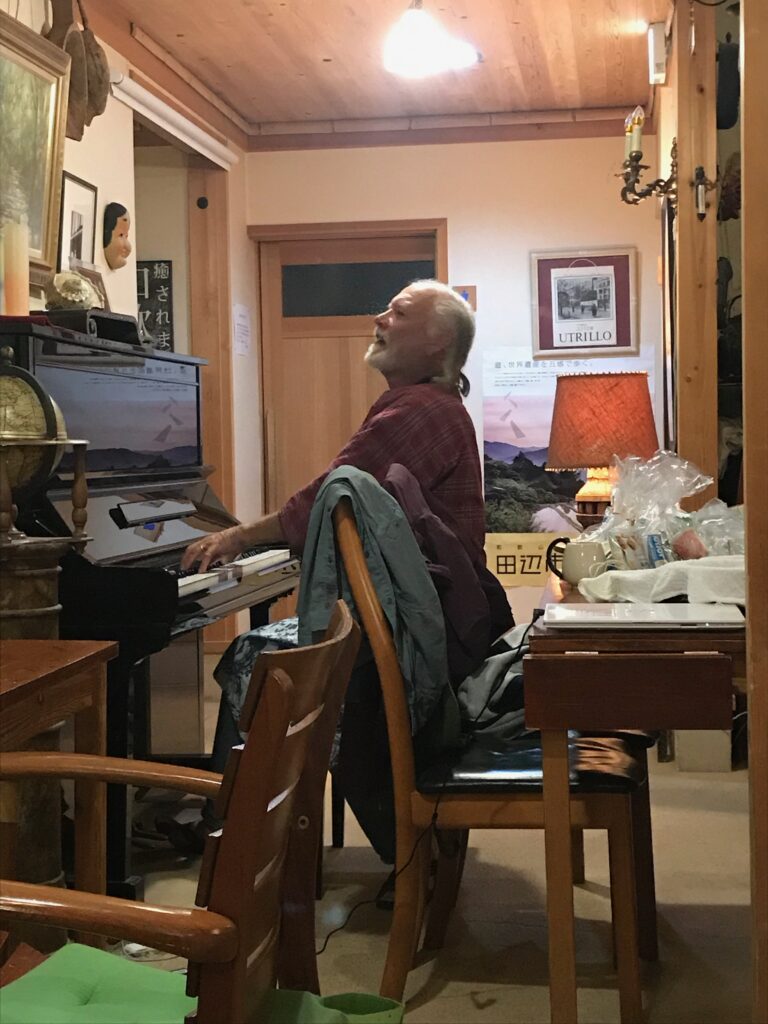 We walked seven miles the next day and had finally had to say goodbye to Jiang. The next day, however, we were joined by a Shugendo mountain priest, and seeing as I'm always game to learn a new religion, I was excited.
Our tour guide Yuki told us that Shugendo was a highly amalgamated religion drawing from Shinto, Buddhism, folk practices, Taoism, and undoubtedly a few other influences. It was founded roughly 1,300 years ago. Shugendo monks are all about the mountains, where they undergo severe physical training such as sleepless desolation camping and pulling each other up waterfalls. One goal of Shugendo is to achieve sokushinbutsu, which Yuki described as a state of artificial death, where the body comes so close to dying that it can effectively be reborn. In broader doctrine, sokushinbutsu is a Buddhist mummy–an ascetic monk who reaches a state of mummification while still alive, as a means of reaching enlightenment. A number of these ancient, dry, starved Buddhist mummies have been found, and they look the way you'd expect them to look.
Katsu, the Shugendo monk we met that day, was not a mummy. Actually, he was a pretty lively dude. Given the strict nature of Shugendo one might expect their monks to be a stoic, hard breed of men with shaggy long beards and thousand kilometer stares. But if Katsu is anything to go by…uh, well…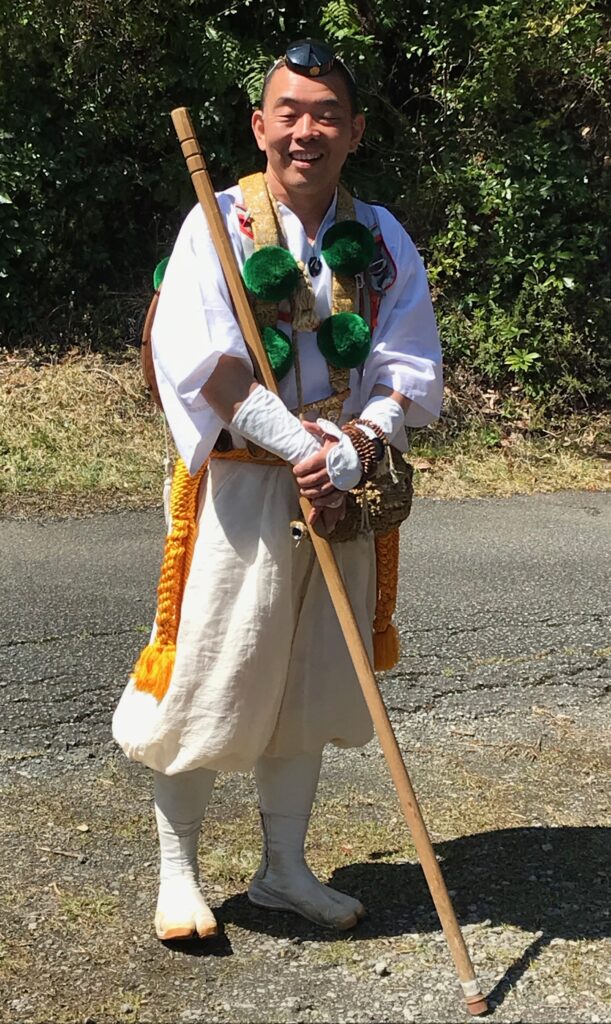 Even by monk standards, Katsu is chill. Turns out, Shugendo monks are allowed to have wives and families, and are even encouraged to take second jobs when they aren't monking around, as a way of spreading Shugendo to the world. Katsu runs a little cafe where he'll talk to anyone who wants to know about his religion.
As far as religious attire goes, I think Shugendo's nailed it. The cap on his head can be taken off and used as a little bowl. The staff-hat combo is awesome, everything breathes, and according to Katsu, the shoes are wicked comfortable. The green pom-poms on his chest, besides breaking up the color palette and snagging the eye, are designations of rank. In Katsu's school, the colors go light blue to green to purple to red, putting Katsu in the second tier of four. He's been at Shugendo for about thirteen years and it took a decade to receive his green pom-poms. It happened because one of his friends off-handedly suggested it to his master, who according to Katsu is chiller than he his.
"How do you get the next color?" someone asked him.

"You have to not want it," I said.

Katsu nodded at me.
The shugendo accessories include a water bottle, hat and conch, which he blew for us.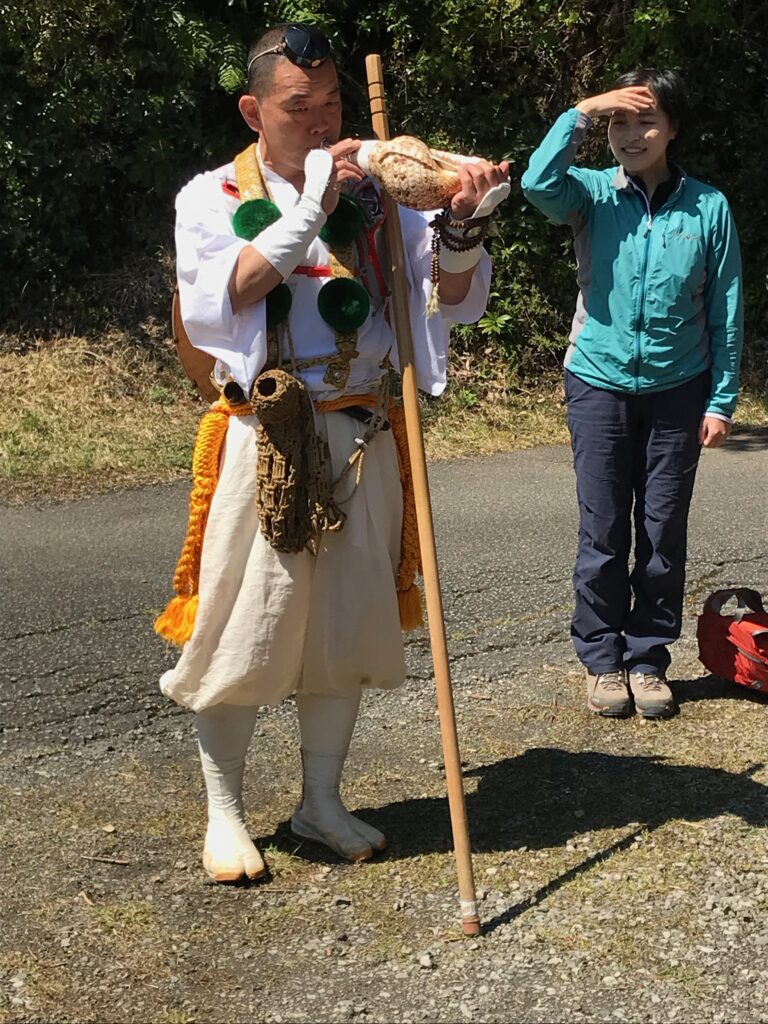 A couple hours of hiking later, we stopped at a tea house, and I took the opportunity to ask Katsu a question I'd had for years. In the far east, hybrid religions are commonplace. What's the harm in mixing together Taoism and Buddhism, with perhaps a little Confucianism sprinkled over for flavor? In the West, we're far too stringent about these things. Even so, the specifics of hybrid religions seem a little mixed-up, and many others have thought so. Shugendo was forbidden during the Meiji era in an attempt to separate Buddhism and Shinto, and wasn't legalized again until after WWII.
Sitting on a shady deck drinking hibiscus tea, I asked him about it.
"Hey Katsu, I get that Shugendo mixes Shinto and Buddhism, but do you ever feel like they come in conflict with each other?"

"Like how?" asked Katsu.

"Well, Buddhism teaches us that everything we perceive is only an illusion, doesn't it? But Shinto believes that everything in nature is endowed with a spirit or force. Doesn't that seem like they'd be in conflict with each other? That Shinto venerates places and things that Buddha would say are illusionary?"

Katsu thought about this for a moment.

"That's a good question. I don't know. I'll have to think about it."
It felt good winning a round of "stump the monk," but I was more impressed with his answer.
That day we ended up at Kumano Hongu-taisha shrine, one of the three main shrines I didn't mention earlier. We happened to be there during its Spring festival, which Yuki was especially excited for because she had never seen it. At the Spring festival, Kumano deities are carried in procession by a bunch of monks dressed more or less like Katsu.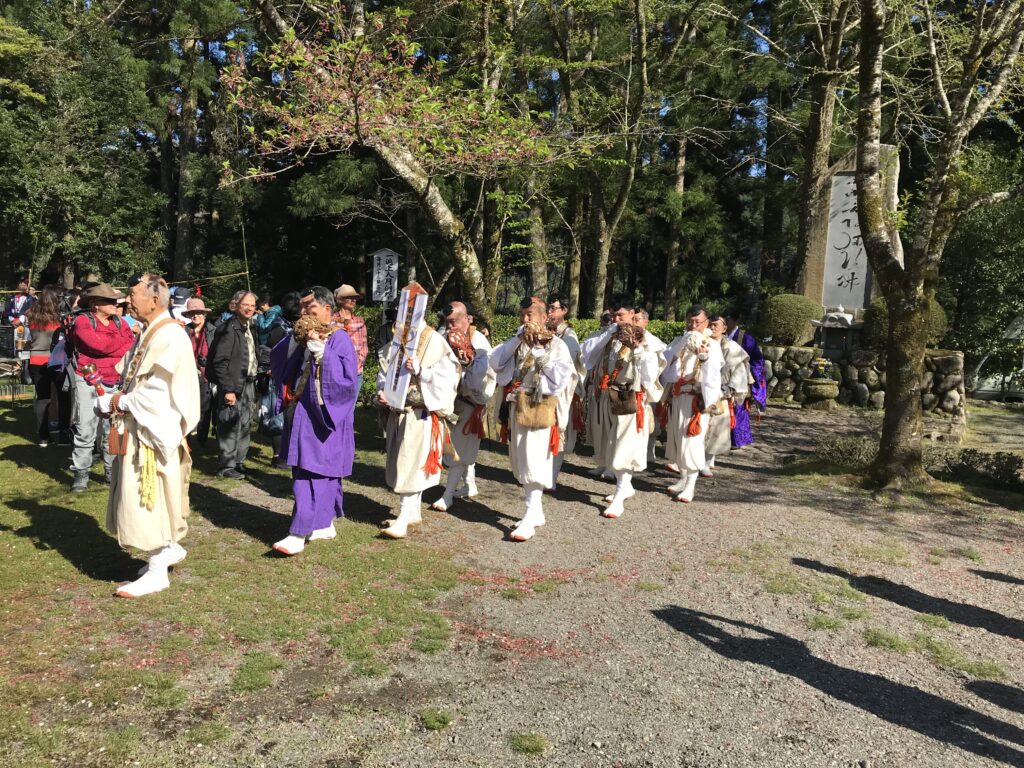 The festival took place on a lawn a little removed from the main shrine, marked by a fairly prominent torii gate keen-eyed pilgrims might be able to spot from a distance.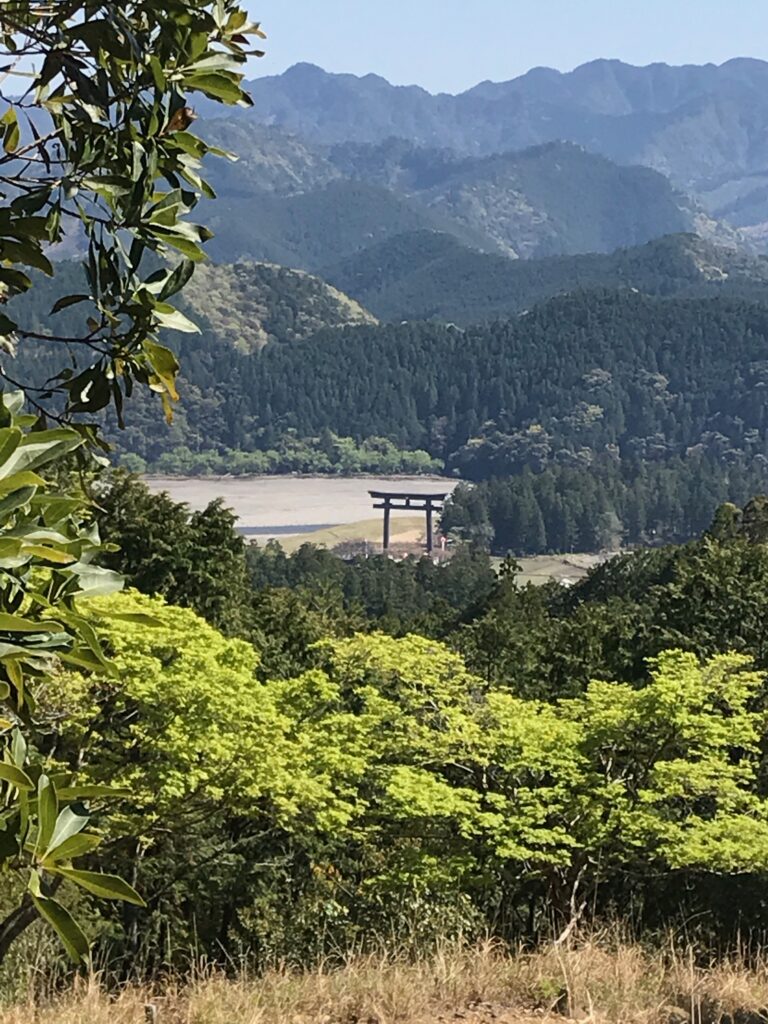 This festival had a real carnival atmosphere. They gave some offerings to the Kumano deities…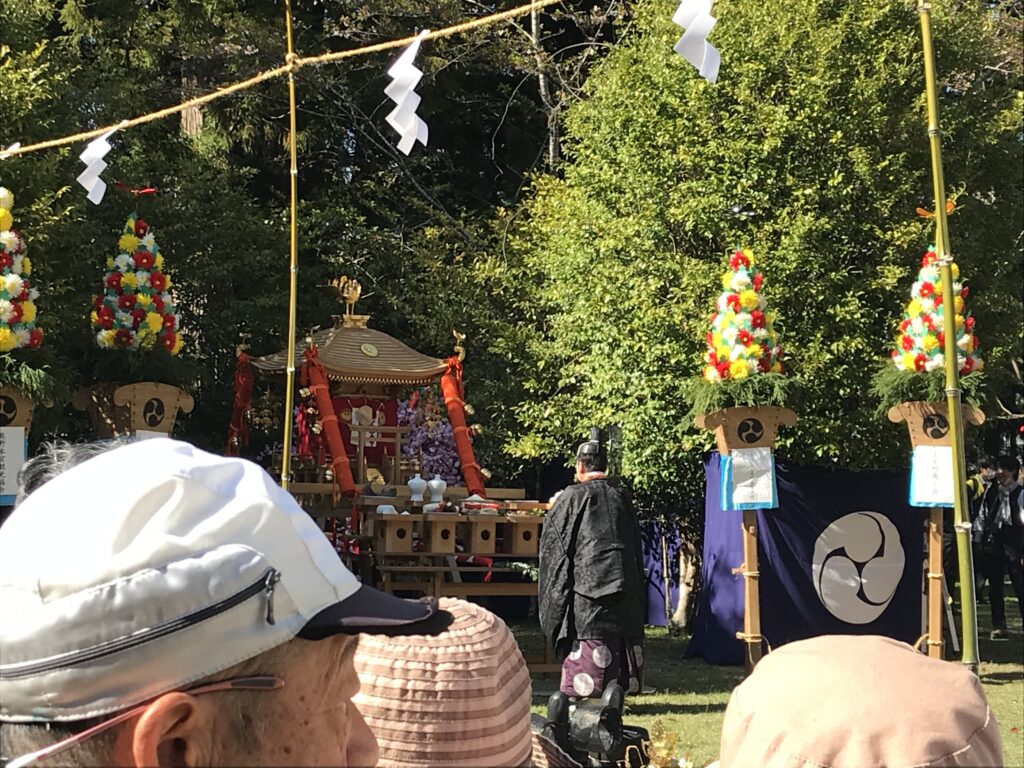 Had prizes…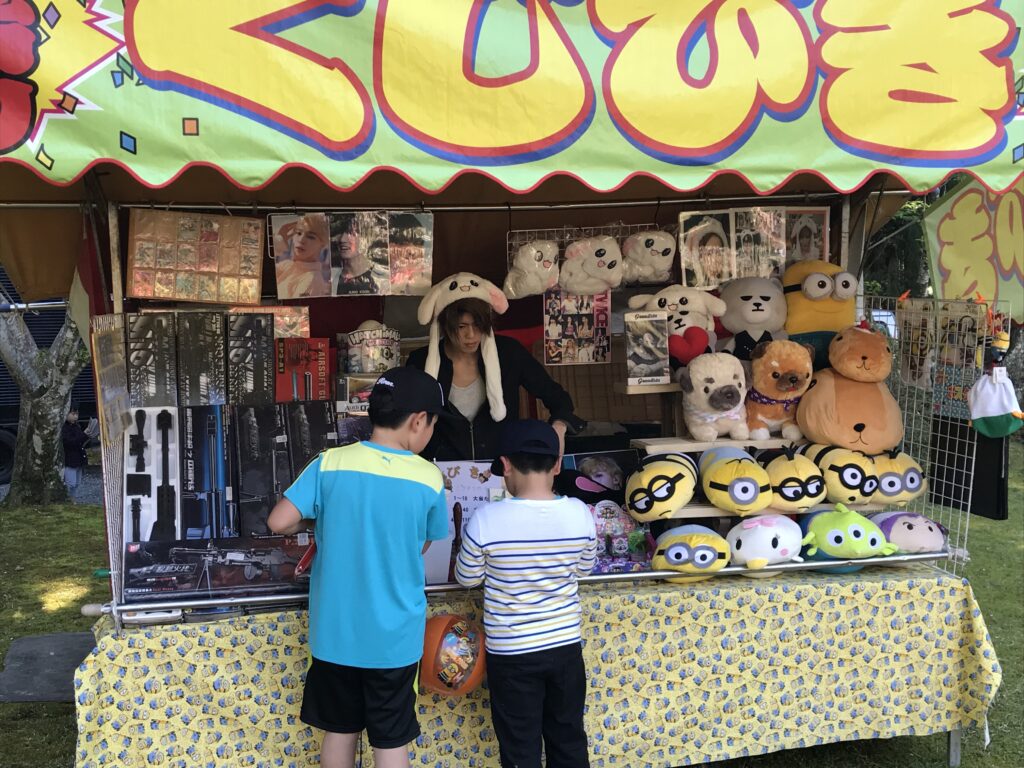 Even this guy showed up.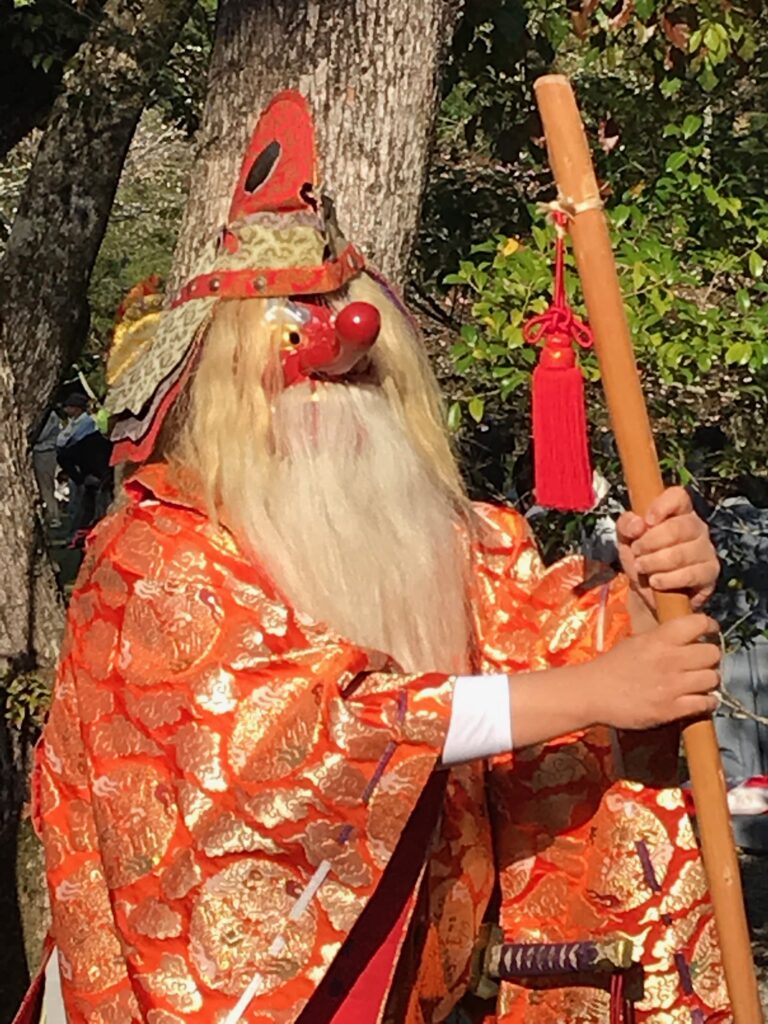 The main event circulated around a huge stack of cypress branches.
Presided over by this head honcho.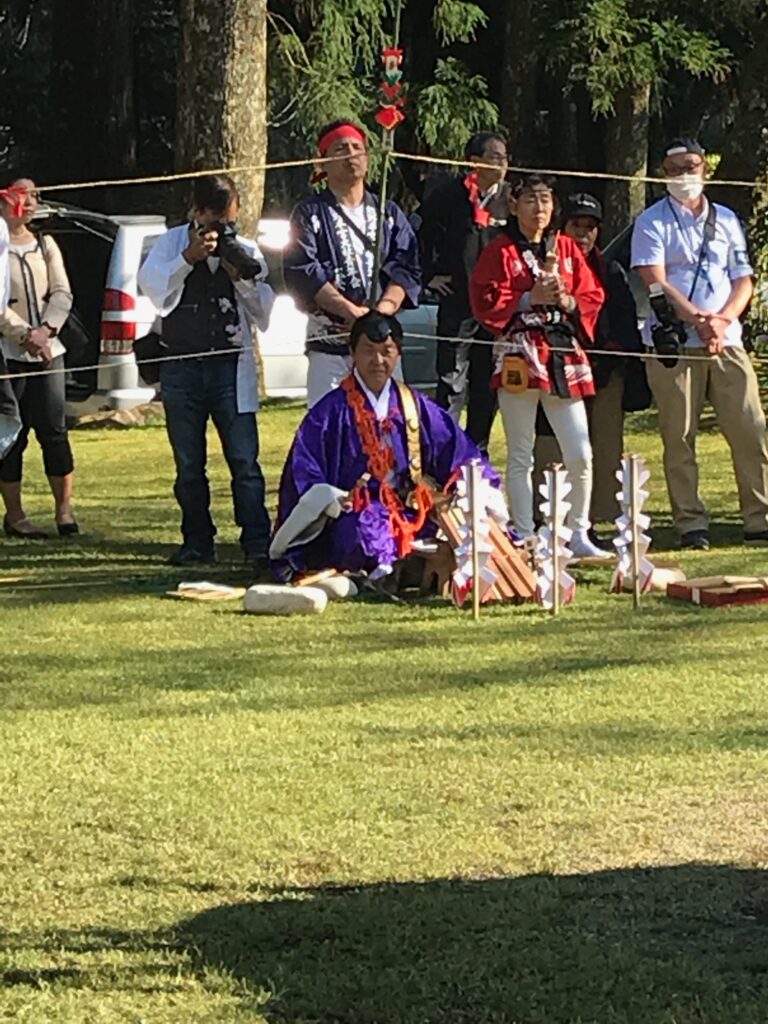 The cypress pile was presented with a sword, an ax…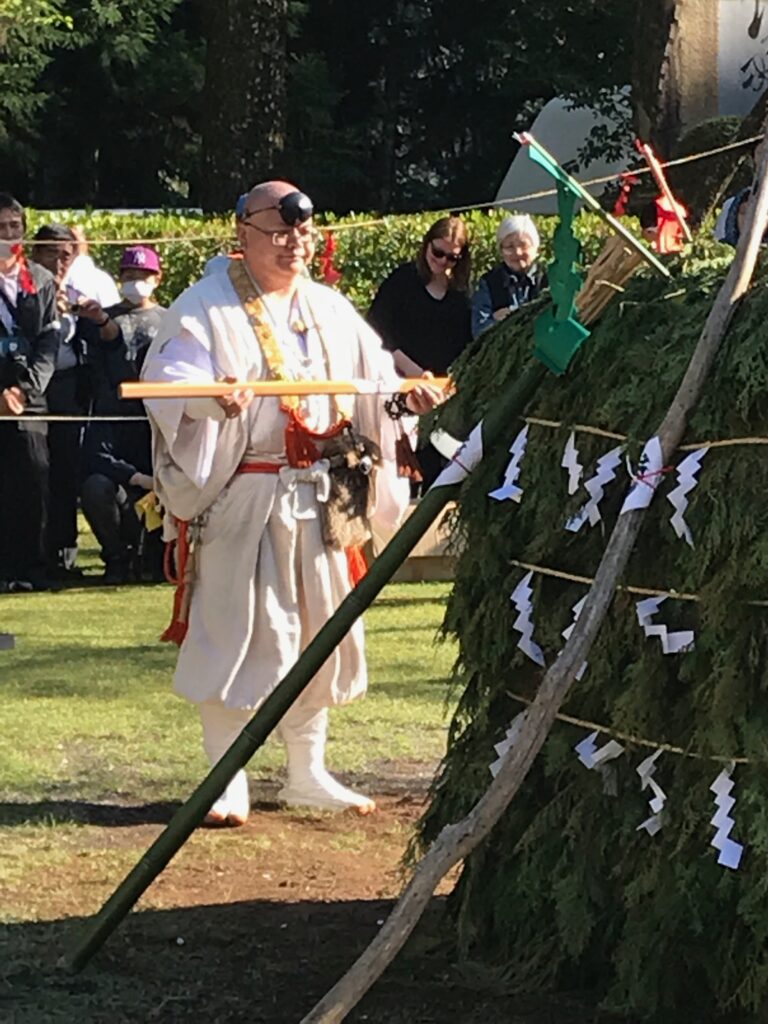 And finally by this archer, who literally shot blunt arrows into the crowd.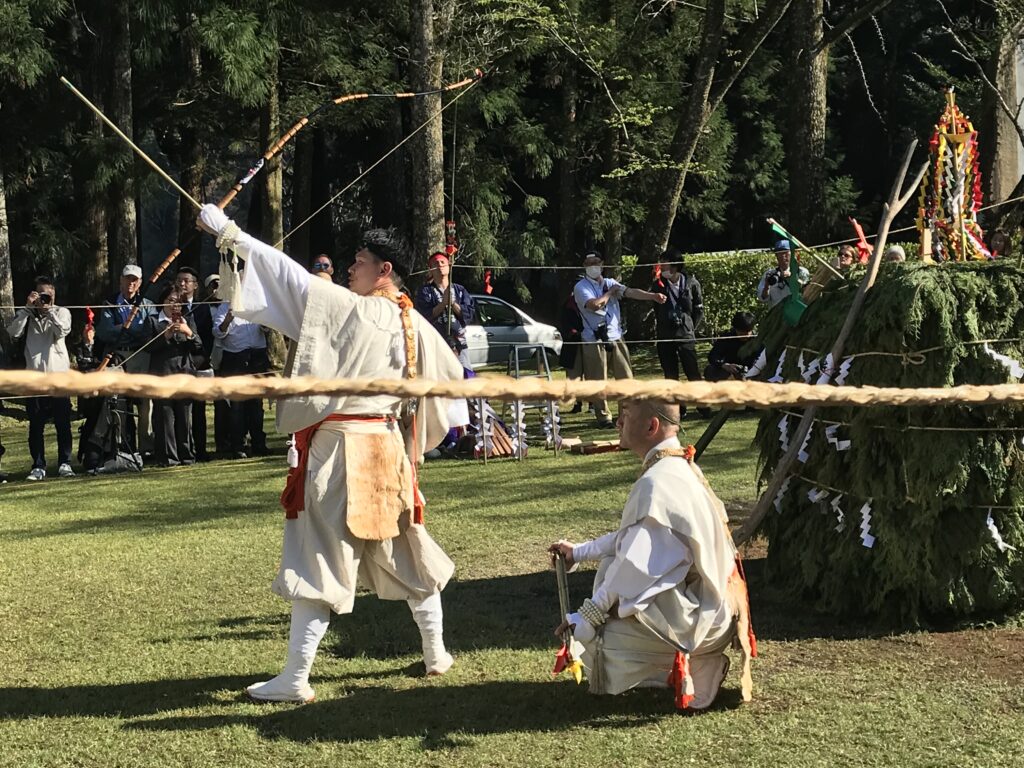 One of them was just over my head, but it's all the same. I probably couldn't have fit it in my carry-on anyway.
Then, they lit the cypress on fire, and threw in boxes and boxes of wishes written on wooden slats, to help them come true.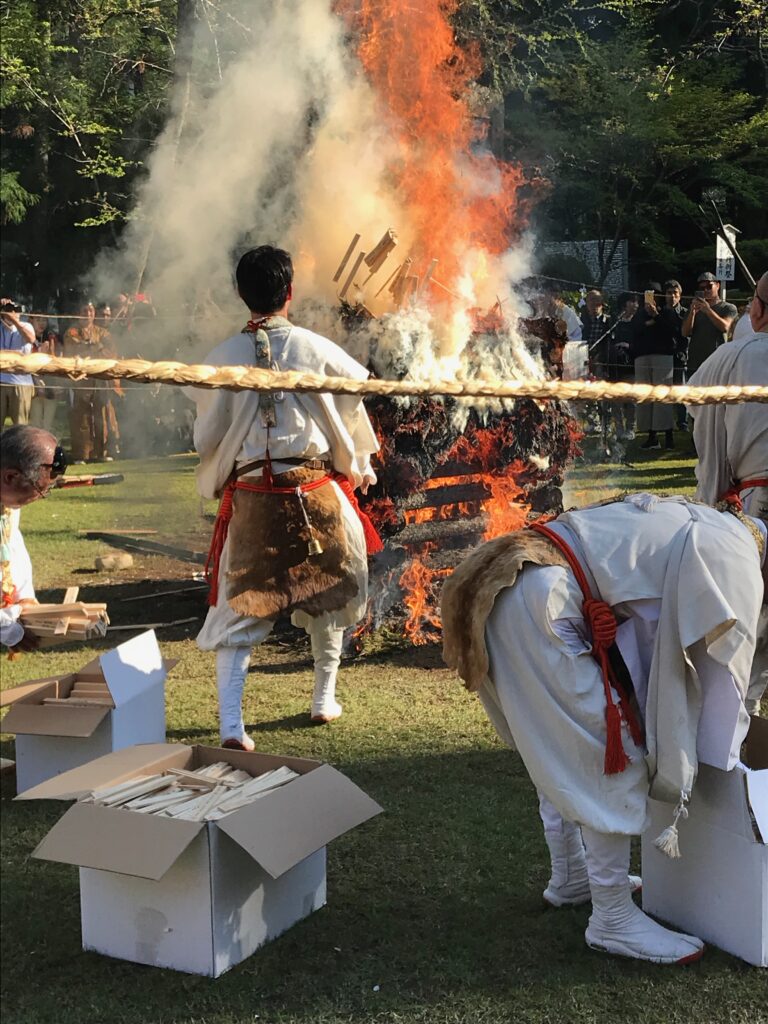 Smoke seemed to be what these monks were after. They even doused the whole thing in water a few times.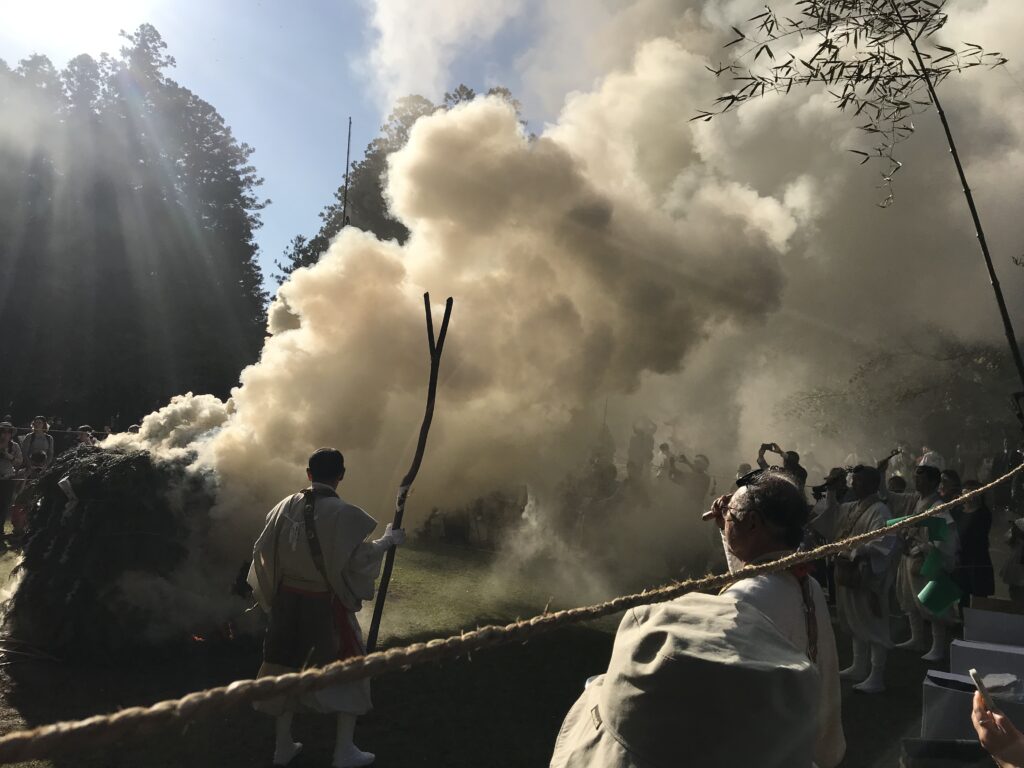 So, we were pretty lucky to overlap with the festival. That evening, from the inn window, I finally saw monkeys. Now look, this is the best picture I took of them, okay? I took it as my phone died, then I ran down into the river to watch them for a bit while they played around in a tree and scampered off. Now they're hard to see in this picture, and you might think they're cats, but I'm TELLING you, they're MONKEYS. I saw them, they're real, I ran down and watched them, I'm not making this stuff up, they're monkeys okay? Real, live monkeys. I saw these monkeys. I'm not crazy, they're monkeys!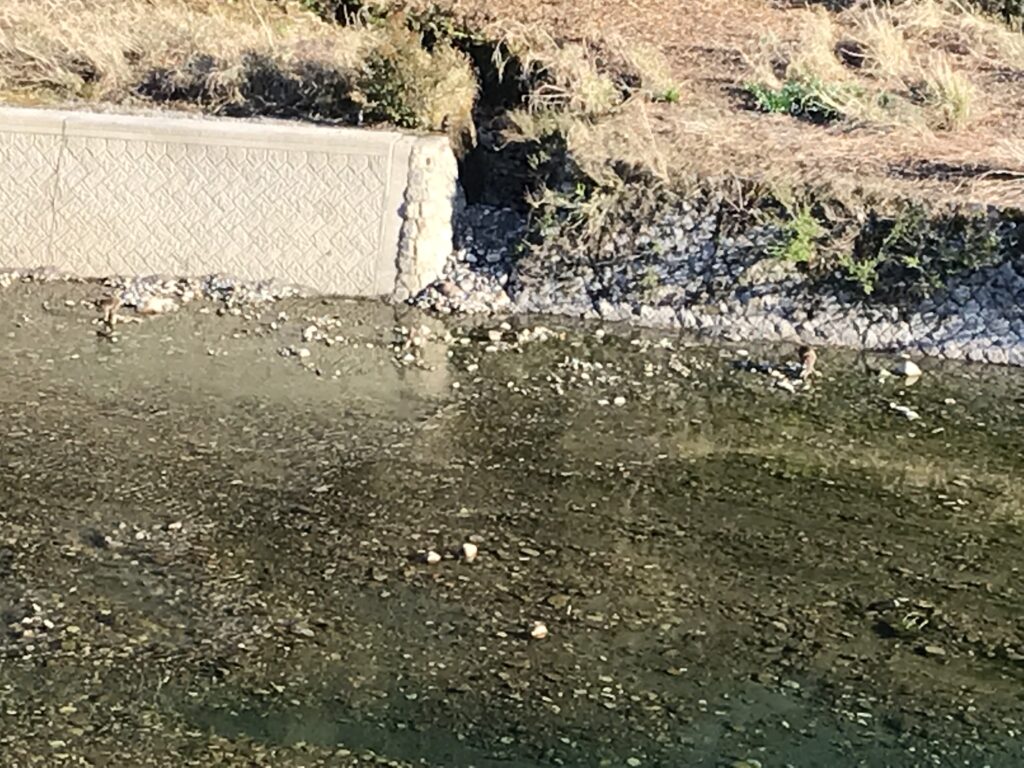 The next day, we were going to return to Kumano Hongu taisha and spend some real time at the temple. We were even going to see a couple parts of the shrine usually closed off to foreigners. To that end, we had to choose someone from our group to act as our spiritual representative.
"I vote Dad," I said, leading to a quick unanimous decision, and Dad breaking out into song.
"Alright," I said, "I rescind my vote."
So, Dad was our group representative, and our time on the Kumano Kodo was coming to a close. But there were other perils on the horizon: I was getting sick.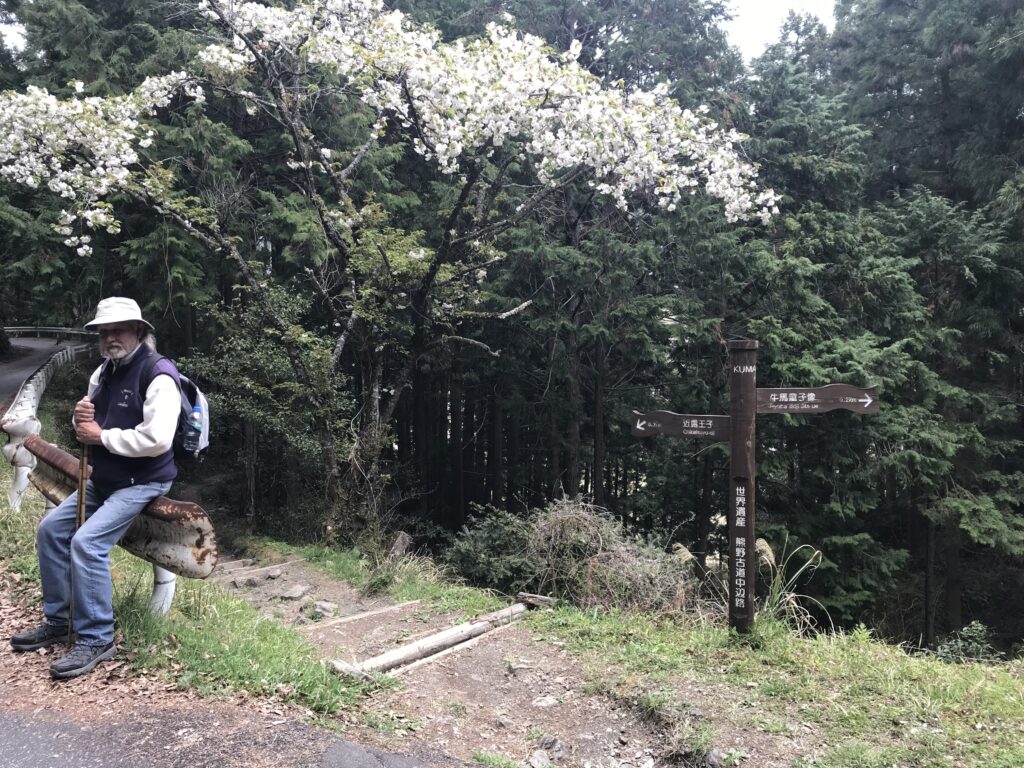 To be concluded in: Nate Currier and the Land of the Rising Sun, part 6.