At the end of the 4 line in the Bronx, New York City, past Yankee Stadium and Mt. Eden, there is a working class neighborhood called Woodlawn, boasting a nice metro station and insane street prices on blueberries.
It also has a well-known cemetery, and that is why I was there…though I did buy some of these blueberries too.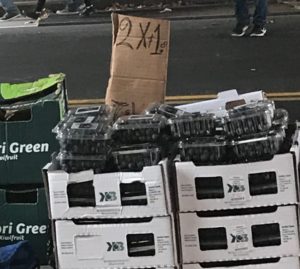 Woodlawn: come for the antecedents, stay for the antioxidants.
The Woodlawn Cemetery is conveniently located next to the metro stop. If you're coming off the train, you basically can't miss it. I stopped in for a visit the afternoon before Thanksgiving, a chilly November day with beautiful skies that made all my pictures look  more dynamic than usual.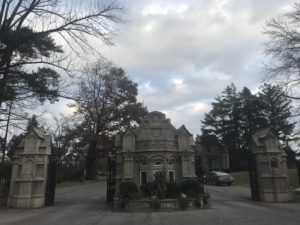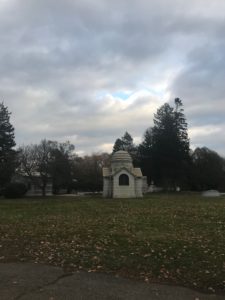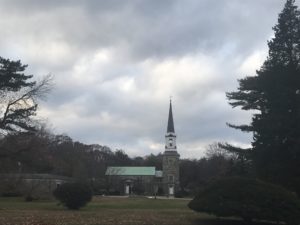 This last one is of the bathrooms.
Unlike the downtown depositories of the dead I visited in previous posts, the Woodlawn Cemetery is ginormous. I started meandering around the place clockwise, attracted by a creepy mausoleum.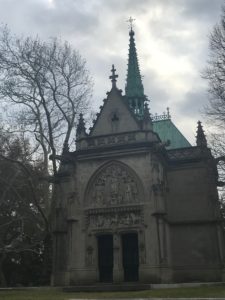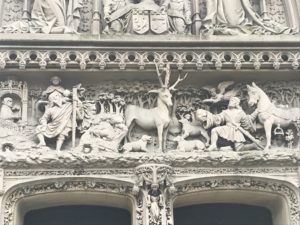 The Bronx is house Baratheon, apparently.
It was also adorned around the roof with a collection of wonderfully Gothic gargoyles: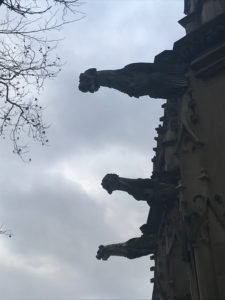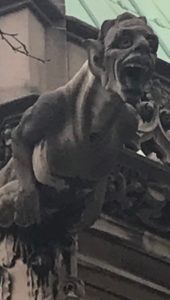 Some of which seemed happier to be there than others.
My brother asked me a couple weeks ago where the term "Gothic" came from, pertaining to art. It is a good question, since stylistically it dos not seem to have anything to do with the Germanic gothic barbarians of old. And the answer is pretty cool. The phrase was coined by Italian painter and noted art snob Giorgio Vasari. The word was intended to be negative, a critical dig at the new wave of flamboyant Romanesque architecture popping up around Europe in the 1500s. Calling it "Gothic" was tantamount to calling it "Barbaric." In Vasari's opinion, Gothic architecture was ruining the established aesthetic beauty of European architecture the same way the goths had ruined…well…Rome.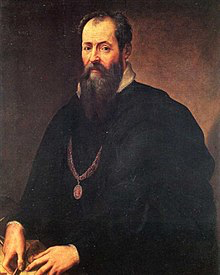 Pictured: Giorgio Vasari, probably hating on a flying buttress.
Leaving the gargoyles behind it was not long at all before I came upon the Honeysuckle Plot, an outstretched field of simple gravestones that may have been my favorite area of the whole cemetery.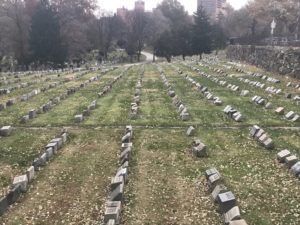 The Honeysuckle plot struck me for its simplicity. Woodlawn has many beautiful statues and several celebrity tombstones. But for the most part, these are all so personalized they function better as individualized memorials than they do as an overwhelming reminder of mortality. There is of course, nothing wrong with tombstones celebrating the lives and accomplishments of those buried under them.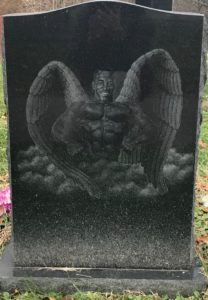 This guy gets it.
From the perspective of a living person, however, the vast, comparatively uncelebrated nature of those hundreds upon hundreds of graves at the Honeysuckle plot hit me as the most poignant existential memento of my own death in the whole graveyard.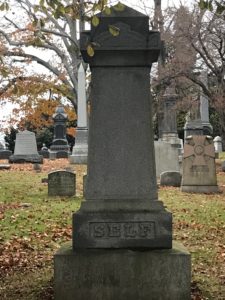 Maybe second most.
Of course, I mentioned celebrity gravesites, so let's get into that. Many iconic Americans are buried at Woodlawn including Irving Berlin and Celia Cruz. The three I was most determined to find however, were Miles Davis, Duke Ellington and Herman Melville. It turns out that finding Miles Davis' grave in Woodlawn Cemetery is like finding hay in a haystack. There are a shocking number of "DAVIS" marked mausoleums here, all of which more or less resemble one another. Suffice to say, if you do come upon Miles Davis' grave, you'll know it when you see it.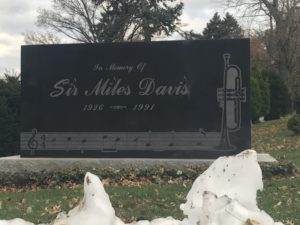 He was a showman, after all.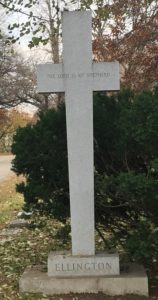 What's more, Duke Ellington is right across the path.
Close enough for them to jam together in the afterlife, and just far enough away to make it impossible to snag a good picture with both graves in frame.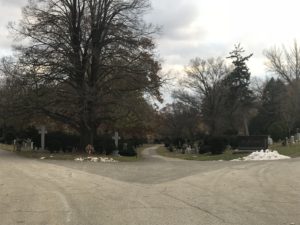 Here it is, the heroic resting place of American jazz.
A cinematographer friend told me once that part of the reason Lawrence of Arabia and the original Star Wars are such stunning movies (two of my favorites, as it happens) is because anywhere you point a camera in a desert, it looks beautiful. I would suggest that old-school graveyards are set up the same way.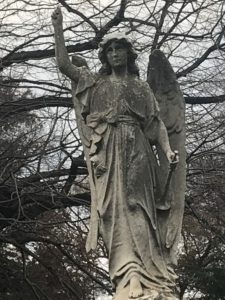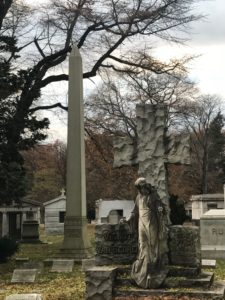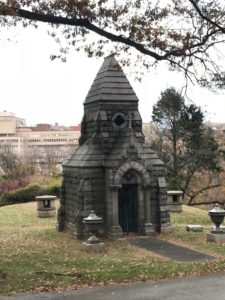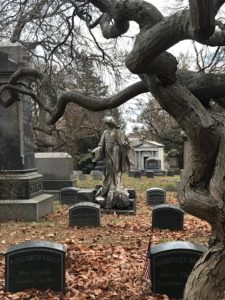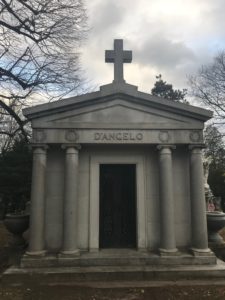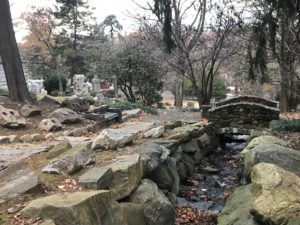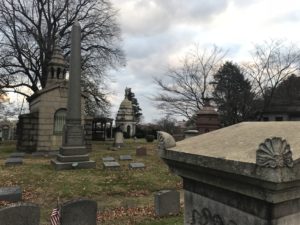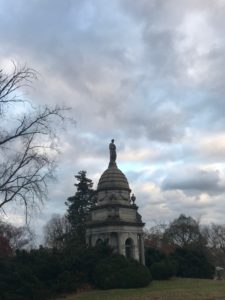 –
Aside from the staggering number of obelisks one comes across at Woodlawn, there is also a pervasive and peculiar symbol that shows up all over the place. The very distinctive "G" in a compass: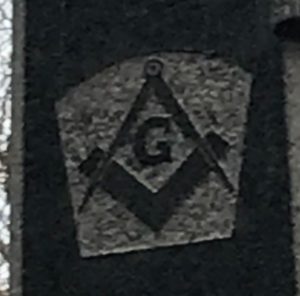 Ghosts?
This is the symbol of America's original boy's club, the freemasons. I had seen the symbol before, but never knew what the "G" stood for. As it turns out, it stands for a few different things, including "Great Architect of the Universe" (AKA God); "God" (AKA Great Architect of the Universe); and most predominantly, "Geometry." Awfully tame for a group that has become the darling of American conspiracy theorists. Somehow I expected more from a five hundred year old brotherhood of secrecy.
I was so wrapped up in taking pictures of "G"s I failed to notice the battery on my phone was getting dangerously low, and it was coming up on 4:30…when Woodlawn closes its gates. It just so happened a kind man and his son drove by at that moment who were just as lost as I was. I took them up on their offer for a ride and pointed them in roughly the direction from which I'd entered.
This probably would have been a swell opportunity to leave the cemetery, but we had only been chatting for a couple minutes before driving past a large wood carving of an owl, so obviously I had to get out and bid them farewell.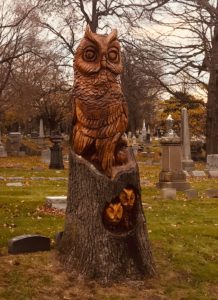 Wise.
Why does Woodlawn have a large wood statue of an owl? Probably the same reason it has a large wood statue of an eagle…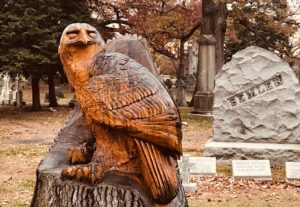 Pensive.
…and of a squirrel.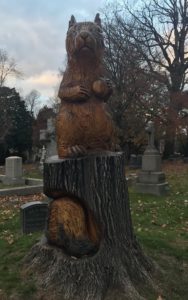 Confusing.
And why it has those, I have no idea.
It dawned on me then that I was lost and alone in a cemetery that was closing its gates, with a phone on its last gasp, darkness approaching and temperatures dropping to where they were probably just low enough to kill me.
Next time I visit a graveyard of this size, I'm definitely bringing a companion.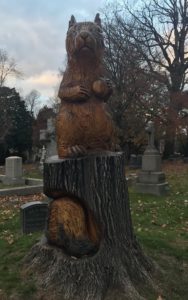 NOT YOU SQUIRREL!!!
I was pretty confident that I could hop the fence if need be—even if it was of the spiked variety—so I made the decision to snap pictures until my phone ran out of battery, and walked along the perimeter of the cemetery toward where there might be an exit. I consoled myself with the thought that there are certainly less efficient places to freeze to death.
The search for the exit led me through the Mausoleum gallery, a name too romantic to live up to (die up to?). Apparently there was a lawsuit several years ago over these mausoleums—a widow thought they were an eyesore and wanted to move the interred body of her dearly departed husband out of the cemetery completely. She also wanted one hundred and fifty million dollars. I'm pretty sure the suit didn't go anywhere, and it strikes me as a hefty sum for what is probably all in all a very nice place for a corpse to be buried. I do agree these mausoleums lack a certain whiff of romanticism though—enjoyable stained glass windows aside.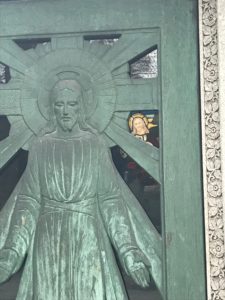 A whole new meaning to the phrase "finding Jesus."
I have already mentioned Woodlawn's multitudinous number of obelisks, and on their own they did not strike me as particularly strange. Shivering among the mausoleums however, I started to notice a few ancient Egyptian sun discs, and these gave me pause.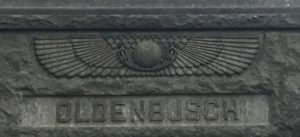 Osiris, be not proud.
The sun disc is an ancient symbol even by ancient Egyptian standards with many associations—most usually to the sun god, Ra. Certainly the Pharaohs made death splashier than pretty much any society before or since. And yet when you take a step back, how wild is it that Americans use symbols and totems from thousands of years ago to commemorate death in the modern day?
It links back to the Honeysuckle plot, a collection of graves with no showy designations to speak of, and raises a question about graveyards in general. Namely, who are they for? The living or the dead? The woman who tried to sue Woodlawn for one hundred and fifty million dollars claimed that the Mausoleums were an eyesore on her dead husband's view in the afterlife. But unless you subscribe to a belief system akin to the ancient Egyptians' (who thought death was only a temporary interruption before life after death) then it is silly to consider the environment of a corpse at all.
One romantically macabre idea to come out of modern day nihilism is that everyone is equal in death. And yet, as a cultural idea, this thought is pretty new. So new that it goes against something basic in the human psyche, the part that shells out millions of dollars for a flashy mausoleum when the person purchasing it, realistically, sees it as nothing but one final display of wealth. Why would anyone spend so much money to flaunt their standing in the world when they could donate that money to some cause or charity and create more of a tangible impact on the world instead?
And yet, there is enjoyment to be had from an extravagant graveyard. It just happens to be enjoyment for the living and not the dead.
Thankfully, these lugubrious considerations did not last long, as a security guard drove by and offered me a ride. It seems Woodlawn  has a 24/7 staff to open the gate for wayward visitors and keep the deceased headcount in check.
Keen-eyed readers will note that I never found Herman Melville's grave. But considering the man is best  known for writing about an obsessive quest that suspends its protagonist on the brink of madness, I did not feel like pushing my luck.
 Sayonara.
.