New Years is not my favorite holiday. More likely than not, it's an evening of regret, loneliness and police checkpoints. The best New Year's Eve tradition America has ever come up with is the dropping of a ball: literally a euphemism for ineptitude.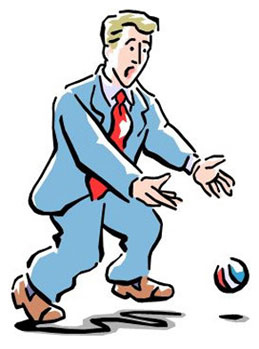 New Years has been celebrated on January 1st, more or less, since 45 B.C.E. The previous year a flashy new dictator of Rome named Julius Caesar took some time away from conquering Gauls and romancing Egyptian queens and finally did something exciting with his life: calendar reformation.
Yes, anyone born on a leap day has ol' Jules to thank. Apparently by the first year of the Julian calendar everything had gotten so out of whack they needed to tack on ninety days just to reset on the right foot. If you think 2018 has been a long year, imagine stapling three more months on the tail end. The new year started on the first day of January because Janus is the two-headed god of transitions, time, doorways, passages, ends and new beginnings.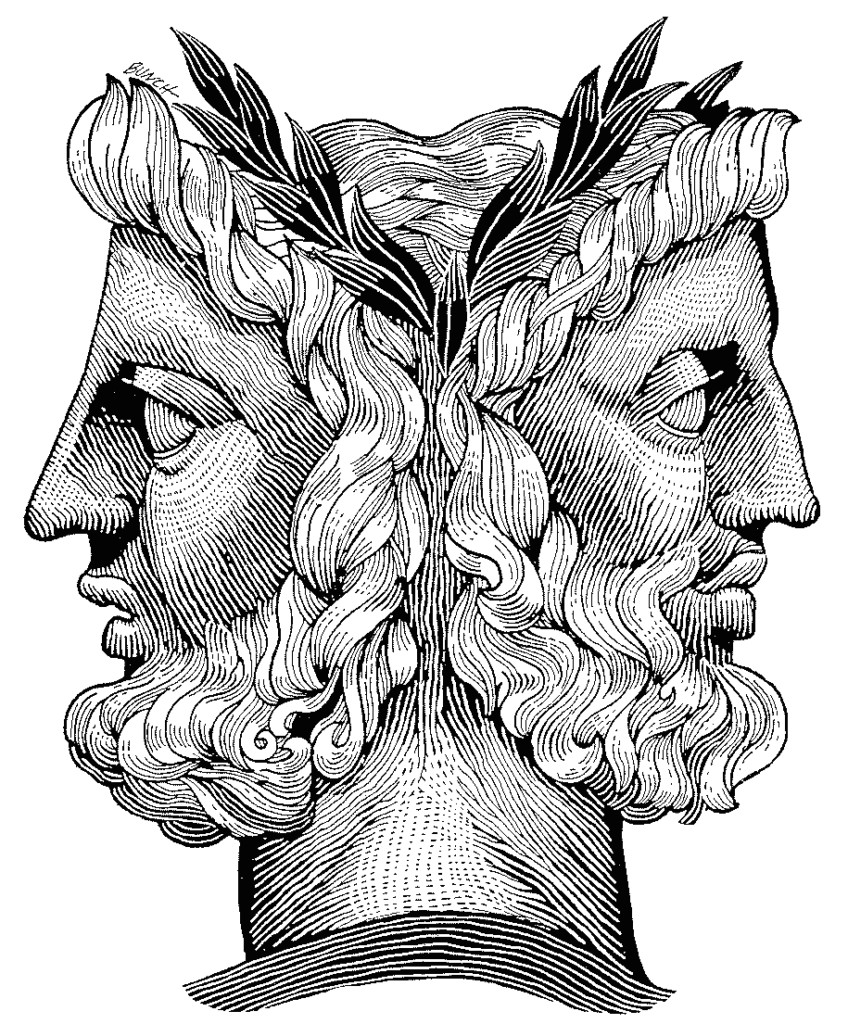 In an effort to do something different and kick things off on the right side of Janus, I stumbled upon the Sonoma Mountain Zen Center. I was very cagey about my plans, but did bring along Gail, a friend who grew up a stone's throw from Mt. Sonoma. She had never heard of the Zen Center so she suited my usual qualifications.
The drive up Sonoma mountain—where Gail informed me teenagers liked to go and "huff weed," was a treacherous and daring journey. The Falcon is used to snaking up unpaved roads with dubious levels in the gas tank, but we could hardly see a thing, the winds were roaring and we had to stop a few times to drag branches off the road.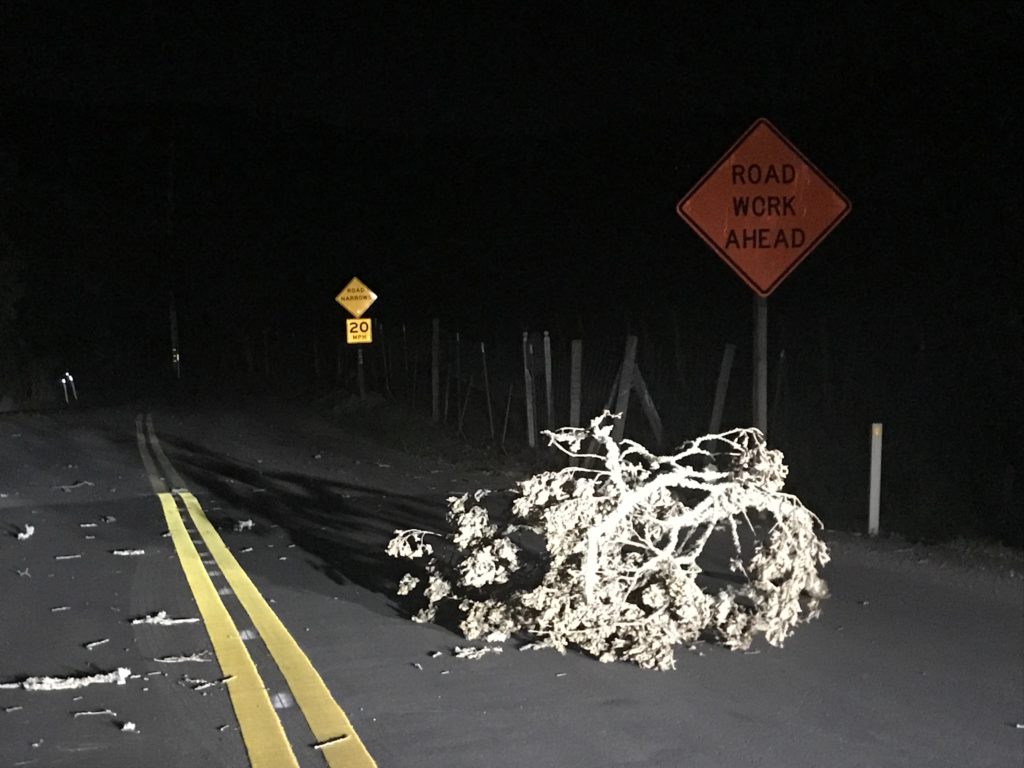 It was the sort of night ripe for two young people to get slaughtered in the woods. Gail, who is no stranger to podcasts about serial killers, spent the last few miles contemplating how many of the farms we passed by were fronting backwoods cults. When she wasn't musing about the zodiac killer, we mused about the zodiac.
"I think it's the year of the pig," I told her.

"You mean the boar?"

"No, the pig."

"It's the boar."

"I'm telling you Gail, it's the pig. I know these things."

"If you say so."
The zen center is a little house with a path leading up to a prayer room. We took off our shoes and went in the house where there were thirty people or so enjoying themselves and eating soba, a Japanese noodle dish. Nobody made a big show of greeting us nor did anybody seem upset we were there. For the most part, Sonoma Mountain Zen Center is a relaxed and informal sort of place. A few other first timers were there, but for the most part the New Years bash isn't the kind of thing that attracts visitors.
Gail and I poured ourselves some soba and sat down at the table. We hadn't been there very long when a monk in a pair of stylish black rimmed glasses came out from the kitchen and announced in a very jovial manner that this wasn't a dinner, and everyone should slurp down their soba and wash their bowls so other people could use them. Everyone laughed, and in a loud voice I joked: "And here we've been waiting for the appetizers!"
Thankfully nobody heard me and a mortified Gail started elbowing me in the ribs.
The soba was simple and excellent and after washing our bowls and chopsticks we sat down again to scribble our bad karma on these slips of paper, to be thrown into fire later that evening.

There were a few other young people there, and we were talking to a guy from Colorado when Roshi walked in.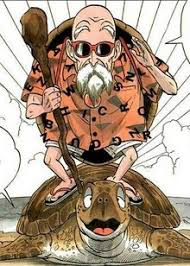 Roshi is a Buddhist term meaning "Old master," and apparently there is some controversy over the title since it is used much more loosely in the west. We quite liked Roshi, and it turned out the jovial monk in the stylish glasses was his son. At some point Roshi's son made a toast welcoming the year of the Boar, which Gail proceeded to tease me about the rest of the evening.
We also met a caucasian man of a certain age named Jeff, who just about came up to my shoulder. He said he'd been coming to the zen center on and off for years, and assured us that Roshi was "the real deal." Jeff seemed totally awesome at first, and continued being totally awesome the whole evening.
It was too dark to snap pictures outside and I felt it might be inappropriate to take any around the table. As the night progressed, however, I noticed other people taking out their cellphones, so I guess Buddhism's eschewing of personal attachment and the illusion of the physical world should not have dissuaded me as much as it did. I snapped this artsy photo of a Christmas tree with some calligraphy in the background.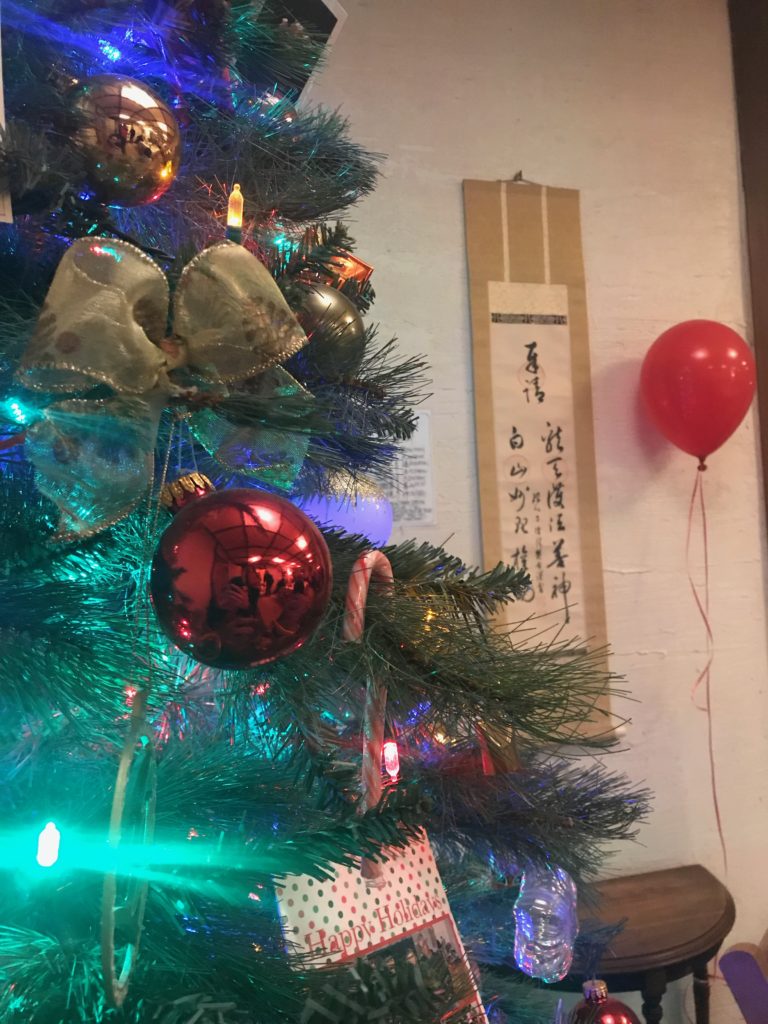 Around eleven o'clock everyone walked up the path to the prayer room, which definitely would have been a bad place to take pictures. We filed in one at a time and chose a mat and cushion around the room. It was a shadowy room, with a large statue of a Buddha in one corner and a few portraits. Many of the cushions and mats were set up along the wall, and Gail and I sat at two of these. Everyone else seated next to the wall was facing the wall, so we did the same thing. The history of these enlightened ergonomics took some research.
So, the first Chinese patriarch of Zen Buddhism was a man named Bodhidarma (Daruna in Japan). He is shrouded in mystery, but often depicted as an Indian noble with a large beard and an bad temper, sometimes called "The blue-eyed Barbarian," which is an awesome name. In one of his many legends, he was denied entry to a Shaolin Temple in Southern China. He went to a nearby cave and spent nine years gazing at the wall and meditating instead. (One variant of the legend says he fell asleep after seven years so he cut out his eyelids, which is pretty metal. Then his eyelids hit the ground and turned into tea plants, which monks use to stay awake to this day.)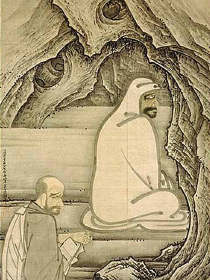 The significance of this wall-gazing is heavily disputed, but one specific school, the Japanese Soto Zen, adopted the practice literally. Guess what! Sonoma Mountain Zen Center is founded on Soto Zen!
Roshi sat in a chair next to Gail so we really had to be on our best behavior. The last thing I saw before closing my eyes was her turning to me and furtively whispering: "Is this gonna be a guided meditation?" Unfortunately I did not get to make fun of her, because right then zazen started.
Zazen is shorthand for Zen meditative practice, and we did it for about half an hour. I've meditated a little before though never formally or in a structured setting. I have trouble kneeling that long, but always assumed I could disregard the pain and not rise to the occasion if it were asked of me. We sat on the cushions with the tops of our feet folded to the floor, and I am sorry to report that after thirty minutes it hurt like the dickens.
What did I think about during zazen? I tried reflecting on the year, I tried counting breaths, I tried to think about nothing, roughly in that order. It's amazing how quickly the cold and everything else fell away—even if discomfort in the ankles persisted. There is a strange mix of camaraderie and isolation, meditating in a room full of people. Near the end of the session an inexplicable sensation of joy bubbled up from the pit of my stomach. It was far more enjoyable than watching a ball drop—though next time I might spring for a chair.
Eventually, a bell rang and all the monks in the room recited a vow, which was repeated three times with three rings of a bell. When that was finished everyone rose to their feet as Gail and I wobbly stumbled onto ours. We exited the prayer hall two by two, bowing to each other at the center of the room, and bowing to the monks on our way out.
A quick tip for visiting a zen center: bow at everything. You can never go wrong.
We followed the path to a little bonfire outside the house, and everyone tossed their bad karma into the flame. I noticed all the visitors had folded their slips of paper very neatly, dropping them in a perfunctory way. Roshi, however, had his crumpled up in his hand and flung it away like rubbish. I thought this might be subconsciously significant. While the visitors ascribed meaning to this act and wrongly, instinctively honored their negative karma, to Roshi it was nothing but a slip of paper, and one he wanted to do away with anyhow. Or maybe his robe just doesn't have pockets, who knows.
The monks passed out booklets and we all read through the Heart Sutra a couple times. Everyone was shivering but it was a lovely night, and the clear skies on Mount Sonoma offer a panorama of stars.
Then we rang a bell 108 times.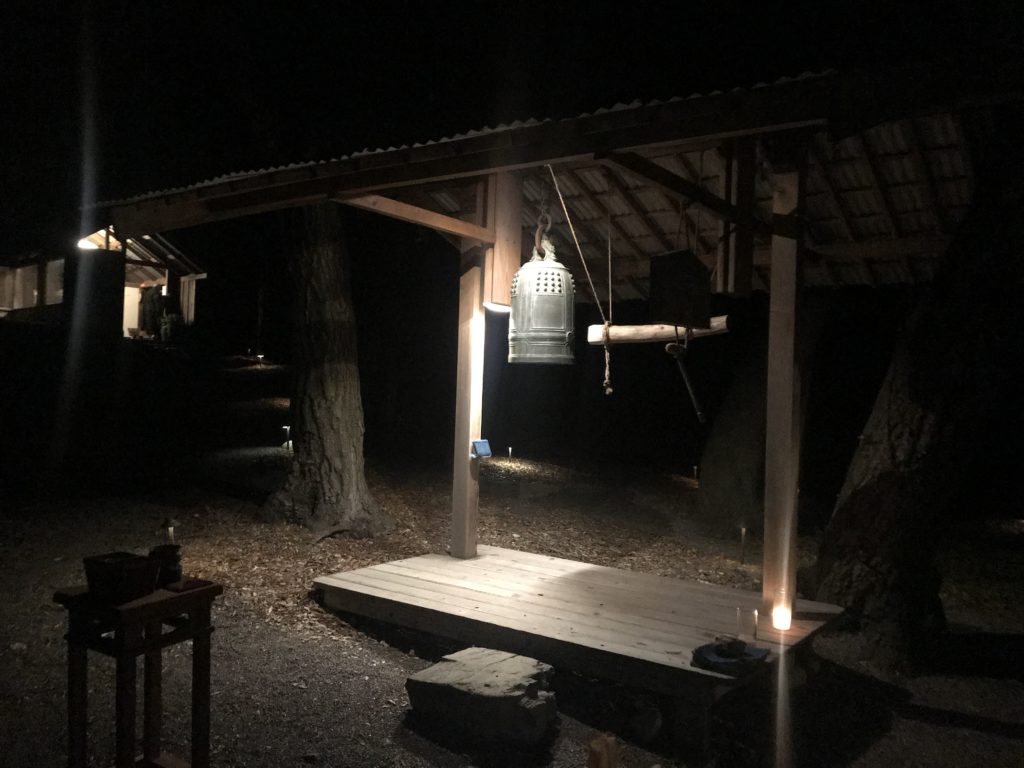 This was probably my favorite part of the evening. 108 is a sacred number in the Dharmic religions (Buddhism, Hinduism, Jainism etc). Among Buddhists, 108 rings are customary at the New Year because they represent the 108 temptations people must avoid to reach Nirvana. We all went up one at a time, bowed, gave it a good ring, bowed again, and stepped off. I really loved ringing that bell. Couldn't tell you why. It was frigid though and as you can imagine the whole ritual took some time. At one point Jeff muttered to me and Gail, with Roshi out of earshot: "This is really meant as a warm practice, not a cold practice." One monk was keeping count and when we got about halfway there the other monks decided everyone should ring the bell three times instead of one. That's when things really got wild. Each time I got back in line it was with a new determination to improve my form. If you ring the bell too hard, it swings back and rings a second time. If you ring too soft, it loses some of its panache. For extra style points, grab the rope of the bell with one hand, keeping the other one in front of your chest like a one-handed prayer. And don't even get me started about people who bow super slowly, soaking up all the time with the bell. You know the type.
When the bell was rung 108 times, everybody cheered and went inside to get warm and make mochi.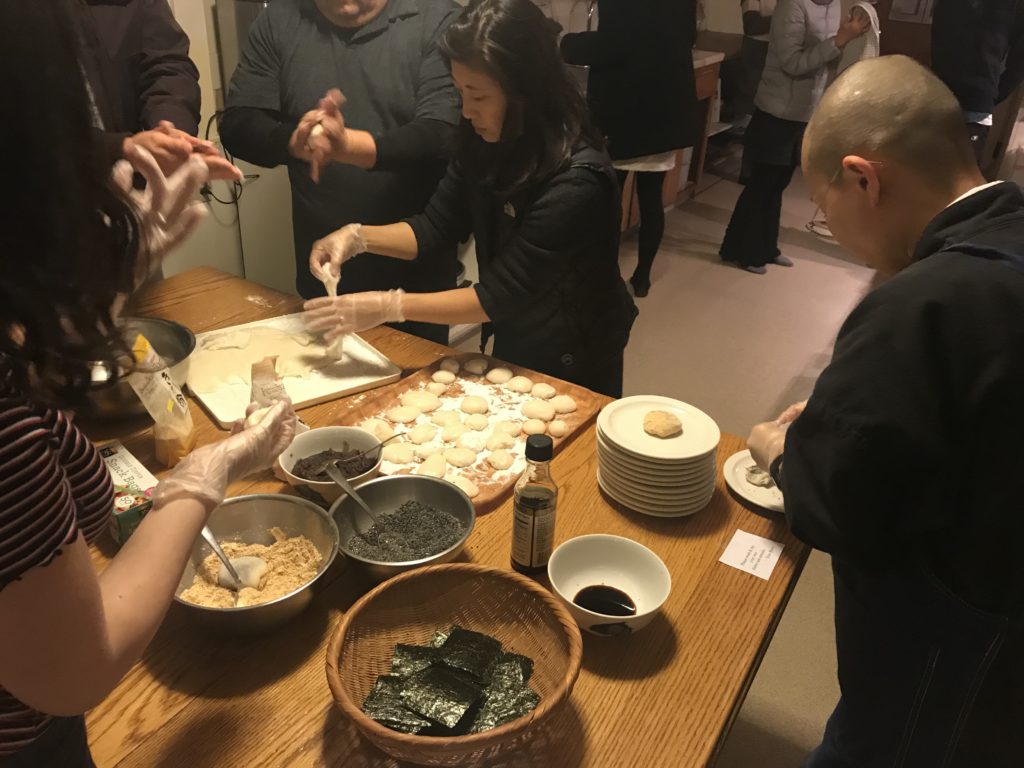 Westerners have perhaps encountered mochi in ice cream form at sushi bars and the frozen food section of Trader Joe's. At its heart, mochi is a confection made from rice paste. It is eaten and sold year round in Japan, but especially prevalent around New Year. Gail and I were game so we stood around a table in the kitchen tearing off clumps of rice paste and molding them into balls. Then we flattened them out, filled them with bean paste, covered them in sesame or seaweed, and popped them in our mouths. Handling mochi is like handling play dough, and I could never get mine to look right. Gail, as it turned out, is a mochi master. Jeff and I were suitably amazed and suggested it could be a new career path for her. Jeff also asked me if I was a musician, to which I offered a pretty noncommittal response.
"Yeah, I knew it. Cause of how you rang the bell. A lot of people, they grab the rope real high and just bang it. But you took it from the bottom, and just let it go. Just the forearm, no shoulder at all. Really nice"
I could have hugged him.
We hung around for a while making mochi and conversation. We learned the zen center was founded over forty years ago and spreads eighty acres on Mount Sonoma. I may have to go back again, do some zazen and look around the place. They're open to the public everyday, and it's supposedly beautiful (even if they do start zazen at 5:15 in the morning.) Some people live at the zen center and we talked to a few of them too. The common theme seemed to be they all had nowhere else to go, but I don't see that as a bad thing. A major positive of religious centers like this, historically, by design and in the modern day, is how they offer sanctuary to people who would not otherwise have any.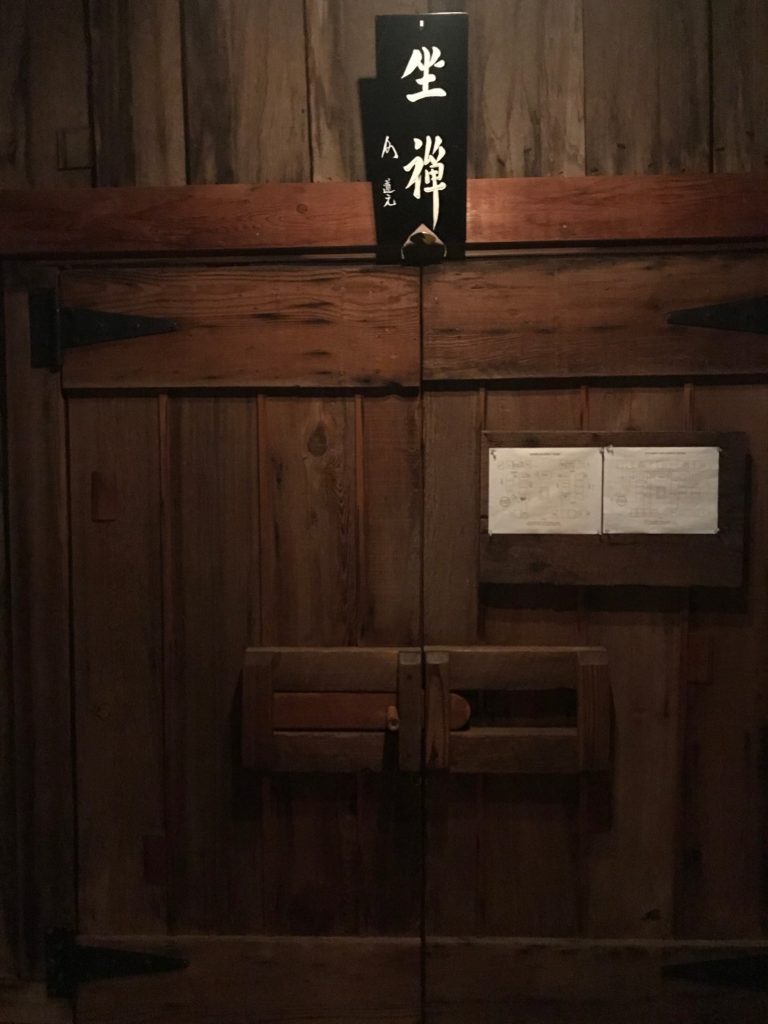 We snuck back up to the prayer room because Jeff said it was okay and tried to snap a few pictures. The door was already closed, but it's a pretty neat door so here's that.
Eventually we bid farewell to Roshi, who gave us a sutra to put up in our home. I didn't have the heart to tell him that Gail and I are just friends. When Roshi ships something, it's probably best not to argue.
In the parking lot we encountered Jeff once more, walking his dog. "We both have bone spurs, me and the dog" he lamented. We chatted a little about hip displasia and watched Roshi walk out to his car. When the Roshi leaves the zen center, you know it's time to go.
This was certainly among the more memorable New Years I've ever had. On the drive back we encountered a sofa in the middle of the road. Weird night.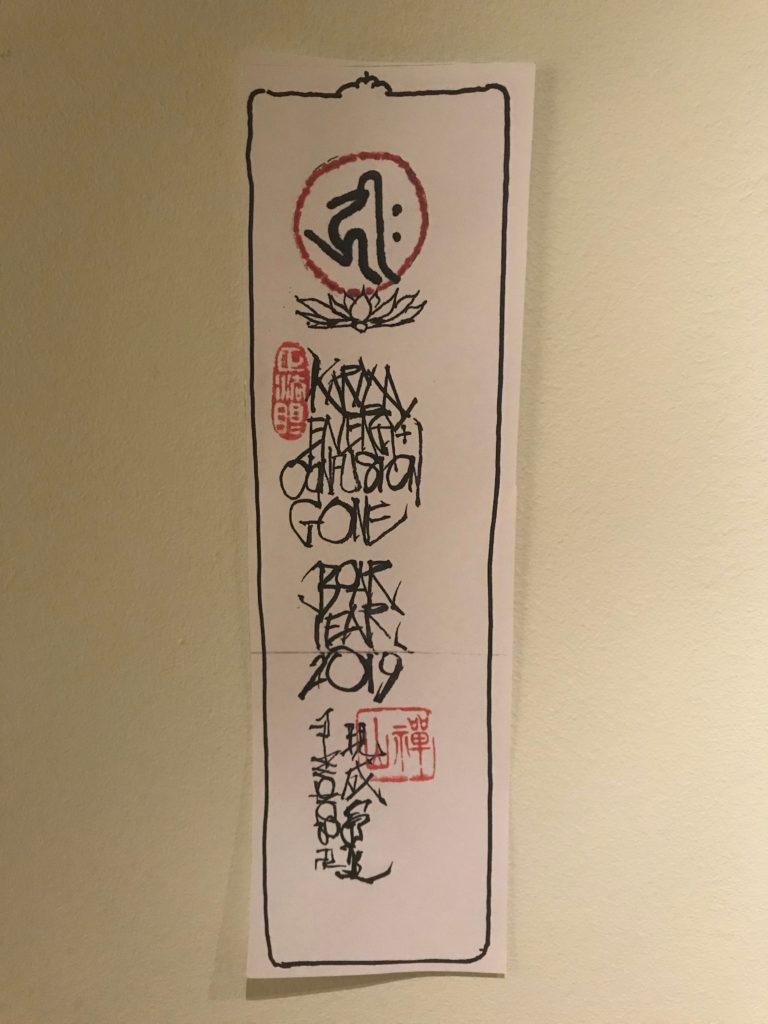 Here's to a good 2019.
Sayonara.